Discover more from WE'VE MOVED TO thedefiant.io
WE NO LONGER POST CONTENT ON SUBSTACK. GET THE LATEST DEFI AND WEB3 NEWS AT HTTPS://THEDEFIANT.IO
Over 84,000 subscribers
Recap: DeFi Week of April 6 🦄
Hello Defiers! Hope you're having a great weekend. Jag sameaj and happy easter if you celebrate!
This past week has been especially great for The Defiant: We launched The Defiant podcast to host the audios of our weekly exclusive interviews. The Gitcoin Grants round concluded and it was incredibly rewarding to see over 100 contributors to keep growing and improving this content platform. It's with the same goal of continuing to build up The Defiant, that we started taking sponsors. All sponsors included will keep adding value to readers, highlighting projects that users and builders of open finance can benefit from.
On the news side: These past seven days yielded many examples of how open finance is already revolutionizing money; PieDAO's issued BTC++, its first ETF-like fund, The LAO, which wants to build a permissionless VC, announced its launch date, an Etherean announced the sale of its own personal token, and dPiggy released a no-loss investment platform. MakerDAO's MKR holders voted to compensate borrowers who holders who lost all their collateral in the March 12 market crash. Rune Christensen spoke about the crisis in an interview, which was published as The Defiant's first podcast episode. Ganesh Swami of Covalent crunched numbers for The Flippening That Matters series, to find that smart wallets are still a tiny fraction o total Ethereum accounts, despite double digit monthly growth.
That was just one week. Subscribe to get the latest DeFi news and analysis straight to your inbox and you don't miss a thing. Free-signups get partial content, paid subscribers (only $10/month, $100/year) get everything. Click here to pay with DAI ($70/year).
---
🙌 Together with Ampleforth, a digital asset protocol for a base money which doesn't require collateral and is uncorrelated with the rest of crypto.

---
The March Market Crash "Was a Test for Maker and DeFi; It's Fair to Say The Test Was Passed:" Rune Christensen
This week's interview is with Rune Christensen, the founder of MakerDAO, the largest lending platform by assets in decentralized finance and the issuer of the Dai stablecoin. Rune has been in crypto since 2011 and is no stranger to volatility and crazy market conditions. Still, last month was the most shocking for him yet. On March 12th, MakerDAO's mechanism to heal loans that become under-collateralized broke down amid the market crash, allowing one trader to run off with more than $4 million in free ether. He calls it Maker's toughest test yet, and he believes the protocol passed it.
The Defiant has just launched a podcast to host all the exclusive interviews published on the newsletter weekly. Now you'll be able to hear these conversations with the builders and users of this new, open and radically transparent financial system directly. This week, you can hear what Rune Christensen had to say in our interview, from his own words.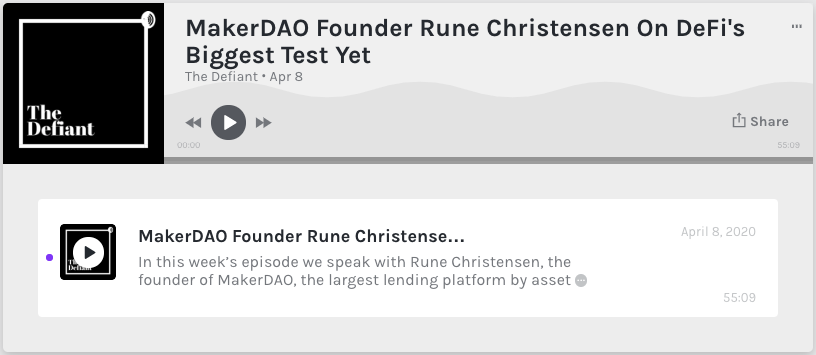 Ethereum's Road to Mass Adoption With Smart Contract Wallets Has a Long Way to Go
Smart contract wallets are crucial for the mass adoption and acceptance of Ethereum by main-stream users, Ganesh Swami, cofounder of data firm Covalent, writes in the fourth installment of our series The Flippening That Matters. Only 30,000 smart contract wallet addresses have been created so far, compared with 90,000 new Ethereum addresses added everyday.
Dives
Wall Street is Paying a +500% Premium for Ether: Shares in Grayscale's Ethereum Trust, ticker ETHE, are trading at a 515% premium to the fund's net asset value, near the widest since ETHE first started trading in OTC markets at a crazy 1,150% premium in June.
Sums
There's Now a "No Loss Investment" Platform on DeFi: dPiggy, a platform which enables no-loss crypto investing. As with PoolTogether, rTrees and other similar projects, dPiggy is based on redirecting interest gained on crypto deposits.

Bitcoin-Backed tzBTC Launches on Tezos: The Bitcoin Association Switzerland together with a group of crypto firms launched a token that's backed 1-to-1 with Bitcoin to be traded on the Tezos blockchain.
Bytes
Dives
Let's Stop Using Our Dad's Financial System: Money has not kept up with the times. In the few decades since the 1980s the internet has wiped out communications barriers and the world has become instantly connected. But in the US, it takes three days to pay rent if you want the lowest fee. That's because we're still using the same financial infrastructures as our grandparents.
Sums
PieDAO — The First Fund for DeFi's ETF Issuer is Live: PieDAO, a project enabling a more decentralized way of creating ETF-like fund, issued BTC++, it's firs so-called pie, which holds four different versions of Bitcoin for Ethereum tokens.

The LAO — Ethereum-Based Venture Fund Launches April 28: The LAO, a venture fund which wants to take the first step in "building a permissionless Silicon Valley," announced it's launching on April 28.

Initial Alex Offering — Developer Launches Self-IPO: Developer Alex Masmejean is raising $20,000 with his personal token $ALEX, which is traded over decentralized exchange Uniswap. He wants to use the money raised to move to San Francisco and found a crypto startup.
Bytes
---
💜Community Love💜
Thanking all the amazing Defiers for the support and love this week (and always)!
---
The Defiant is a daily newsletter focusing on decentralized finance, a new financial system that's being built on top of open blockchains. The space is evolving at breakneck speed and revolutionizing tech and money. Sign up to learn more and keep up on the latest, most interesting developments. Subscribers get full access at $10/month or $100/year, while free signups get only part of the content.
Click here to pay with DAI.There's a limited amount of OG Memberships at 70 Dai per annual subscription ($100/yr normal price).
About the author: I'm Camila Russo, a financial journalist writing a book on Ethereum with Harper Collins. (Pre-order The Infinite Machine here). I was previously at Bloomberg News in New York, Madrid and Buenos Aires covering markets. I've extensively covered crypto and finance, and now I'm diving into DeFi, the intersection of the two.