Discover more from WE'VE MOVED TO thedefiant.io
WE NO LONGER POST CONTENT ON SUBSTACK. GET THE LATEST DEFI AND WEB3 NEWS AT HTTPS://THEDEFIANT.IO
Over 84,000 subscribers
Radical Money is Here; Don't Use Your Dad's Financial System
PieDAO issues ETF-like fund BTC++, The LAO venture fund has a launch date, Etherean plans personal-IPO
Hello Defiers and happy Friday! Lots going on in DeFi:
PieDAO issues its first tokenized fund, BTC++, a basket of Bitcoin-based Ethereum tokens

The LAO, a decentralized venture fund, will launch on April 28

Etherean is launching his "Initial Alex Offering," a way to raise funds by selling his personal tokens

MakerDAO may compensate vault holders
and more :)
📺 Today I'll be doing a livestream at 3pm EST with the Blockchain Education Network. We'll be talking about DeFi, my transition fro Bloomberg to full-time crypto and my book. Join here: Blockchainedu.org/livestream
💖 Also, thanks to the almost 120 contributors to the Gitcoin grant for The Defiant! I'm incredibly grateful for all your support and will use those funds to continue to build and improve this content platform and bring this financial revolution to the masses.
---


---

Let's Stop Using Our Dad's Financial System
Money has not kept up with the times.
In the few decades since the 1980s the internet has wiped out communications barriers and the world has become more connected. We're having group video calls with people in five different countries, while 20 different tabs are open on our browser, the TV streams the latest show in the background, and an app on our phone tells us groceries we ordered earlier are on the way to our door.
But in the US, it takes three days to pay rent if you want the lowest fee, which is still high at $3, and thirty dollars if you need to send it on the same day. What if you wanted to send money abroad, maybe to the same friend you can instantly see in the group video chat? That's a $45 fee at Bank of America and another couple of days.

Image source: Bank of America
Some fintechs are making life a little bit easier enabling instant payments and investments from your phone —but they're still constrained to national borders (for both who you can transact with and where you can invest your money), have strict transfer limits, and are not transparent in how they handle your money and data.
That's because we're still using the same financial infrastructures as our grandparents.
That's changing as we speak —the financial system is being rebuilt in open, global, distributed networks for money. It's a whole new infrastructure, with fewer intermediaries, which make the process more expensive and slower than it needs to be. And that's why it's just better.
Decentralized finance yielded three examples of this, just this week. These projects are a glimpse of what exchange traded funds, venture funds, and initial public offerings can be in the future.
PieDAO — The First Fund for DeFi's ETF Issuer is Live
Exchange traded funds or ETFs are baskets of securities traded over exchanges like single stocks. They track everything to common indexes like the S&P 500, to the price of oil, to US junk bonds to most recently, stocks that benefit from being locked up at home, ticker WFH.
The US ETF industry is worth about $4 trillion in assets, with three firms dominating the market: BlackRock's iShares, Vanguard and State Street. Securities issued by these firms are also only available to those with US bank accounts and usually need to be accessed through a broker. DeFi is starting to make the process more open, from who creates and issues these funds, to who can invest in them.
Synthetix was one of the first to create a tokenized version of ETFs with sDEFI, a token tracking the price of a basket of tokens linked to different DeFi platforms.
PieDAO followed, last month launching a more decentralized way of creating these ETF-like structures; anyone can propose new funds (called PIEs) and members of the PieDAO organization can approve these proposals. Anyone who holds DOUGH tokens can vote on PieDAO governance. These tokenized funds can then be bought by anyone, anywhere in the world.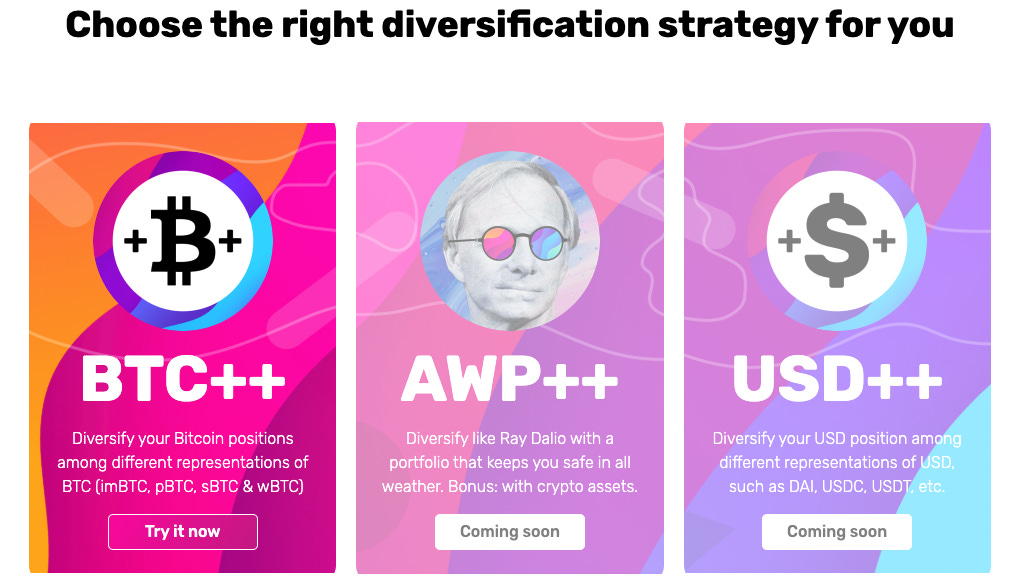 Image source: piedao.org
The first such fund was issued two days ago: BTC++. It holds four different versions of Bitcoin for Ethereum tokens — these are tokens issued under Ethereum's ERC20 standard but linked to the price of Bitcoin and often backed at 1-to-1 with actual BTC. BTC++ holds XBTC, sBTC, pBTC, imBTC.
Ethereans who want exposure to Bitcoin but want to stay in the Ethereum ecosystem, and are unsure of which version of tokenized BTC they want to buy, or want to hedge the risk of one version breaking, can buy this basket of tokens.
The LAO — Ethereum-Based Venture Fund Launches April 28
Venture funds invest in promising early stage companies, taking equity in the company. Investors in VC firms are usually endowments, corporate pension funds, sovereign wealth funds, wealthy families, and funds of funds. These deals are usually inaccessible to most, even if they're accredited investors. That means most are missing out on very profitable investments. The current VC structure also limits who gets funded, as multiple studies show, being a man in San Francisco or New York will disproportionately help your chances.
The LAO, which on Tuesday said is launching on April 28, wants to take the first step in "building a permissionless Silicon Valley," by broadening access to investors in the fund.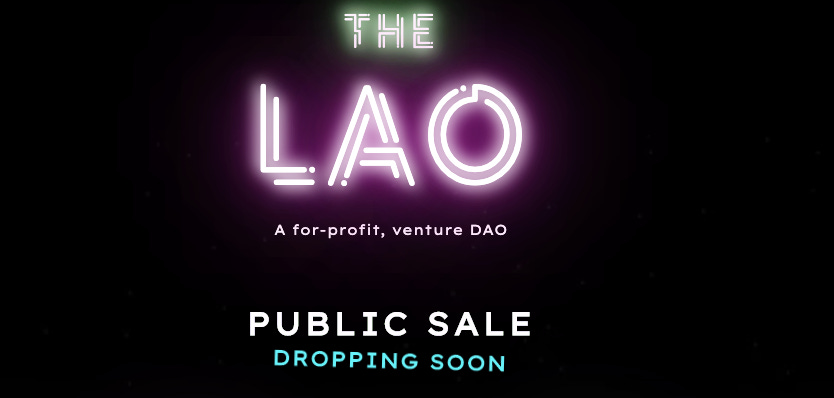 Image source: thelao.io
But it can only be permissionless to some extent. Organizers of The LAO are heeding lessons from The DAO, a decentralized venture fund created in 2016, which was hacked and later found to be breaking securities laws. So this time around, The LAO is organized as a legal entity in the US — a Delaware limited liability company— and members need to be accredited investors.
Still, unlike in traditional VCs anyone meeting those requirements can join by buying LAO tokens and all members have a say. Fund members can vote on project funding proposals and other strategic decisions, and they all share the proceeds of their investments based on the number of LAO tokens they hold.
The fund is supporting projects in the Ethereum ecosystem, with entities registered in the US, even if the project is organized outside the US.
While not fully open and trustless, The LAO is attempting to make venture capital investing more accessible and transparent.
Initial Alex Offering — Developer Launches Self-IPO
Developer Alex Masmejean is raising $20,000 with his personal token $ALEX, which is traded over decentralized exchange Uniswap. He wants to use the money raised to move to San Francisco and found a crypto startup.
He pledges to sell 1 million ALEX and distribute 15% of all income he makes in the next three years, capped at $100,000. Like true shareholders in a board, ALEX holders will be able to vote on Alex's life decisions.
Alex has been deep in the Ethereum ecosystem for the pas year as part of MetaCartel, and cofounding MarketingDAO and Rocket, a for-profit DAO offering loans against digital items.
This mechanism gives Alex an option to fund his venture without taking on debt, and lets those who know and believe in Masmejean's potential to support him early on, participate in the process, and benefit from his success.

Most holders of MakerDAO's MKR tokens are voting to compensate borrowers who lost 100% of their collateral stemming from the March 12 crash when the loan liquidation system broke down.
The poll, which started on Aril 6 and will be live for 7 days, had 65% of holders voting to compensate so called- Vault owners.
The US exchange led by the Winklevoss twins will add support for Chainlink (LINK), Dai (DAI), and Orchid (OXT) beginning April 24.

Using Ethereum for uncensorable messages is getting easier.
Current trillion-dollar stimulus programs and bailouts, make the context under which Bitcoin was created seem quaint in comparison.
---
The Defiant is a daily newsletter focusing on decentralized finance, a new financial system that's being built on top of open blockchains. The space is evolving at breakneck speed and revolutionizing tech and money. Sign up to learn more and keep up on the latest, most interesting developments. Subscribers get full access at $10/month or $100/year, while free signups get only part of the content.
Click here to pay with DAI.There's a limited amount of OG Memberships at 70 Dai per annual subscription ($100/yr normal price).
About the author: I'm Camila Russo, a financial journalist writing a book on Ethereum with Harper Collins. (Pre-order The Infinite Machine here). I was previously at Bloomberg News in New York, Madrid and Buenos Aires covering markets. I've extensively covered crypto and finance, and now I'm diving into DeFi, the intersection of the two.