Discover more from WE'VE MOVED TO thedefiant.io
WE NO LONGER POST CONTENT ON SUBSTACK. GET THE LATEST DEFI AND WEB3 NEWS AT HTTPS://THEDEFIANT.IO
Over 84,000 subscribers
Hypebeast Culture Drives MEME Rally Amid Market Bloodbath
Also, YAM's rebase, tBTC launch
Hello Defiers! Here's what's happenin in DeFi:
DeFi tokens sell off except for one coin

YAM Finance gets new life

tBTC launches for a second time
and more :)
The open economy is taking over the old one. Subscribe to keep up with this revolution. Click here to pay with DAI.

We'll be talking about MEME so check out the epic video we made about it. The video was produced in partnership with Robin Schmidt of Harmony Protocol.
---
🙌 Together with Zerion, a simple interface to access and use decentralized finance,  Perpetual Protocol, which provides decentralized perpetual contracts for any asset, and HackAtom V, a two-week virtual hackathon organized by Cosmos.

---

Here's Why a Meme Coin Rallies Amid a Market Sell-Off
It was a sea of red in the market yesterday. But while Ether slid by almost 10% and all DeFi tokens plunged even deeper, one project astonished the crypto world accelerating the 10x increase it had seen in the last seven days:
$MEME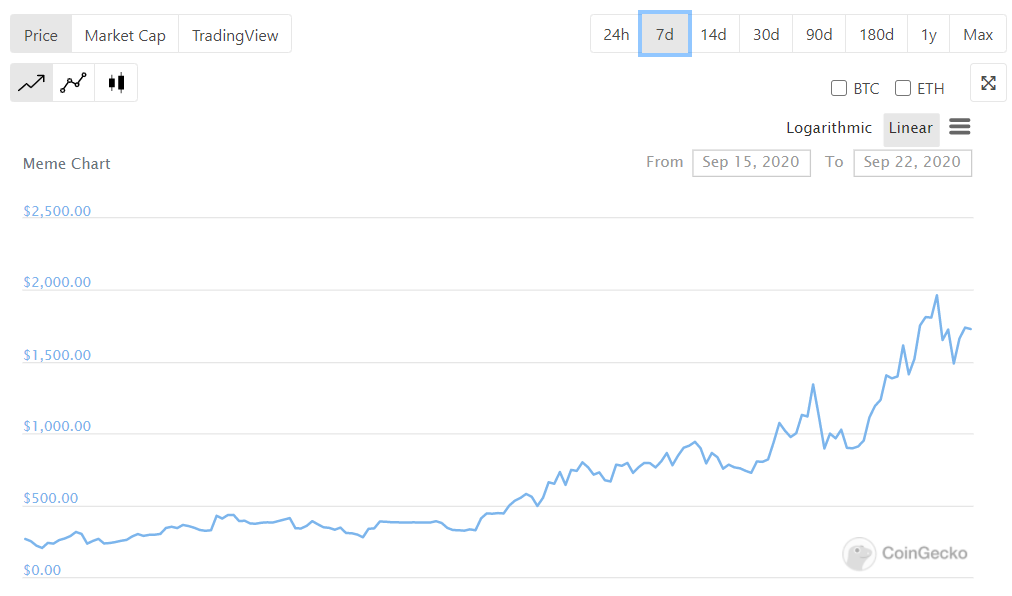 A ticker most would pass off as a pump and dump. But is there more than meets the eye? The concept follows the road of coin pairings on DEX protocols like Uniswap, which allow traders to park funds and earn a part of the trading fees generated from volume on the pair. In this case, you would provide ETH-MEME liquidity on Uniswap.
But there's one big difference.
Along with fees, you can earn 'points' for staking in the Meme protocol, which are redeemable for Meme NFTs, or scarce non-fungible tokens, tied to unique, crypto-based designs. The release of these rare, exclusive items generate a frenzy similar to that seen in streetware's hypebeast culture.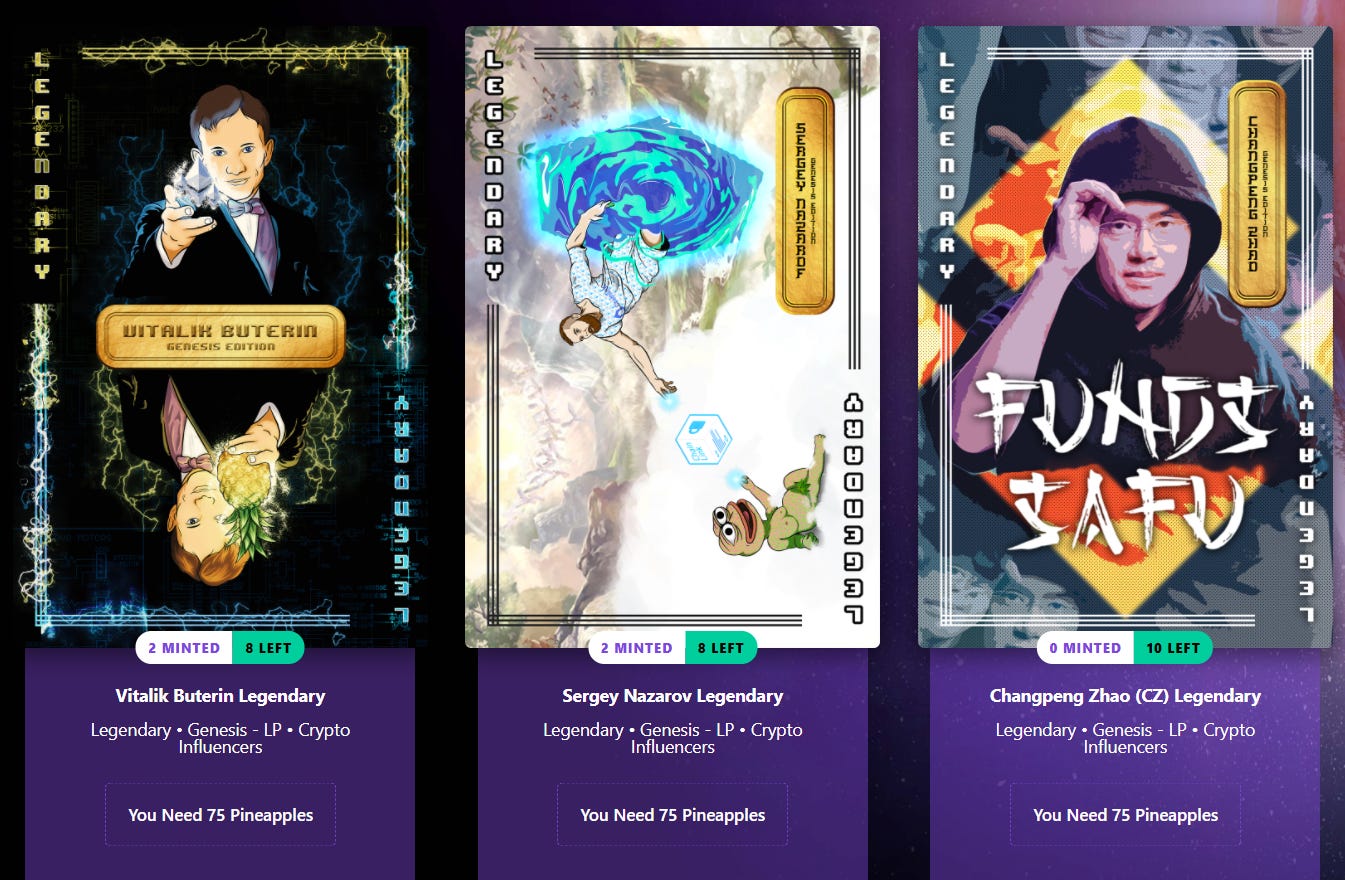 This changes the game.
Increased Demand
The proposition of fees alone is strong but adding an arbitrary asset that has a limited supply, (there are only 10 of some cards, and 100's or 1,000's of others), gets people fighting for it, which increases the value of these NFTs.
Increased interest in these unique tokens in the past week, with Yearn Finance founder Andre Cronje buying an NFT based on himself and the project's collaboration with emerging digital artist Sven Eberwein, drove demand and pushed MEME past $1k on Sunday. Crypto exchange Poloniex listed the token Monday, spurring further gains, even as the broader market dumped.  
Backstory
It all started five weeks ago with a tweet from Jordan Lyall, product lead at ConsenSys, making fun of how quick you can copy-paste a DeFi protocol.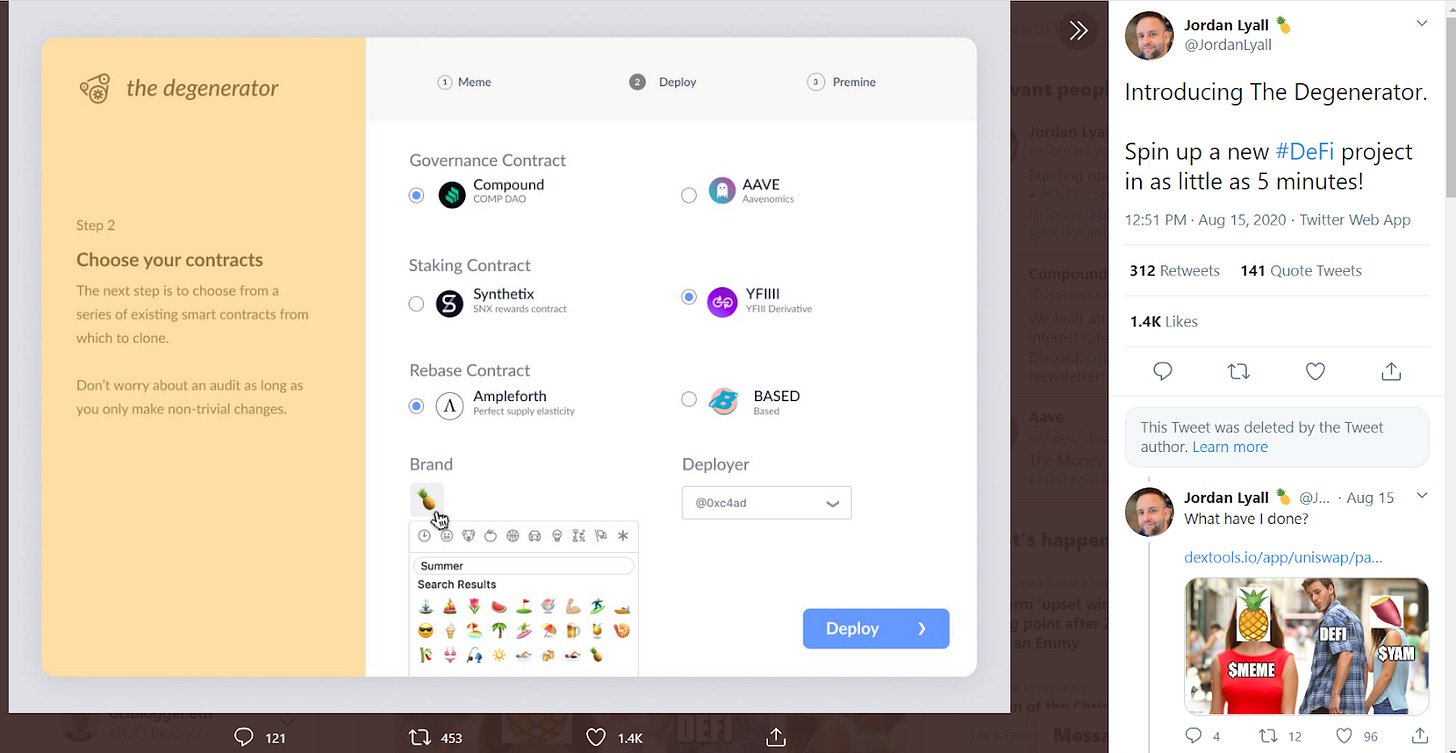 Suddenly the community assembled, made a Telegram group, claimed the $MEME ticker and airdropped 26,000/28,000 supply to 73 members there via a Google form. A cool 355.5 $MEME tokens each, or over $600k at the time of writing.
The rest of the 2,000 $MEME tokens were split between the contract creator and the initial liquidity pool on Uniswap to kickstart trading, with the LP tokens sent to Vitalik Buterin's wallet, effectively burning the keys to claim those 1,000 MEME tokens back. 
Strong Hands
There are currently around 2,200 token holders of $MEME. The core community, which calls itself the "Citadel," isn't looking to sell.
"The citadel has strong hands," MEME holder Gabriel Frank said. "Most believe we're on to something great and so no one is selling."
Blockbuster Sales
A scarce card, called "Legendary," depicting Andre Cronje sold for 48 ETH, for example, while a Legendary Sergey Nazarov sold for 78 ETH on the secondary market.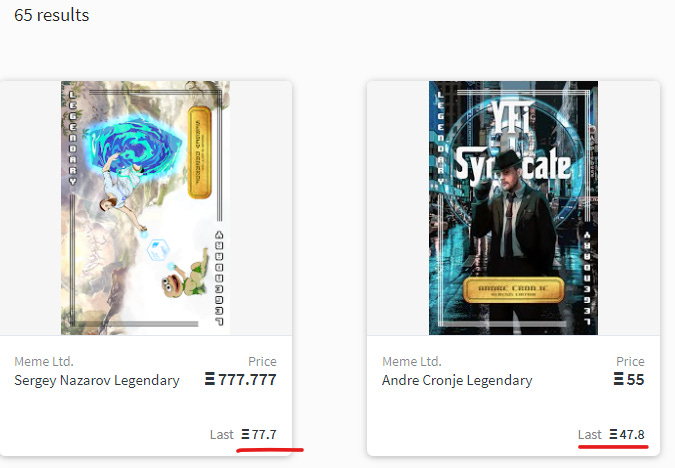 How's that for a bonus within 15-20 days of staking?
Cronje said he was "amazed" by the project.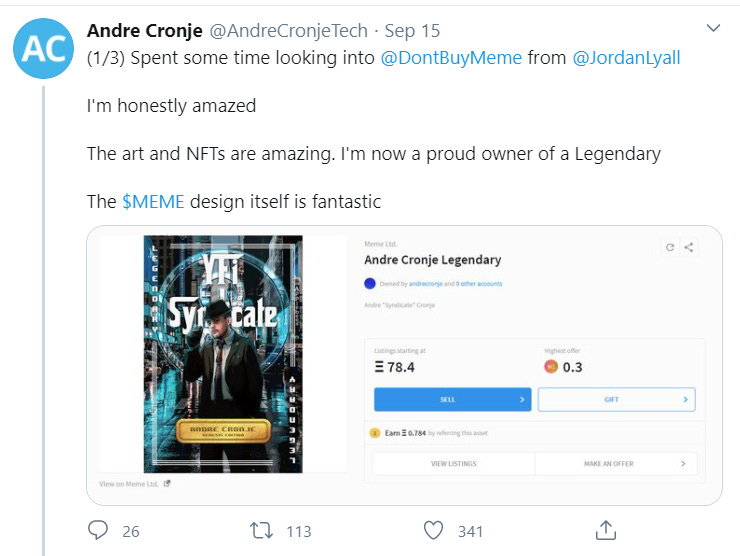 Temporary Hype?
Some will say this is all due to temporary hype. In most cases a project does extremely well, sells out its initial phase of NFTs and people move on to the next shiny thing.
The MEME Community is hoping to prevent that by collaborating with renowned artists, generating a lasting stream of high-quality, desirable digital art.
Eberwein, who has sold pieces for 6-8ETH on Superrare was the first Artist drop.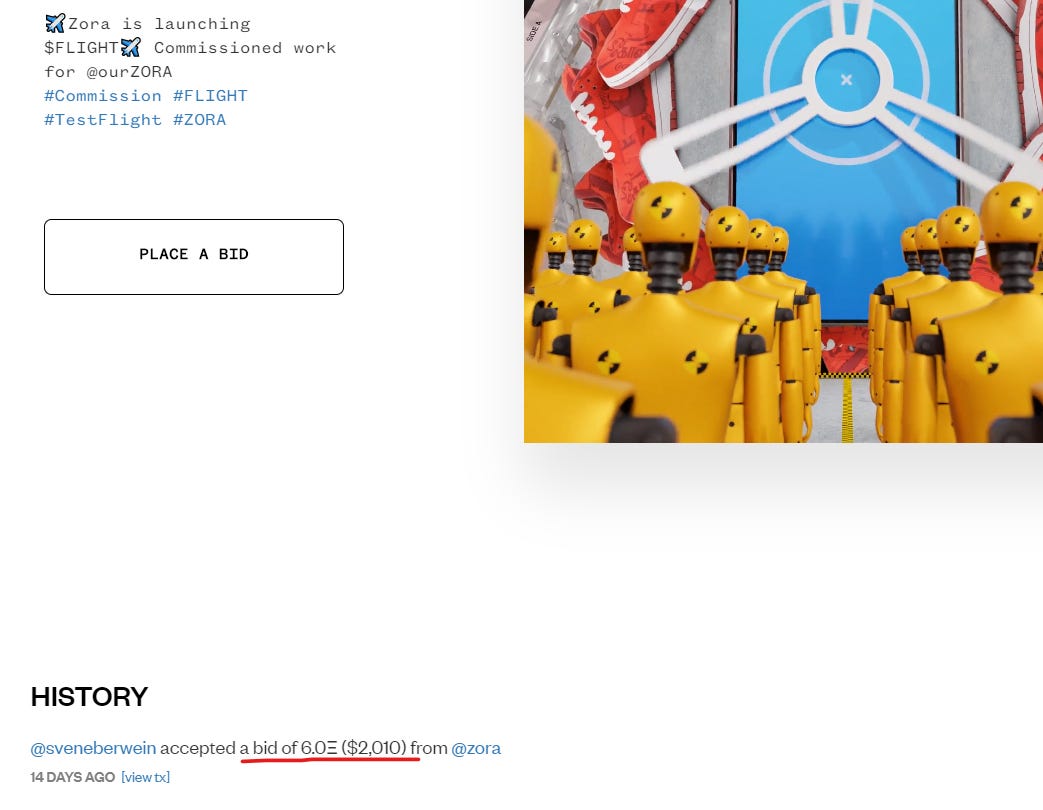 You can stake your MEME to this pool and claim these Art NFTs.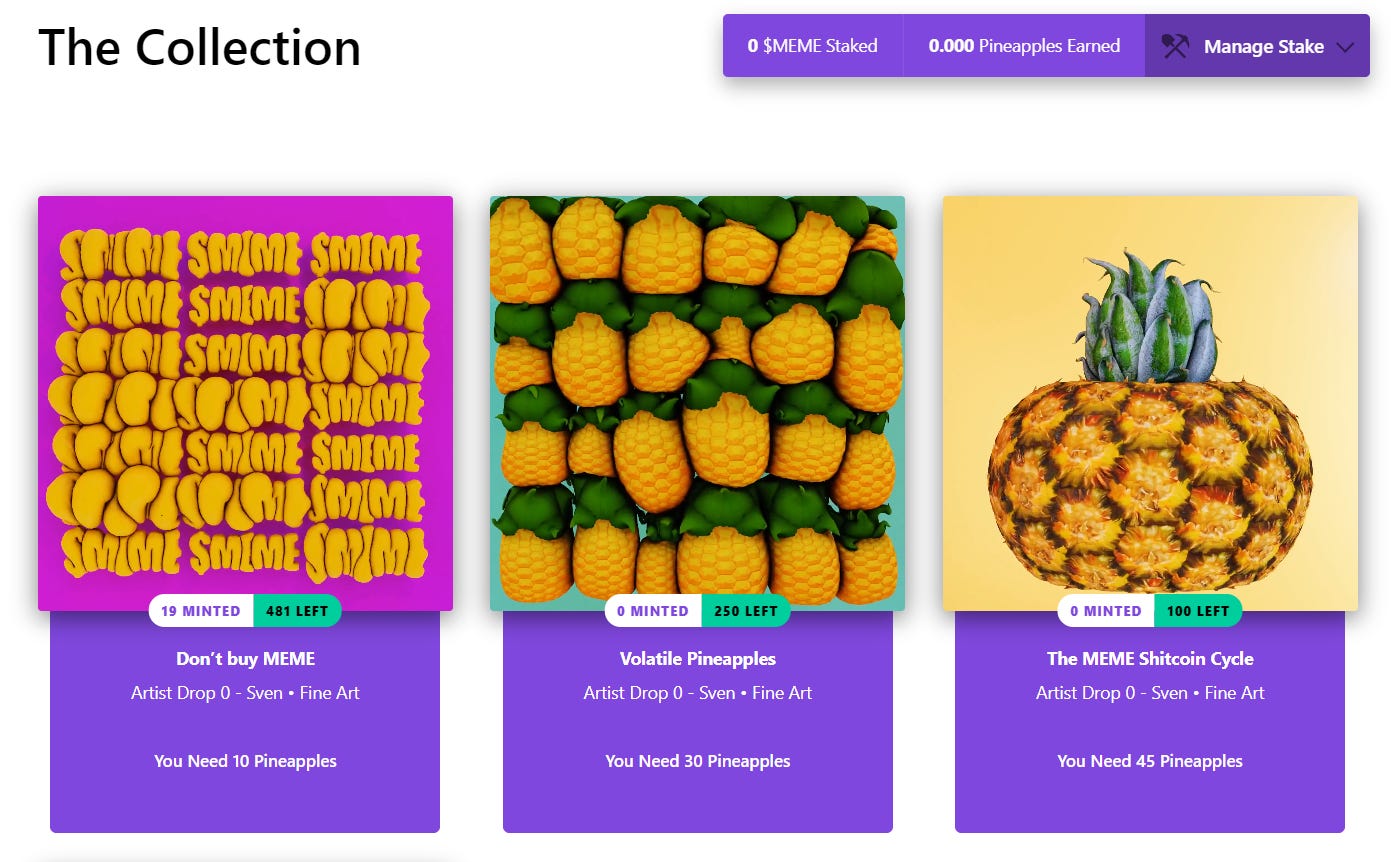 CoinArtist, one of the famous and early artists in the crypto-art scene who's also the CEO of blockade games, signaled a potential collab.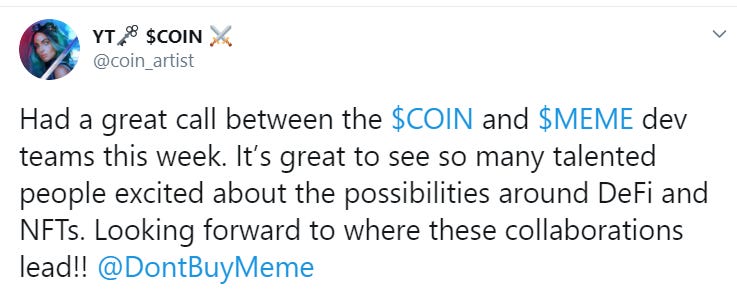 These multiple cards and collectibles encourage more locking up of $MEME effectively taking them out of circulation.
Tie this with the fact the value of some of these cards can rise due to the scarcity, you get a frenzy of people trying to buy and stake $MEME to claim these before others do.
Which is exactly what's been happening over the last week.
Rewards Portal
Will this sustain?
In my opinion, it has the potential to.
The key is to provide a strong enough 'rewards portal' ie, famous artist collabs, rare NFTs, or they can even partner up with projects outside of the digital art world and provide virtual land or game assets.
The possibilities are endless.
Remember these NFTs are in most cases BONUS assets being claimed along with staking fees. If you replace the $MEME ticker with something like $REWARD, then it becomes a little clearer. It's basically a reward portal for those who provide value to the ecosystem.
Risks
What are the risks?
Traditionally we've seen new projects boom and fall flat.
Usually it's due to a bug in the contract or a 'rug pull', ie, the founder quickly cashes out the initial share of Community tokens, similar to what happened with Sushiswap.
But for MEME, 93% of tokens are distributed equally across the Community. The rest are locked in a liquidity pool with keys thrown away. So there is no way to rug pool. Considering all this is happening within the Uniswap protocol, there being a bug in the process is highly unlikely.
The only risks I can think of is if the supply of these NFTs becomes more than the demand and people find a better asset to put their money in, effectively moving out of the $MEME token.
There's also not much incentive currently for the smaller fish who will find it hard to earn points quickly enough to compete with larger players and thus get the spoils.
Fluctuations
The project will probably see huge fluctuations, big green days, big red days, just like any other 0-hero project.
But as long as the team, who are highly motivated, energized and well respected in their fields continue to build and fine-tune the project, (I believe they will), we should see continued growth. 
Art + DeFi + NFTs are reaching an epic intersection.
Add some meme culture and you have a product that's almost a perfect mix of buzz and incentivization to break through the noise.
---

YAM Finally Finds Fertile Ground After Succesful Rebase
Yam Finance's first successful monetary exercise yesterday marks a new start to DeFi's original food-based token
YAM is an experiment in rebasing cryptocurrencies, plus token incentives (aka yield farming) to drive liquidity, plus full on-chain governance, plus a DAO-like treasury managed by token holders. It's also testing the power of the emoji 🍠.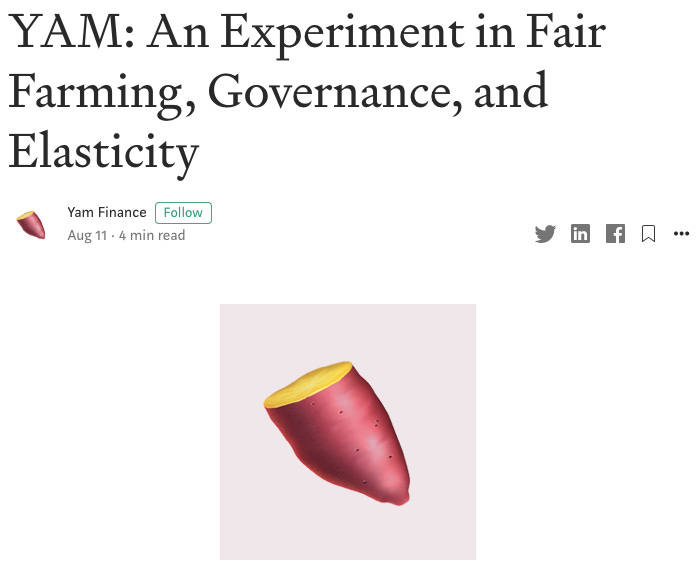 Image source: YAM Medium
Its Aug. 11 launch immediately attracted hundreds of millions of dollars and a fierce community rallying around the project. But a bug which rendered governance impossible was found in the unaudited code two days later, prompting it to raise funds for an audit and relaunch an improved version. Yesterday, it passed its first test.
Target Peg
It targets a peg of 1 yUSD (Yearn Finance's stablecoin) which it tries to achieve by adjusting, or "rebasing," its supply. Whenever the price of YAM is above 1.05 yUSD, supply expands to lower the price, and when the price is below 0.95, supply contracts to raise it.
When supply expands, Yam's treasury mints 10% of the rebase amount and sells it to the YAM/yUSD pool in Uniswap. In other words, it buys yUSD, which gets deposited in the treasury, and is managed by token holders. The project also directs 1% of inflows into the treasury to Gitcoin grants funding Ethereum public goods.
Rebase
Monday was YAM's first successful rebase. Since the YAM price was way above the peg at almost $20, supply expanded and $571k in yUSD was added to the treasury, while $5.71k was contributed to Gitcoin.
The price dropped to below $7, but YAM holders' wallet balance increased by 2.49x. The rebase happens every 12 hours and is meant to gradually push the price back to 1 yUSD.
The future of Yam Finance is now in the power of YAM holders, who can vote to change anything from protocol parameters, to treasure management to contributors' compensation.
---
Bitcoin-on-Ethereum Token tBTC Launches Once More
Bitcoin-backed Ethereum token tBTC shut down four months ago because of a bug. Today, it announced the protocol (tbtc.network) is ready to be used again by BTC holders who want to access Ethereum applications.
The project is relajunching amid surging interest from Bitcoiners to use DeFi. There is now 100k Bitcoin, or $1.1B locked up to be used in Ethereum, most via wBTC, another Bitcoin-backed Ethereum token.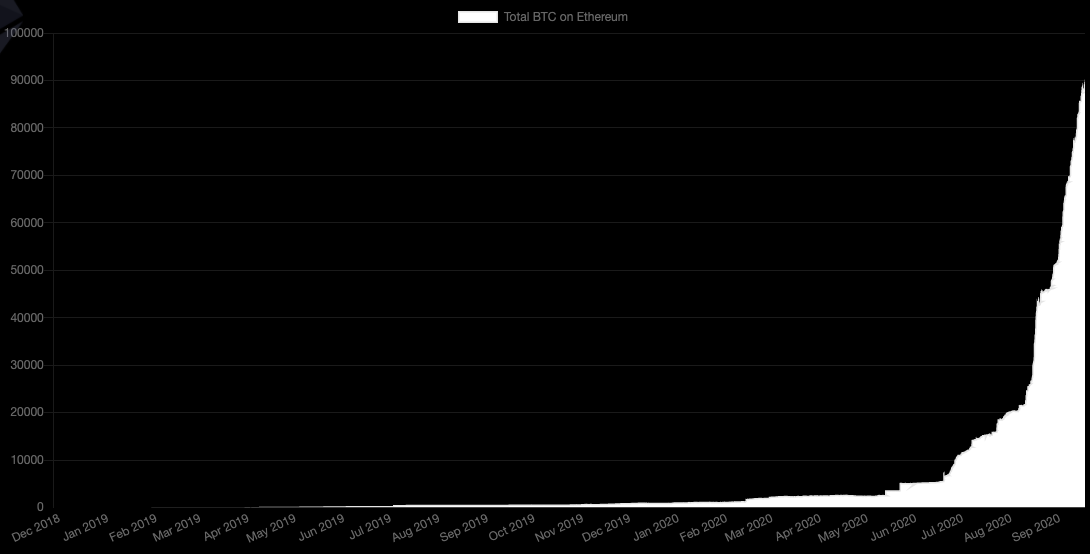 Image source: https://btconethereum.com/
tBTC wants to differentiate itself from wBTC and others, by claiming to be fully permissionless. While users have to trust custodians with their Bitcoin to use wBTC, tBTC says it's trustless and uses a system which selects random "signers" who have responsibility for the deposited BTC.
"You can convert TBTC to BTC, and vice-versa, whenever you want, with no intermediary needed to sign off. And it's simple: it only takes three easy steps for people to mint TBTC on tbtc.network and track their Bitcoin," according to the release.
---

APY.Finance, a yet-to-launch decentralized finance (DeFi) yield farming aggregator, announced Monday that it has completed a $3.6M seed funding round joined by investors including Arrington XRP Capital, Alameda Research, Cluster Capital and CoinGecko, CoinDesk reported.
National banks and federal savings associations can now hold reserve funds for stablecoin issuers, according to new guidance from the U.S. Office of the Comptroller of the Currency. Monday's development notably follows the OCC's decision to allow federally chartered banks to hold custody of cryptocurrencies, The Block reported.
---

Kain Warwick hints Synthetix is moving to a Layer 2 sclaing solution.
---
The Defiant is a daily newsletter focusing on decentralized finance, a new financial system that's being built on top of open blockchains. The space is evolving at breakneck speed and revolutionizing tech and money. Sign up to learn more and keep up on the latest, most interesting developments. Subscribers get full access at $10/month or $100/year, while free signups get only part of the content.
About the founder: I'm Camila Russo, author of The Infinite Machine, the first book on the history of Ethereum. I was previously at Bloomberg News in New York, Madrid and Buenos Aires covering markets. I've extensively covered crypto and finance, and now I'm diving into DeFi, the intersection of the two.