Discover more from WE'VE MOVED TO thedefiant.io
WE NO LONGER POST CONTENT ON SUBSTACK. GET THE LATEST DEFI AND WEB3 NEWS AT HTTPS://THEDEFIANT.IO
Over 84,000 subscribers
ETH/BTC Playing With Ether Bulls' Emotions, Negative Yielding Bonds Hardly Good Case for DeFi
Good morning defiers! Here's what's going on in the intersection of blockchain and finance today:
ETH/BTC ratio paring gains after appearing to bottom

Negative-yielding bonds versus DeFi

Update on Dharma
---
ETH/BTC Playing With Ether Bulls' Emotions
The ether to bitcoin ratio is paring gains after appearing to bottom.
ETH/BTC gained 8 percent over the weekend after touching 0.017 on Friday, the lowest since March 2017. It appeared ether's price to bitcoin had finally bottomed after relentlessly grinding lower since February, but it stopped right before crossing 0.019, and then it started reversing those gains. Now it's at 0.0186 on Poloniex.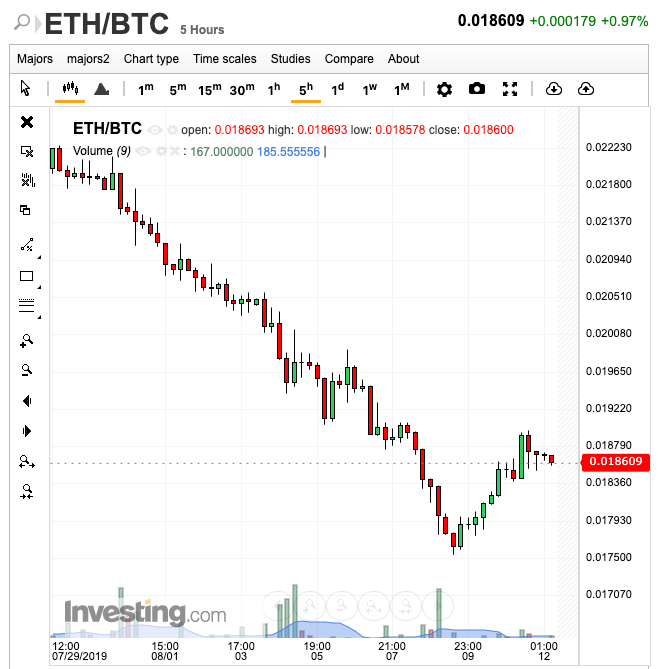 For context, the last time the ETH/BTC ratio was at 0.017 ether was trading at around $20 and Bitcoin was was around $1,200. Now that ether has slid to $211 from almost $280 in the past month, while bitcoin jumped to $11,300 from around $7,000 in that time, the two cryptocurrencies are worth the same relative to each other.
Technical indicators compiled by Investing.com show that trend won't be reversing in the near term and are mostly saying sell.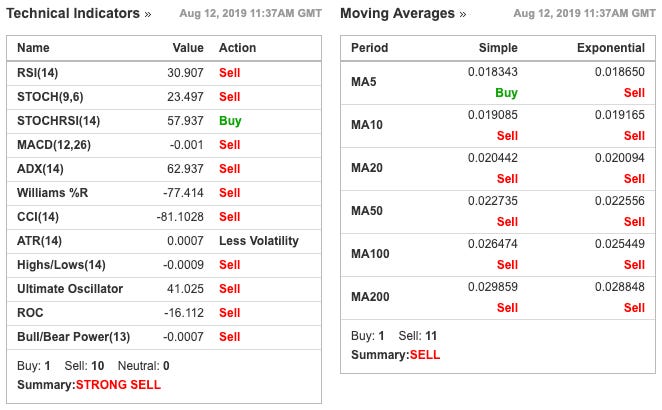 The technical side seems pretty dire, but there should be some bullish fundamental drivers. Ether is increasingly being locked up in decentralized finance, while issuance reduction and staking in the next few months should continue to reduce supply. Maybe DeFi is already priced in and eth locked up hasn't surpassed the amount it touched in April, and the market is still seeing too much risk/uncertainty to issuance reduction and staking.
Negative Yielding Bonds Surge / Reasons to Use DeFi Surge?
Negative yielding bonds (the kind where investors pay the bank for taking their money, not the other way around), swelled to a record $15 trillion one week ago and DeFi enthusiasts everywhere started saying this should attract more people to blockchain-based protocols where you can start earning double-digit interest in a a few clicks.
This makes sense on the surface. The weighted average interest rate for lending Dai on Compound and dYdX is at over 11 percent, according to LoanScan. That's a pretty good deal considering it's 11 percent over a stablecoin pegged to the dollar; it's like getting double-digit returns on a dollar deposit. If you buy Dai on Coinbase, you don't even have to touch a volatile cryptocurrency to make the deposit.
But it's still a risky investment. Savers have to trust very young platforms and smart contracts, which are far from fail proof and have lost money before, and that's after getting through the initial hurdles of understanding what a stablecoin is and how decentralized lending works. The whole reason they're going into negative yielding debt and deposits is because they're willing to pay to have their money in the safest place possible (Read Joe Weisenthal's column on why this makes sense).
It's a little far-fetched to think those investors and savers would go to choose DeFi instead. If anything, maybe they'd buy a triple-B bonds first.
Update on Dharma Suspension of Deposits
On Friday I wrote about lending platform Dharma's strong outflows and negligent volume right before it canceled its deposits. I spoke with COO Brendan Forster for an update on what's going on, and he wanted to assure users remaining funds are safe and there's nothing wrong with the platform.
"We paused the system not because of bugs or any risk to users, but because we want to prioritize building better user experience, even if that's to the temporary detriment to Dharma's own metrics," he said in a phone interview.
Dharma plans to provide further updates soon, he said.
---
The Defiant will become a paid newsletter in the next couple of months. As a way to say thank you to the first ones joining me in building this platform, anyone who signs up before the paid period will pay just $8/month and $80/year for the best (and only) daily, in-depth DeFi content out there, compared with the full price of $10/month and $100/year.
Subscribe now! You'll be supporting independent journalism and allowing me to continue illuminating this fascinating corner of the world for you.