Discover more from WE'VE MOVED TO thedefiant.io
WE NO LONGER POST CONTENT ON SUBSTACK. GET THE LATEST DEFI AND WEB3 NEWS AT HTTPS://THEDEFIANT.IO
Over 84,000 subscribers
MakerDAO ETH Drain Hitting All of DeFi, Dharma Pauses Deposits
Good morning defiers and happy Friday! Here's what's going on in decentralized finance:
MakerDAO keeps losing ETH and that's affecting total value locked in all of DeFi

Dharma suspended deposits after steep outflows

InstaDApp holds over $20 million and hasn't been audited yet
---
MakerDAO Losing ETH is Hitting All of DeFi
People are pulling ether from MakerDAO and that's making a big dent in decentralized finance's favorite metric: Total value locked.
Total value locked in DeFi is down 24 percent to $489 million in the past month, according to DeFi Pulse. The cause of that decline falls entirely on ether: The amount of ETH used as collateral declined in that period, while DAI and BTC/WBTC rose.
Looking closer, it's not that borrowers are turning on ETH specifically. Ether locked in Compound Finance, Nuo Network and dYdX is at or near all time highs. But ETH in MakerDAO just keeps sliding. The slump in collateral locked up started in April and relatively stabilized in June, but then picked up again in late July. ETH locked in Maker was at 1.3 million yesterday, the lowest since November.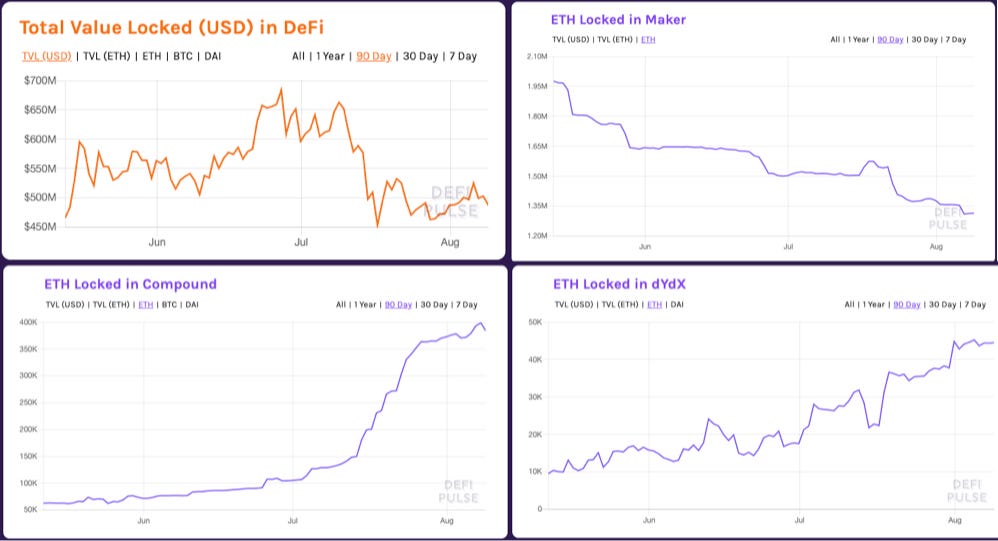 Source for charts: DeFi Pulse
One reason could be that with a declining ether price, borrowers don't want to use it as collateral out of fear of getting liquidated, but then they wouldn't be using it in other platforms. So higher borrowing rates in Maker have to be the driver. Market forces should help rates come down as DAI supply declines and drive demand for loans on Maker again.
What should be more concerning is that the overall decline of ETH locked in DeFi shows those borrowers aren't taking their tokens to other DeFi platforms. They're leaving the space entirely.
Dharma Suspends Deposits After Steep Outflows
The only lending protocol also losing ETH is Dharma, and suspending its deposits three days ago obviously isn't helping.
Value locked in Dharma grew exponentially from about $1 million before its public launch on April 8, to as much as almost $30 million less than two months later. But value locked plummeted as quickly as it rose, from $29.3 million on July 8 to $13.6 million yesterday, according to DeFi Pulse.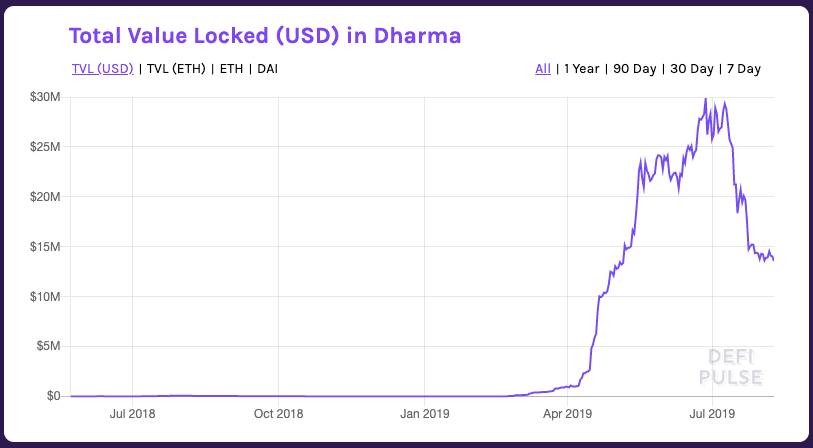 Image source: DeFi Pulse
That amount will only go down in the near term, as the lending platform paused accepting user deposits on Aug. 7. Users can withdraw any funds "that are not currently locked up," they said in a tweet. They didn't offer much explanation as to why, but just said, "The next chapter of this story is going to be exciting. We look forward to helping you compound your wealth."
Users looking for more information won't be able to check their smart contracts as their code isn't open, like other DeFi platforms. Another way to gauge the health of the project is loan volume, and that has been pretty thin since mid July, according to LoanScan. There have been no loans originated since July 17, and the platform has a total of about $7 million of loans outstanding.
(I've reached out to Dharma to find out more so stay tuned for updates).
InstaDApp Needs an Audit
"I'm fascinated and also increasingly horrified by InstaDApp's growth. With over $26m locked in smart contracts, Instadapp has yet to undergo any type of 3rd party audit," cryptocurrency consultant Chris Blec wrote yesterday, and it's a great point. Read the thread here.
---
The Defiant will become a paid newsletter in the next couple of months. As a way to say thank you to the first ones joining me in building this platform, anyone who signs up before the paid period will pay just $8/month and $80/year for the best (and only) daily, in-depth DeFi content out there, compared with the full price of $10/month and $100/year.
Subscribe now! You'll be supporting independent journalism and allowing me to continue illuminating this fascinating corner of the world for you.