Discover more from WE'VE MOVED TO thedefiant.io
WE NO LONGER POST CONTENT ON SUBSTACK. GET THE LATEST DEFI AND WEB3 NEWS AT HTTPS://THEDEFIANT.IO
Over 84,000 subscribers
Tokenized Shirts Are Selling for +$500 in Ethereum Dexes Amid Market Bloodbath
Zora, Unisocks and MetaFactory are leading the way in this radical and perplexing market.
Hello Defiers! It's a grim day for markets today, but this piece about the popping digi-physical token market will hopefully cheer you up, as it shines a light into the bleeding edge of this intersection of blockchain and finance. Here's what's happening:
The market for tokenized physical items is soaring

DeFi galaxy is having a big-bang moment, Alethio graph shows
And more :)
---

Digi-Physical Tokens to Change Ownership as We Know It
Digital money and the physical world are becoming more intertwined than ever. The result is radically amplified product ownership by users and creators.
What's happening in simple terms is that creators are selling real-life items via cryptocurrency tokens trading in decentralized exchanges, which anyone can access. The first to do this was Uniswap Exchange with Unisocks [Read my post on Unisocks here]. The space is gaining steam, with MetaFactory and Zora recently launching digital marketplaces for scarce physical items, which they also help create.
Trading physical goods via tokens on dexes, in itself doesn't seem that revolutionary (though it is amazing that anyone can go in these platforms and trade without giving up personal information or relinquishing control of their funds, Dexes have been around for a few years now.)
But what if I told you socks are being sold for $90 and a t-shirt is going for over $500? Pretty crazy, but those of you aware of the "hypebeast" trend, will know some Yeezy shoes have sold for over $3,000, and a Supreme hoodie went for $12,000.
So here's what's different:
1. Creators reap rewards: Traditionally, creators of viral products and cult items benefit from only part of the value they're creating. After they sell their products, the items' most significant appreciation happens in the secondary market. In this new model, each item is represented by a cryptocurrency token and its price is determined in an open, free market. That means creators sell their goods for what people are actually willing to pay for them, and benefit directly from the interest they create around their brand.
2. A way to bootstrap: Creators can also use these tokens to bootstrap their work, by selling them even before their product has launched. Their supporters can buy up these tokens, which are redeemable for the product, and creators can use the proceeds to actually make the product. The tokens' price in the secondary market can also help them gauge what a fair price for their items is.
Take the case of Zora marketplace mentioned above. They created the Saint Fame fashion brand and sold FAME tokens linked to a t-shirt which hadn't even been designed yet. All people knew is that Matt Vernon, a.k.a. Dapp Boi, who designed notable DeFi projects like Synthetix and Dharma, would be behind it
3. Trend-setters benefit: On the side of the user, early trend setters and fans are able to buy goods at a discount, as they'll be able to snap up tokens before they appreciate. For example, SOCKS tokens, linked to the $90 socks sold by Uniswap mentioned earlier, was selling for $12 in May. FAME tokens were trading at $8 when they first launched in December and have soared to over $700 after catching the attention of influencers including NBA player Malcolm Miller..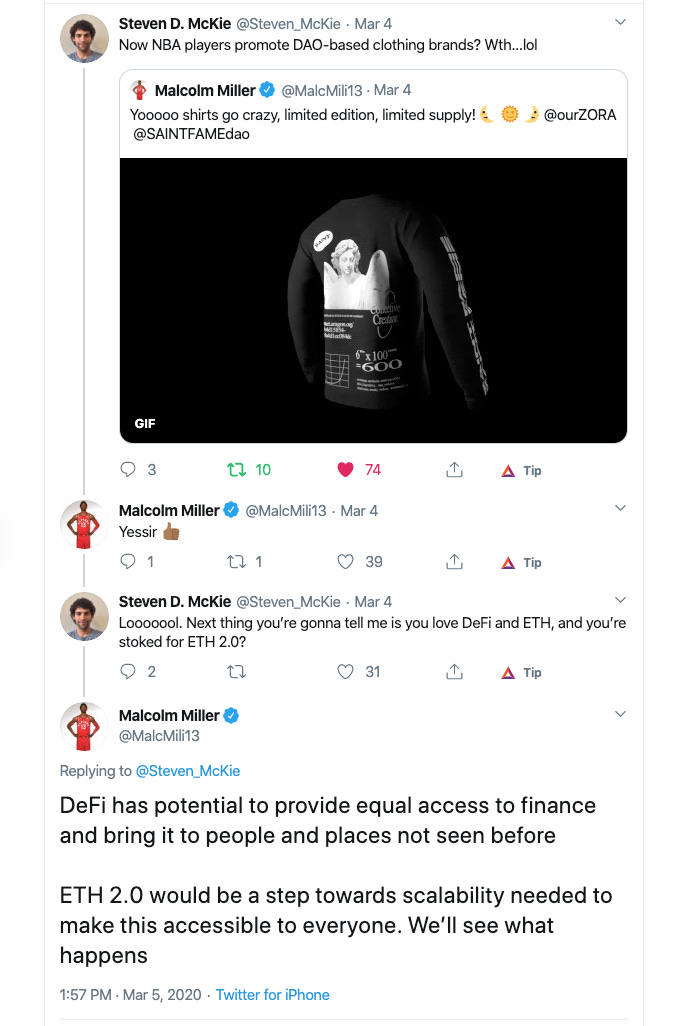 Image source: Twitter
Uniswap's SOCKS and Zora's FAME tokens surged to records of $107 and $777 respectively in the past three days. But even digi-physical tokens are suffering today's market slump, with FAME down 29% to about $539, while SOCKS is down 13% to almost $90. Ether is down more than 10% to just over $200.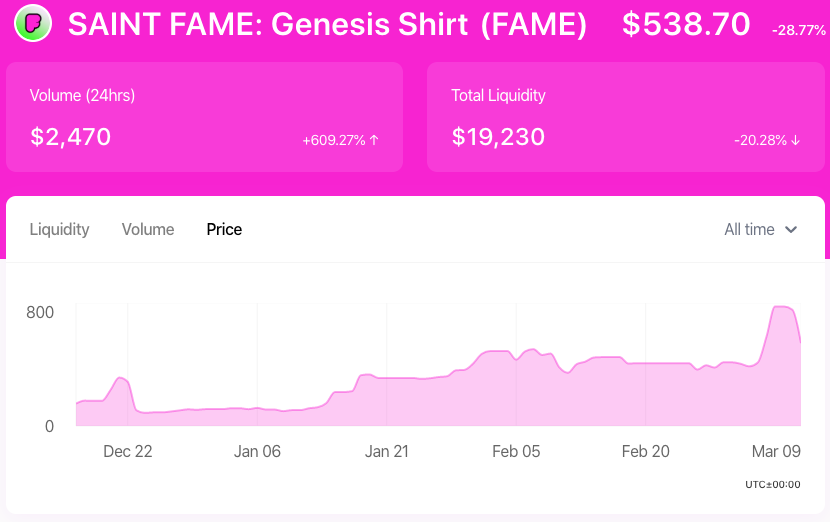 Source for images: Uniswap.info
4. Owning the brand: Consumers will also be able to "buy the brand" as opposed to buying a specific item. Because tokens are divisible, fans who want to both support a creator and also benefit from their success, can buy fractions of a product. If the brand does well, their token will gain in value.
People are already buying fractions of the FAME token, which means they want to own a piece of the Saint Fame brand, not the actual shirt.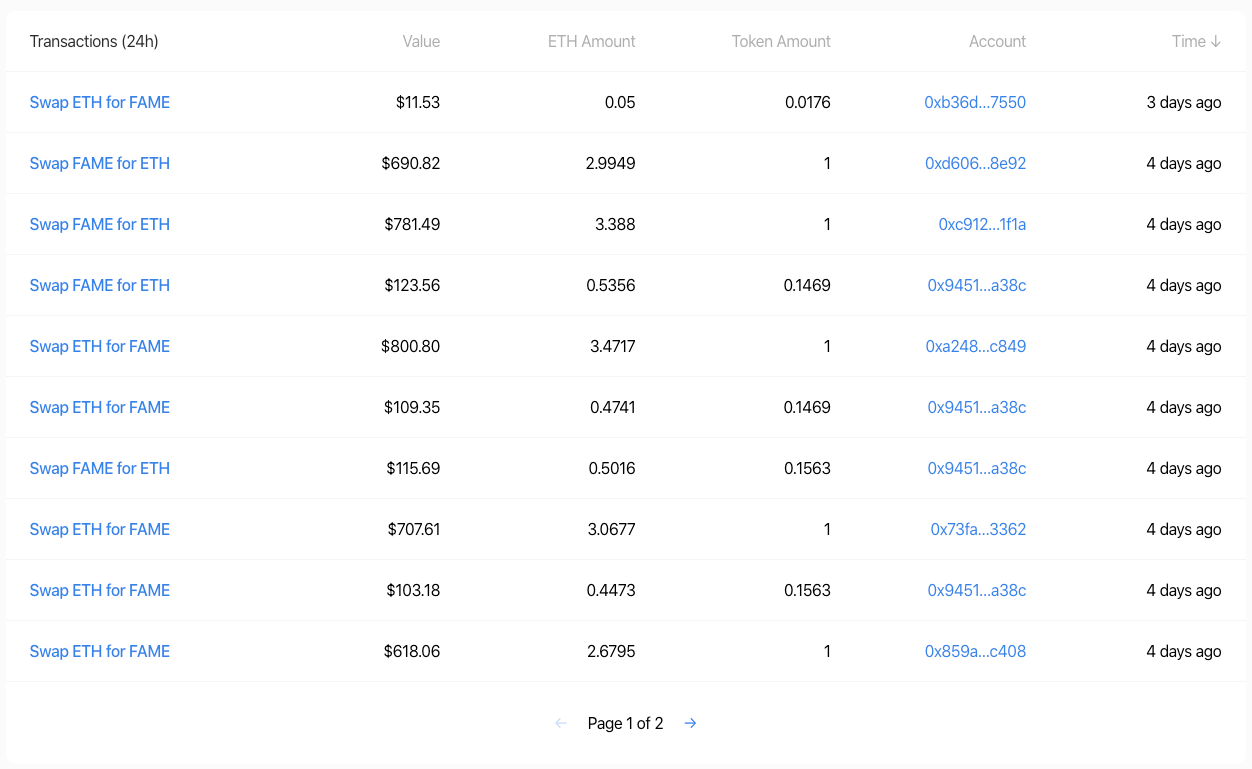 Image source: Uniswap.info
And beyond just owning the token, token holders can potentially have a say in the company itself, just like shareholders. Both MetaFactory and Zora are DAOs, or decentralized autonomous organizations. That means the projects are owned by token holders, who have voting power. This is an emerging kind of organization which extends decision making beyond a small team of managers, and enables a new kind of company, which can be truly "internet-owned," as Zora says.
5. IRL/VR integration: Tokenized objects can open the way into a seamless integration of the digital and the physical worlds. MetaFactory is leading the way here, as it plans to create a non-fungible token for each product they create, and deliver them with each physical item. These digital collectibles will be integrated with virtual reality world Cryptovoxels. Those who buy MetaFactory's reversible hoodie, will be able to wear it in "real life" and also via their avatars in the virtual world.
6. Tokens will be tokens: Ethereum-based tokens linked to physical objects can also be used in decentralized finance as one more "money lego." MetaFactory is innovating here by rewarding buyers with a proportional share of the project's sales, directly adding value into their digital token. That means buyers of MetaFactory's tokens will automatically start earning interest.
And we're starting to scratch the surface, with just a couple of tokenized goods being traded at the moment, and a handful of companies dedicated to these internet-owned fashion brands. The potential for growth is huge. The market for resale sneakers and streetwear in North America alone is projected to reach $6 billion by 2025 from $2 billion today, according to Cowen, an investment bank, cited by The New York Times. Digi-physical tokens —or whatever they end up being known as, because that's not the greatest name— could take a slice of that market.
Right now, all of the hype surrounding these scarce physical goods like cult sneakers and handbags is created online. It only makes sense that their markets are too.

DeFi Galaxy Having a Big Bang Moment
Ethereum analytics firm Alethio just updated its amazing visualization of the decentralized finance ecosystem, showing how the DeFi galaxy is quickly expanding, with the number of users and platforms growing in an interconnected web. The images speak for themselves: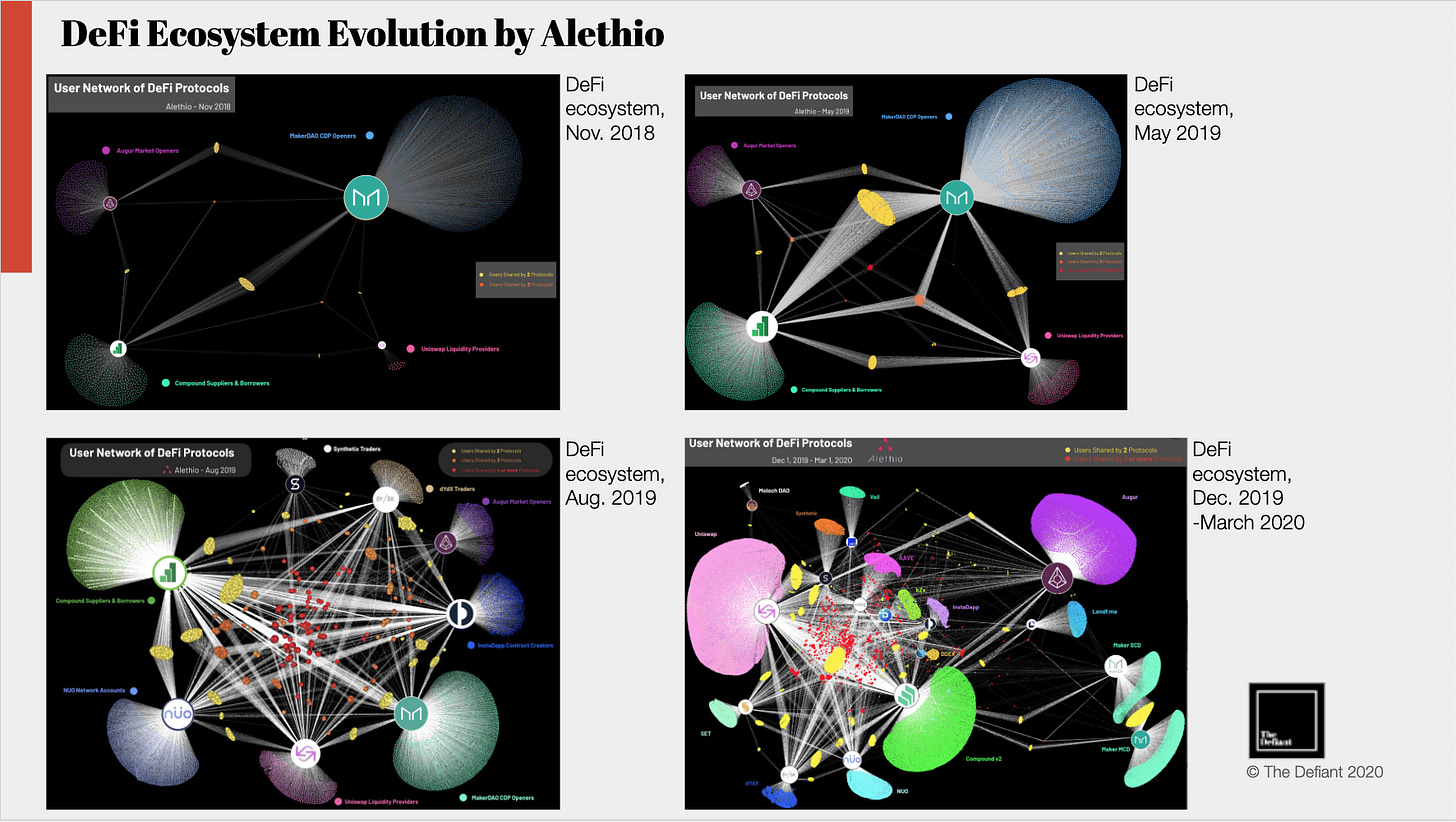 Ethereum developer Lane Rettig says the most important political debate of our generation has nothing to do with democrats and republicans; it will be about how dependent we are on automated system. "In an age when enormous financial and technology companies are to a great extent unaccountable to their users or to society at large, and are increasingly engaging in arbitrary censorship and deplatforming, there is clear value in systems that treat all users equally and fairly. To a blockchain—indeed, to any computer algorithm—you are no more and no less than the data that represent you."

Ken Deeter at Electric Capital makes the case that DeFi's superpower is atomic transactions, not decentralization.
---
The Defiant is a daily newsletter focusing on decentralized finance, a new financial system that's being built on top of open blockchains. The space is evolving at breakneck speed and revolutionizing tech and money. Sign up to learn more and keep up on the latest, most interesting developments. Subscribers get full access at $10/month or $100/year, while free signups get only part of the content.
Click here to pay with DAI.There's a limited amount of OG Memberships at 70 Dai per annual subscription ($100/yr normal price).
About the author: I'm Camila Russo, a financial journalist writing a book on Ethereum with Harper Collins. (Pre-order The Infinite Machine here). I was previously at Bloomberg News in New York, Madrid and Buenos Aires covering markets. I've extensively covered crypto and finance, and now I'm diving into DeFi, the intersection of the two.