Discover more from WE'VE MOVED TO thedefiant.io
WE NO LONGER POST CONTENT ON SUBSTACK. GET THE LATEST DEFI AND WEB3 NEWS AT HTTPS://THEDEFIANT.IO
Over 84,000 subscribers
Record Value Locked Shows DeFi is the New Honey Badger
Also, Fidelity is testing Ethereum tokens for employee rewards.
Hello defiers, and happy Thanksgiving for those who celebrate! I'm personally thankful to have discovered this fascinating corner of tech and finance :)
New record value locked in DeFi

Fidelity Investments is testing Ethereum tokens
A reminder that The Defiant's beta period is ending next week. That means subscription prices will increase from $80/year and $8/month, to $100/year and $10/month. If you become a subscriber now, you'll be locking in the discounted price for the next 12 months. You'll have full access to the content and archive, and be in the select club of early Defiers, which will get its own perks. And this almost-daily newsletter is just the start. You'll know what I mean soon. Thanks again for your support; it's exciting to watch this new financial system together.
---
DeFi Don't Care
The amount of dollars locked in decentralized finance protocols touched a new record, even amid a crypto market slump.
There's now ~$680 million locked in DeFi, surpassing the June high of ~$650 million, according to DeFi Pulse. The asset that's contributing the most to this increase is ETH, as more than 300k ETH (about $50 million) has been added just in the past month. About $180k in BTC was added in that time, while $2 million in Dai was withdrawn.
An increase in value locked in DeFi is a sign these platforms are seeing increased use, either from new users pouring money in the system, or existing users trusting these smart contracts with more of their funds. This increased activity is more significant as it happened as the cryptocurrency market slumped.
ETH in DeFi did this: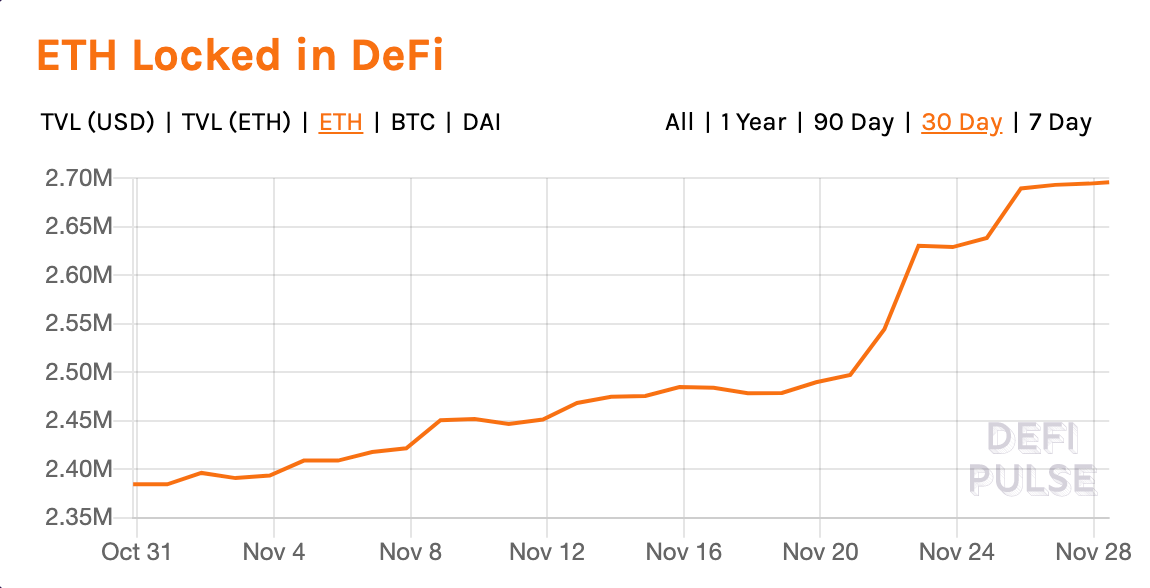 While ETH in the market did this: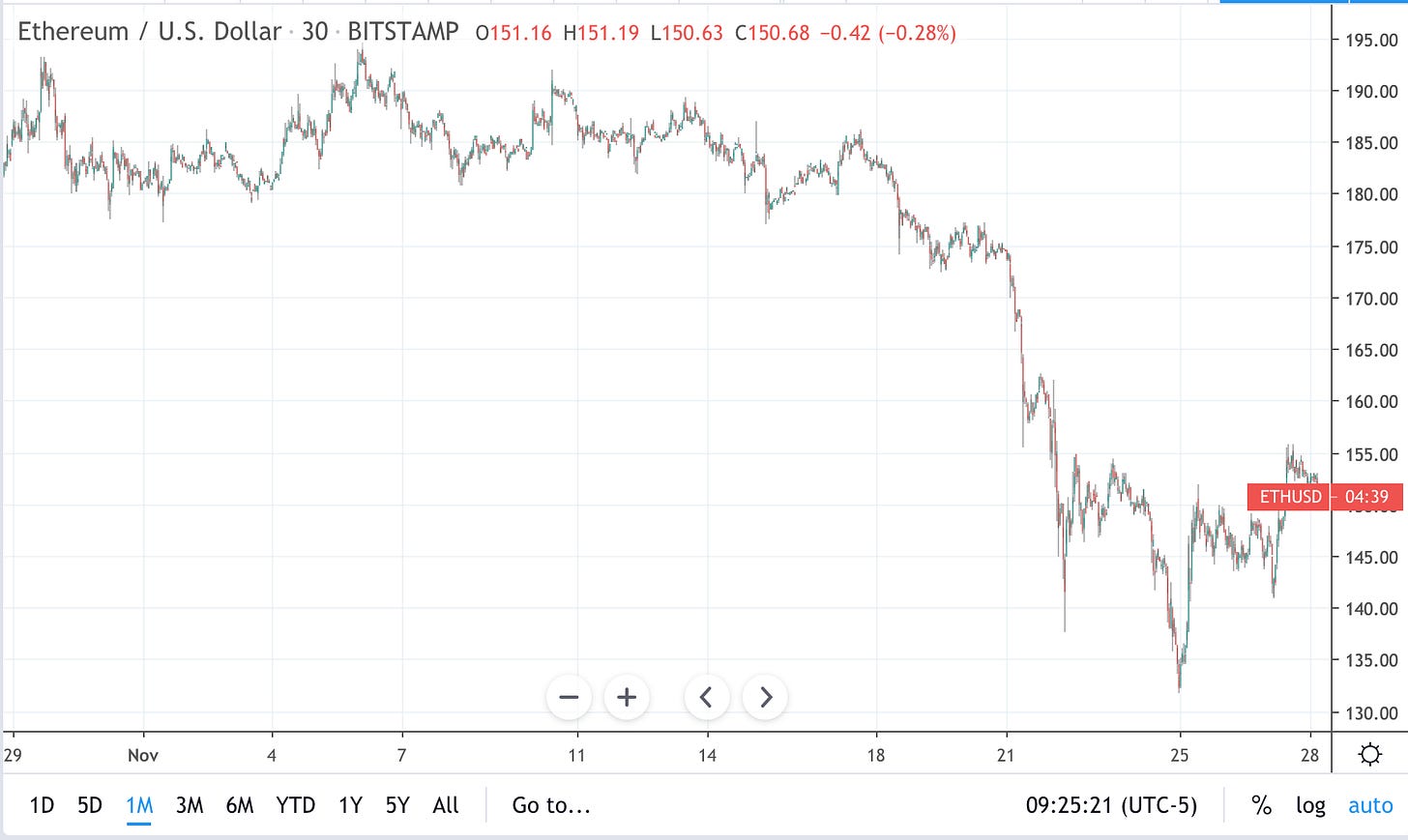 It's a sign users of decentralized finance platforms are confident Ethereum's cryptocurrency ether will rebound as they're willing to continue using it as collateral for their loans and other trades.
More broadly, it shows this new financial system doesn't rely on the hype cycles of the cryptocurrency market, which can be frequent and violent. After all, it was during the brutal bear market of 2018 when DeFi emerged in the first place.
Bitcoin is often said to be like a the honey badger that went viral in 2013, as it "doesn't care" about banks and authority. DeFi might be the rebellious brother, who doesn't care about any of that, and it also doesn't care about prices either.
Fidelity Testing Ethereum Tokens for Employee Rewards
Fidelity Investments, which holds $7.8 trillion in total customer assets, is testing a cryptocurrency-based rewards program for its employees.
Fidelity's Center for Applied Technology's Bits & Blocks Club launched an ERC-1404 token, which is an Ethereum token designed to carry complex compliance requirements. Security token firm TokenSoft helped FCAT design and issue the BBT token to be used in a closed-loop rewards system. The token is designed to incentivize employees to attend internal events and other activities.
This test comes after a long string of blockchain initiatives by Fidelity, which has a digital assets arm, providing cryptocurrency custody and trading fro institutional investors.
---
Sign up to get the best and only daily newsletter focusing on decentralized finance news, complete with analysis, exclusive interviews, scoops, and a weekly recap. Those who become paying subscribers in the current 60-day beta period which started Oct. 1 get an early supporter discount :)
About the author: I'm Camila Russo, a financial journalist writing a book on Ethereum with Harper Collins. I was previously at Bloomberg News in New York, Madrid and Buenos Aires covering markets. I've extensively covered crypto and finance, and now I'm diving into DeFi, the intersection of the two.