Discover more from WE'VE MOVED TO thedefiant.io
WE NO LONGER POST CONTENT ON SUBSTACK. GET THE LATEST DEFI AND WEB3 NEWS AT HTTPS://THEDEFIANT.IO
Over 84,000 subscribers
Open Source is Saving Lives in COVID-19 Pandemic
Techies were ridiculed for sounding the alarm, and now they continue to step up with freely accessible, urgently needed supplies.
Hello Defiers! Today's post dives into how open source and blockchain technology are contributing in the fight against COVID-19, where governments and other centralized institutions are failing.
📢 Help me scale up The Defiant team by donating to my Gitcoin Grant or recommending that friends do. Just 1 Dai goes a long way :) 
---

Techies Are Heroes in Coronavirus Pandemic and Open Source is Their Weapon
The COVID-19 pandemic is highlighting the faults of centralized institutions, from how government regulation has limited widely available testing, to misinformation about proper prevention, to authorities violating people's privacy in their effort to gather information about the spread of the virus.
The tech industry has really stepped up in this crisis, with venture investors and Silicon Valley companies warning about the gravity of the situation early on, even as presidents and health care officials minimized the threat.
Reputable news organizations mocked those sounding the alarm and worse, spread misinformation on the best way to protect against the virus, for example, by saying that face masks don't help and that it's fine for healthy people to go out into crowds. To those reporters' credit, they were only citing (incorrect) information from official government entities.
Open Source Saves Lives
Engineers, developers and tinkerers aren't only warning about coronavirus, they're also doing something about it.
Manufacturers of medical gear such as face masks and ventilators haven't been able to keep up with skyrocketing demand, so universities and private companies have stepped up to fill the void. Open source has been key in these initiatives, as it has made designs behind urgently needed medical equipment freely available to anyone who wants to help ramp up production. These efforts help both increase supply of life-saving materials, and also drastically reduce costs, from tens of thousands of dollars for one ventilator, to about a hundred bucks.
Blockchain Question
The success of projects using blockchain technology to aid in the crisis has yet to be seen as most are in the very early stages of implementation. These projects have focused on using distributed ledgers to improve how information on the virus is gathered and shared. The premise for these initiatives is that users can upload their location and infection status into a distributed ledger which anyone can access, can't be modified, and where any other personal data can remain private. That way, infection hotspots can be detected and anyone would be able to see if they were recently near someone who has tested positive.
There's value in having a system that's not controlled by any government or company to be compiling this information. But it seems like these efforts would take large network effects, and many to be imputing their information to be effective.
Below, I've compiled a list of the main open source and blockchain focused efforts to fight COVID-19.
Open Source Projects
Isinnova Emergency Ventilators
Italian 3D printing company Isinnova is making emergency ventilator masks, key in treating COVID-19 patients to help ease their breathing before they reach the critical stage, where they need full-blown ventilators. After a local hospital reached out to the start-up for help in making these masks, which were in short supply, Isinnova contacted Decathlon with the idea to repurpose the company's snorkeling masks. Decathlon provided the CAD drawing of the mask, and a new component was then designed to connect with to the ventilator. "We called the link Charlotte valve, and we quickly printed it using 3D printing," Isinnova says in its website.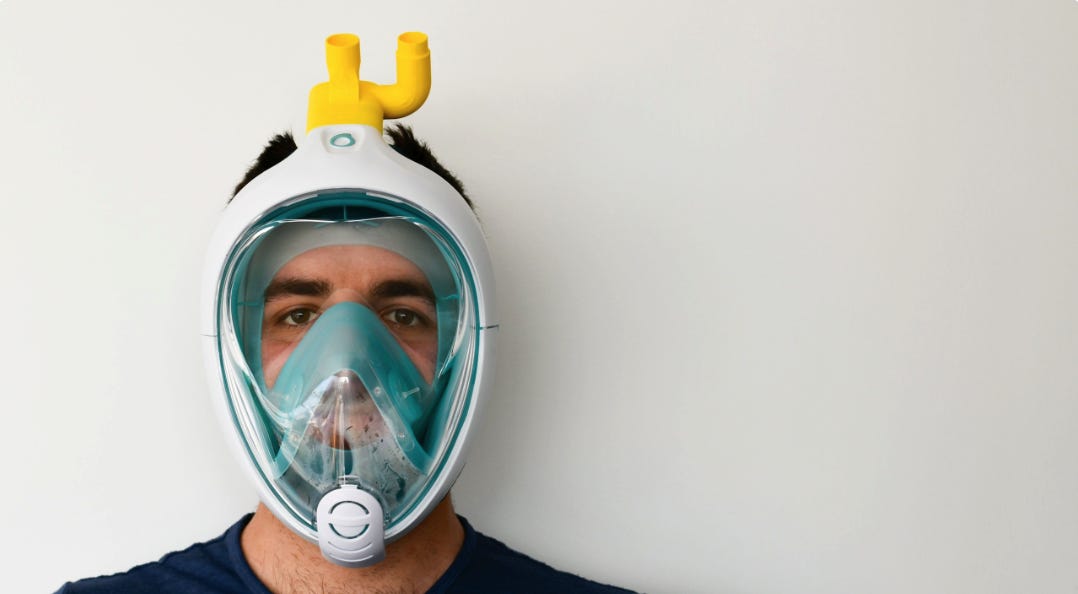 Image source: Isinnova website
The hospital successfully tested the device on a patient, but it hasn't been officially certified. While not strictly under an open source license, Isinnova patented the link valve so that it will be used for free by anyone who needs it.
"We decided to urgently patent the link valve (Charlotte Valve), to prevent any speculation on the price of the component. We clarify that the patent will remain free to use, because it is in our intention that all hospitals in need could use it if necessary."
Prague-based 3D-printing company Prusa developed and started producing plastic face shielding masks, which are key for medical staff to protect themselves when treating COVID-19 patients. They have printed and donated over 12,000 shields to medics and other professionals in the Czech Republic and we have requests for 90,000 more, according to their website. Their design is open source so anyone with a 3D printer can start making face shields.
"But the shortage is global […] This is why the design of the shields is fully open-source, anyone can produce it and/or modify it. Also, the shields are made from easily accessible and inexpensive materials."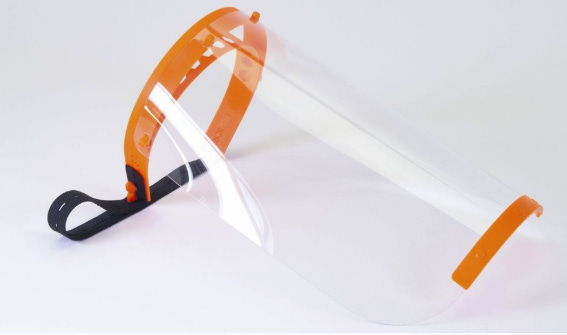 Image source: Prusa website
[ DeFi / 3D Printers Intersection ]
Julien Bouteloup of Staked Capital is one of the eager 3D printer owners who started producing Isinnova and Prusa masks. He's rallied a community and has helped organize production and distribution through Telegram and Twitter. He is raising money through Gitcoin and is using the funds to make sure producers can buy supplies and ship their products. He's also using the money raised to incentivize builders to make modifications to the open source designs that he has posted on GitHub, making sure the masks design is as good as it can be, he said in an interview.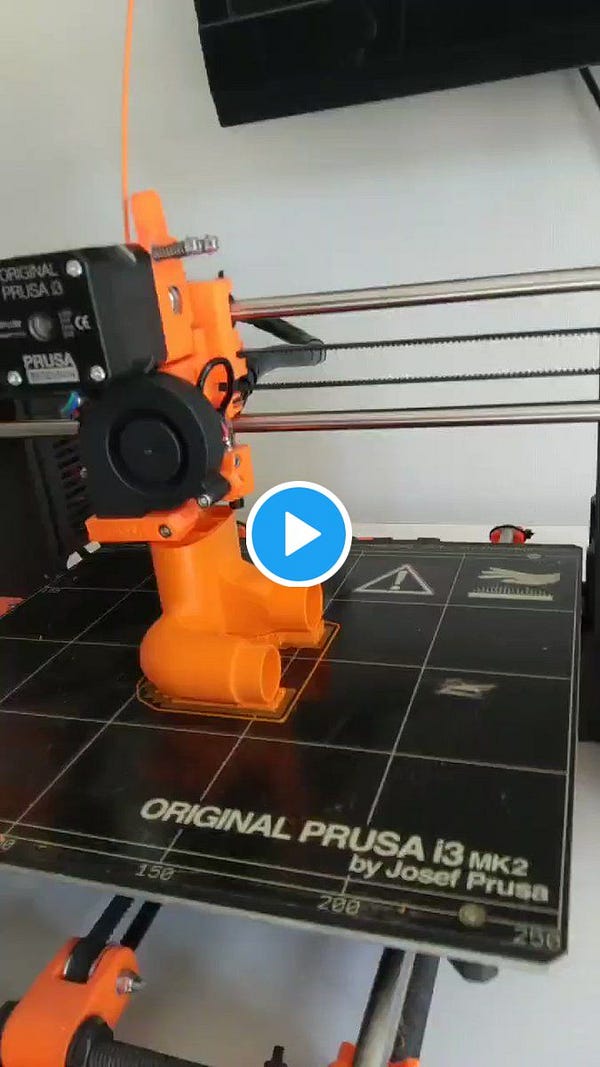 Similar to the Isinnova masks, face shields produced by the University of Wisconsin-Madison were born out of an urgent request from a hospital. Lennon Rodgers, director of the Engineering Design Innovation Lab at the university, got an urgent request to make 1,000 face shields as the hospital's usual suppliers were out of stock, Wired reported. Rodgers made a prototype using Home Depot materials and uploaded the open source design to the university's website so that others could contribute to production. The group has sent more than 1,000 face shields to the UW Hospital and Ford expects to produce more than 75,000.
A decade ago, MIT students wrote an academic paper on how to build ventilators, or machines that help patients continue breathing, which cost around $30,000, for about $100 worth of parts. The team linked to that course has now formed the MIT E-Vent project and is working on bringing the ideas on their paper to life. The group plans to release its designs "in an open-source fashion," the website says, "with the intent to provide those with the ability to make or manufacture ventilators, the tools needed to do so in a manner that seeks to ensure patient safety."
Blockchain Projects
Enigma, a decentralized protocol enabling computations on encrypted data, is building a privacy-preserving database and analytics platform called SafeTrace. "This service enables users to safely and privately share location data and their infection status. The objective of this tool is to help track social infection vectors," according to Enigma's website. The team says SafeTrace is being developed in response to "intrusive tactics for data collection" to stop the COVID-19 pandemic, in countries such as China, South Korea and Israel. The project is open source under the MIT license. We are bringing our expertise to build a privacy-preserving database that can be used by all. However, there are a lot of areas where we still need help.
IBM, Oracle and the World Health Organization (WHO) are among the group of entities behind MiPasa, a system which enables individuals, state authorities and health institutions to privately share information aimed at detecting COVID-19 carriers and infection hotspots. The solution was built on enterprise blockchain Hyperledger Fabric.
A project called Victory Soap is partnering with handmade soap makers across the US to fulfill orders and help get soap in people's hands, as the website says. They're selling soap through an Origin Protocol storefront, accepting ETH and DAI, and forwarding proceeds to The Giving Block's campaign.
"Victory Soap is a grassroots experiment in "dCommerce" decentralizing production as close to the customer as possible helping solve for "the last mile" problem."
Wibson, a decentralized data marketplace, developed My COVID Risk, a platform which uses AI to determine users' risk of contagion depending on their Google location data.
Algorand is distributing a survey with the goal of building a database to determine how COVID-19 is affecting people in real time. Responses will be publicly posted on the Algorand blockchain to guarantee free and permanent access to anyone. 
Other blockchain-focused ideas.
ConsenSys's Travis Blane shared some original ideas for how blockchain can be useful, which don't have to do with databases or data gathering, but rather with how to stay social and entertained in isolation, and how to help small business hit by the slowdown in activity.
---
The Defiant is a daily newsletter focusing on decentralized finance, a new financial system that's being built on top of open blockchains. The space is evolving at breakneck speed and revolutionizing tech and money. Sign up to learn more and keep up on the latest, most interesting developments. Subscribers get full access at $10/month or $100/year, while free signups get only part of the content.
Click here to pay with DAI.There's a limited amount of OG Memberships at 70 Dai per annual subscription ($100/yr normal price).
About the author: I'm Camila Russo, a financial journalist writing a book on Ethereum with Harper Collins. (Pre-order The Infinite Machine here). I was previously at Bloomberg News in New York, Madrid and Buenos Aires covering markets. I've extensively covered crypto and finance, and now I'm diving into DeFi, the intersection of the two.