Discover more from WE'VE MOVED TO thedefiant.io
WE NO LONGER POST CONTENT ON SUBSTACK. GET THE LATEST DEFI AND WEB3 NEWS AT HTTPS://THEDEFIANT.IO
Over 84,000 subscribers
New EY-Led Protocol Provides DeFi Plug-In for Companies
Also, pTokens launch, ETH whales start to accumulate, India and South Korea getting more crypto-friendly.
Hello Defiers! here's what's going on in decentralized finance,
EY, ConsenSys and Microsoft create Baseline Protocol to make public blockchains safe for corporations

pTokens want to bring Bitcoiners to DeFi

Ether whales starting to accumulate

India and South Korea get crypto regulatory breakthroughs
---

EY-Led Baseline to Provide DeFi Plug-In for Companies
EY announced it's leading an open source initiative called Baseline Protocol for businesses to connect their processes via distributed networks, without having to reveal their public information. If this catches on, it could provide a way for big corporations to plug into decentralized finance.
The main challenge for companies to use public blockchains, such as Bitcoin and Ethereum, has been that these networks expose users' transaction history. The most common solution has been for companies to use private blockchains, which protect sensitive data, but compromise on immutability, security and composability, often destroying the whole point of using blockchain technology in the first place.

The Baseline Protocol, which EY partnered with ConsenSys and Microsoft to create, wants to provide a better solution for enterprises. Its goal is to standardize the most common ways companies interact with each other and create packages of public domain tools to help them build and deploy processes on the public Ethereum blockchain. The protocol integrates technologies including zero-knowledge proofs to keep companies' private data, private.
Baseline supports smart contracts and tokenization standards, which means key business outputs like purchase orders and receivables could be tokenized and integrated into decentralized finance platforms. For example, businesses could use their account receivables to automatically issue short-term loans in DeFi, similar to factoring in traditional finance.
AMD, ChainLink, Duke University and MakerDAO are some of the members of the protocol's technical steering committee. The code is available to an early group of testers and will be made public this month.

pTokens to Bring Bitcoin Holders and Liquidity to DeFi
Blockchain oracle provider Provable Things launched pTokens to enable transactions across different blockchains. pTokens allow any cryptocurrency holder to use Ethereum-based decentralized applications, even if they're not holding Ethereum-based tokens.
This is the latest in a growing number of projects which are trying to make it easier for users to access applications regardless of the tokens they hold, and increase liquidity across blockchains. Ren is another project working on cross-chain transactions, while tBTC created a platform to issue Bitcoin-backed ERC20 Ethereum tokens.
"This aims to unlock the value of the entire $250+ billion cryptocurrency market, letting liquidity flow instantly and fluidly between different blockchains, expanding the world of DeFi," Provable Things said in a post.
The first pToken available will be pBTC, which is pegged at 1-to-1 with Bitcoin, and provides frictionless access to DeFi for bitcoin holders. BTC holders can instantly convert their tokens to Ethereum-compatible pBTC, and convert them back to BTC.
pBTC will be available on Bancor Network and Kyber Network liquidity pools.
Ether Whales Starting to Accumulate
The top 100 ether holders are once again beginning to accumulate higher percentages of the total token supply, according to Santiment.
"Generally, when this kind of accumulation starts to mount, it's a signal that those who have the most stake in $ETH (and other respective tokens) are beginning to have a collective sentiment of the token being undervalued and believe it's a great mid to long-term hold play," Santiment said in a tweet.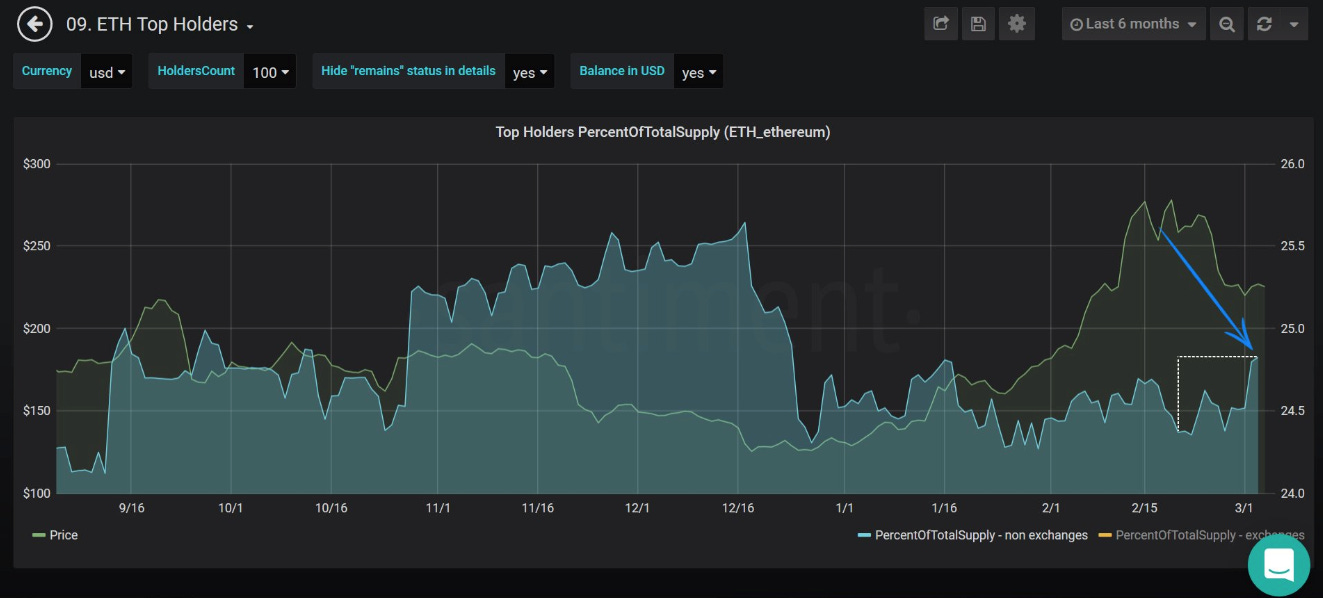 Image source: Santiment
Two Large Crypto Hubs Get Regulatory Breakthroughs
South Korea Approves Crypto-Specific Legislation
South Korean lawmakers passed legislation providing a legal framework for cryptocurrency trading and holding. Korea's financial regulators will oversee the industry, and cryptocurrency exchanges will need to comply with reporting requirements and have real-name accounts. South Korea is one of the world's largest cryptocurrency markets and the move signals a change in attitude towards crypto from the country's regulators, who have previously moved to clamp down on trading.
India Lifts Ban on Crypto Trading
India struck down a two-year-old ban on cryptocurrency trading. The country's Supreme Court overturned the 2018 ruling by the Reserve Bank of India, which prohibited financial institutions from enabling "any service in relation to virtual currencies," and caused many crypto exchanges and businesses to shut down. India has remained one of the largest markets for Bitcoin trading, and Indian entrepreneurs continued building blockchain startups —Nuo and Instadapp are two examples in DeFi. The move should fuel even more activity from the country.
---
The Defiant is a daily newsletter focusing on decentralized finance, a new financial system that's being built on top of open blockchains. The space is evolving at breakneck speed and revolutionizing tech and money. Sign up to learn more and keep up on the latest, most interesting developments. Subscribers get full access at $10/month or $100/year, while free signups get only part of the content.
Click here to pay with DAI.There's a limited amount of OG Memberships at 70 Dai per annual subscription ($100/yr normal price).
About the author: I'm Camila Russo, a financial journalist writing a book on Ethereum with Harper Collins. (Pre-order The Infinite Machine here). I was previously at Bloomberg News in New York, Madrid and Buenos Aires covering markets. I've extensively covered crypto and finance, and now I'm diving into DeFi, the intersection of the two.