Discover more from WE'VE MOVED TO thedefiant.io
WE NO LONGER POST CONTENT ON SUBSTACK. GET THE LATEST DEFI AND WEB3 NEWS AT HTTPS://THEDEFIANT.IO
Over 84,000 subscribers
MetaMask Token Swaps Are Only the Beginning in its DeFi Foray
Also, The Defiant website launch! Christie's auctions off first NFT, MetaFactory distributes ROBOT tokens.
Hello Defiers! Here's what's going on in DeFi:
MetaMask announces native token swaps

First NFT ever to be auctioned off at Christie's

MetaFactory distributes ROBOT token
---
📣 I'm also excited to announce:
The Defiant's content now has a home at its very own website!
Pieces within the newsletter are now also stand-alone articles so they're easier to find and share. Podcast episodes and YouTube videos also live there, as does a new section called DeFi 101, which we hope will become the landing pad for growing wave of users who are just starting out. All of The Defiant's free content will live there. Paid content and its corresponding membership to view it is coming soon —it's still available exclusively in this newsletter.
This is an MVP. We'll continue to build the information platform of the open economy from here. Check it out!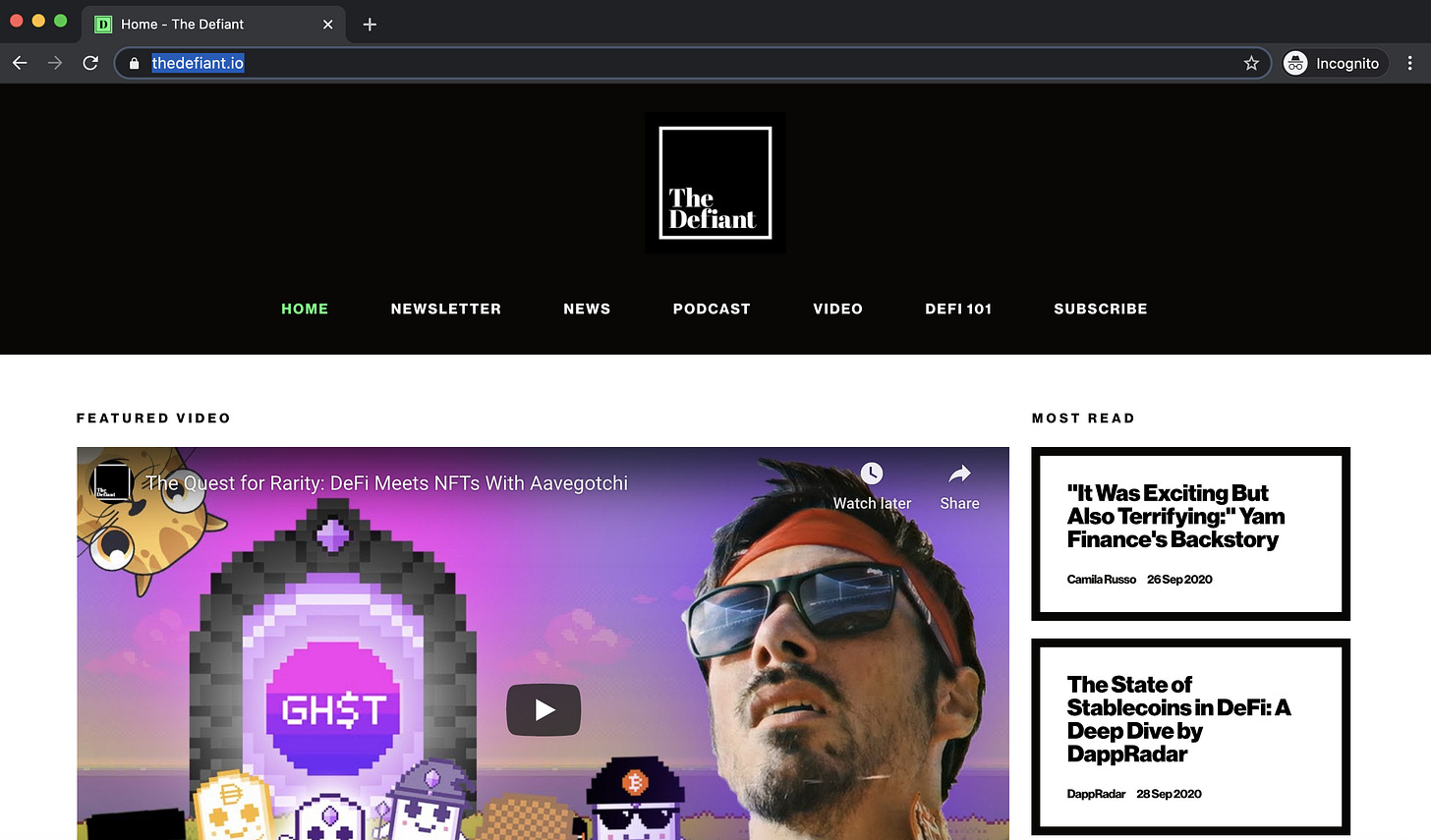 ---
📺 Also Watch This: Robin Schmidt and Alp Gasimov have produce a true crypto storytelling masterpiece: watch NFTs come alive like they never have before in
---

The open economy is taking over the old one. Subscribe to keep up with this revolution. Click here to pay with DAI.
---
🙌 Together with Zerion, a simple interface to access and use decentralized finance,  Perpetual Protocol, which provides decentralized perpetual contracts for any asset, and HackAtom V, a two-week virtual hackathon organized by Cosmos.

---

MetaMask's Native Token Swaps is Just the Beginning
MetaMask, the most popular Ethereum wallet, is often used as a gateway to DeFi but today it becomes part of the growing financial ecosystem itself as it introduces the ability to swap tokens directly on the app.
This new functionality is likely to be just the beginning.
MetaMask will source its liquidity across decentralized exchanges and DEX aggregators with the aim of providing the best exchange rate and tighter spreads between tokens.
1 Million Users
The move comes a day after the non-custodial wallet said it had reached 1 million monthly active users, some of which have the potential to become new DEX users, said MetaMask head of product Jacob Cantele in an interview with The Defiant.
"(DEXs and aggregators) don't see us as competitors," Cantele said. "We just passed 1 million monthly active users, and many of those users, the main thing they do is send crypto to other people or between their accounts so that's a significant consumer base that can be converted into DEX users and we can grow the entire DEX ecosystem together."
The feature is initially available to users of the MetaMask extension on the Firefox browser, and will be rolled out soon to other browsers in the following days and to the mobile apps "soon," Cantele said.
Lower Transaction Costs
MetaMask hopes to lower transaction costs for Ethereum users by allowing one-time token approvals, and eliminating the need to spend gas by checking rates across multiple platforms before making an exchange.
Liquidity sources for the ConsenSys-backed company will be Uniswap, Airswap, Kyber, 0x API, 1inch.exchange, dex.ag, Paraswap, Totle, and private market makers, with the aim to continue adding more. Exchanges using Layer 2 solutions can also be included via MetaMask's Snaps plug-in solution, Cantele said.
Many Use Cases
Fees will be dynamic depending on the size of the swap and will range between 0.3% and 0.875%. Part of that will be shared with the original liquidity source.
Asked whether MetaMask goal is to continue adding more DeFi use cases to the popular wallet, Cantele said:
"We are the most popular DeFi wallet because we're providing a solution that is permissionless and allows people to innovate on top of it. Our goal is to grow the entire decentralized web and to support many, many use cases."
---

First NFT Ever to Be Sold at Christie's Auction Tomorrow
A non-fungible token is set to be sold at one of the world's most prestigious auction houses tomorrow, in a world's first.
Portraits of a Mind, the work by artist Robert Alice is composed of two parts, a physical painting and an NFT. The NFT to be auctioned at Christie's was developed by Async Art, and changes according to the day/night cycle of the timezone that the physical painting is located in.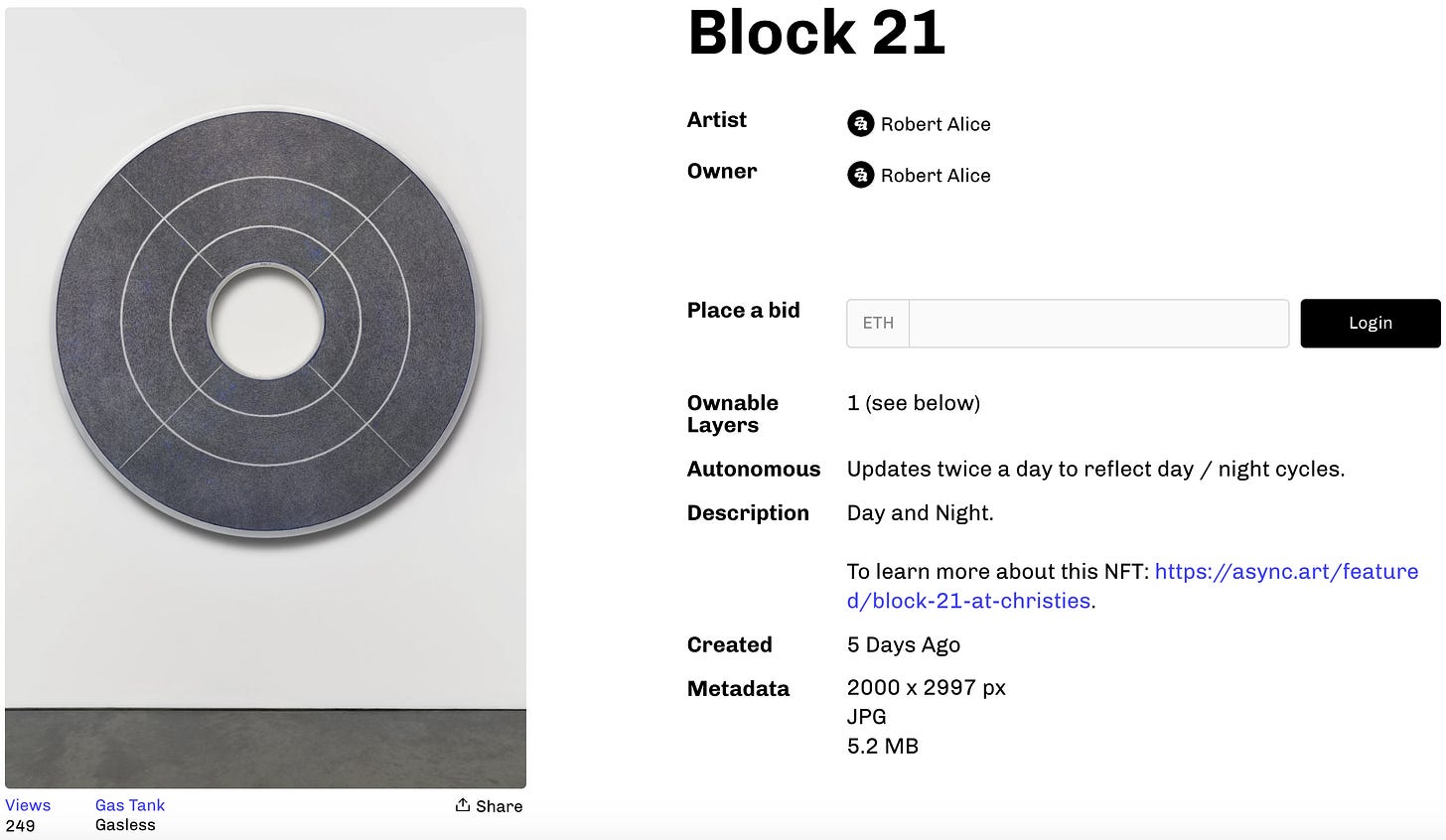 Image source: Async Art
"The NFT space stands at an inflection point of creative experimentation - both artistically and economically," Alice said in a press release. "Its next bold step will be to engage the traditional fine art world - of which this is only a matter of time. Not since the Renaissance has a technology so radically reorientated power and control back into the hands of the artist."
Bitcoin Code
The physical component of Portraits of a Mind is composed of 40 separate pieces, each holding hand-painted inscriptions of the Bitcoin code. Half of the pieces, wheels with thousands of tiny numbers etched in, were already sent to collectors including CZ, Matt Roszak, Jehan Chu.
Block 21, the first publicly available work from the series, will be exhibited at Christie's alongside major works by the masters of the 20th century, including Monet, Picasso and Warhol. 
---
MetaFactory Distributes Ownership Via ROBOT Token
What happens when you create a fair launch governance token for a community-owned digi-physical brand apparel platform? You get $ROBOT.
MetaFactory, which produces limited edition  wearables for crypto designers advancing Web3 culture, is distributing the ownership of the project via a token called ROBOT. The initial token distribution of 39k ROBOT went to the 43 buyers and designers of MetaFactory's Genesis Bomber jacket, which fulfilled the first $25k sales milestone. The token has a fixed supply of 420k. 
Those early supporters, (full disclosure: myself included), have already received the reversible, ETH-themed jacket.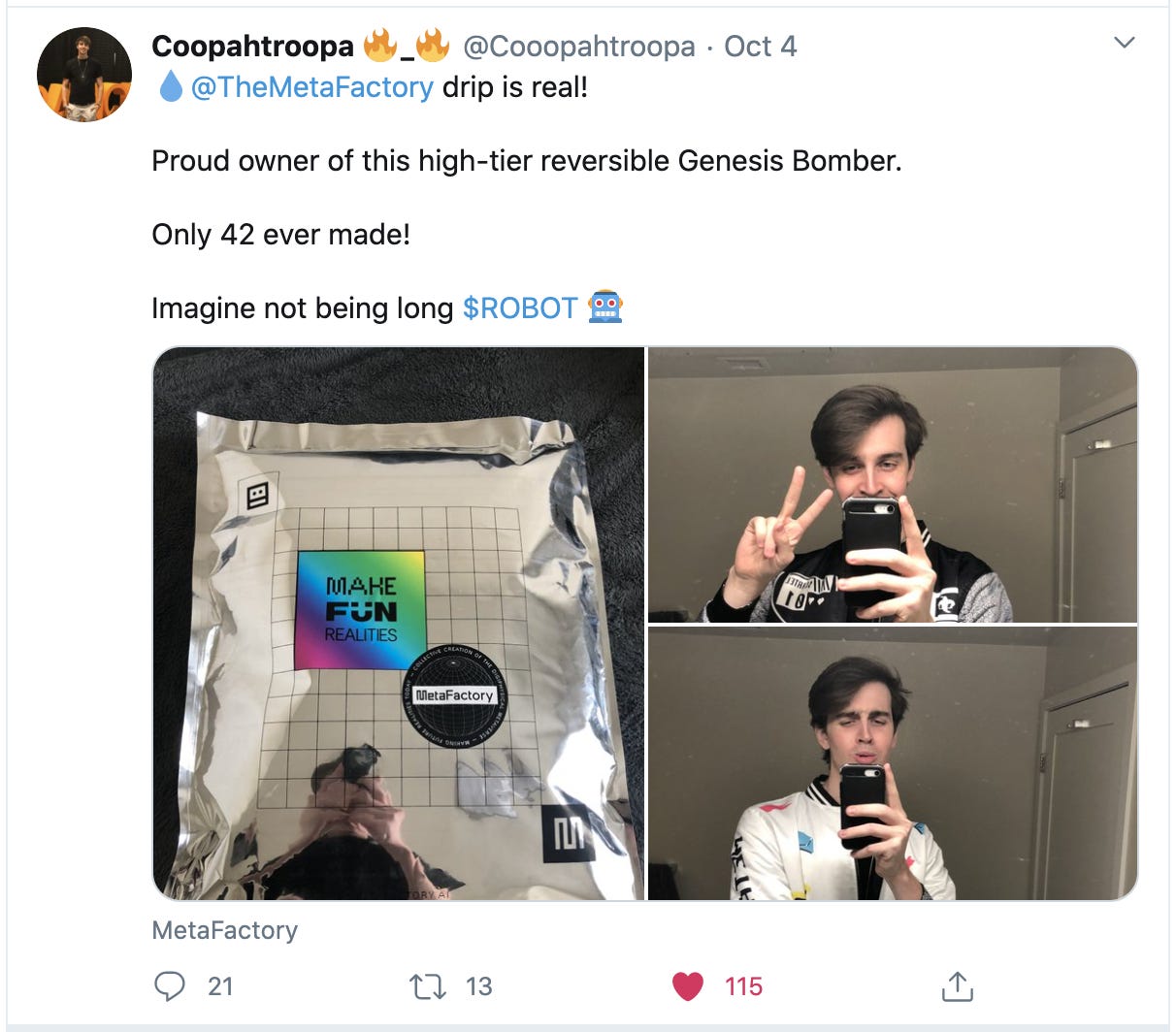 ROBOT Governance
ROBOT holders will vote to approve future token allocation to buyers, designers and contributors to the project. They will also vote on other decisions, including product curation, token mechanics, platform features etc. 
The project has been quick to hop on growing DeFi trends, offering YFI hoodies with a 'test in prod' sleeve tag and 'Yam Jams' to pay tribute to Yam Finance fueling the food coin yield chase.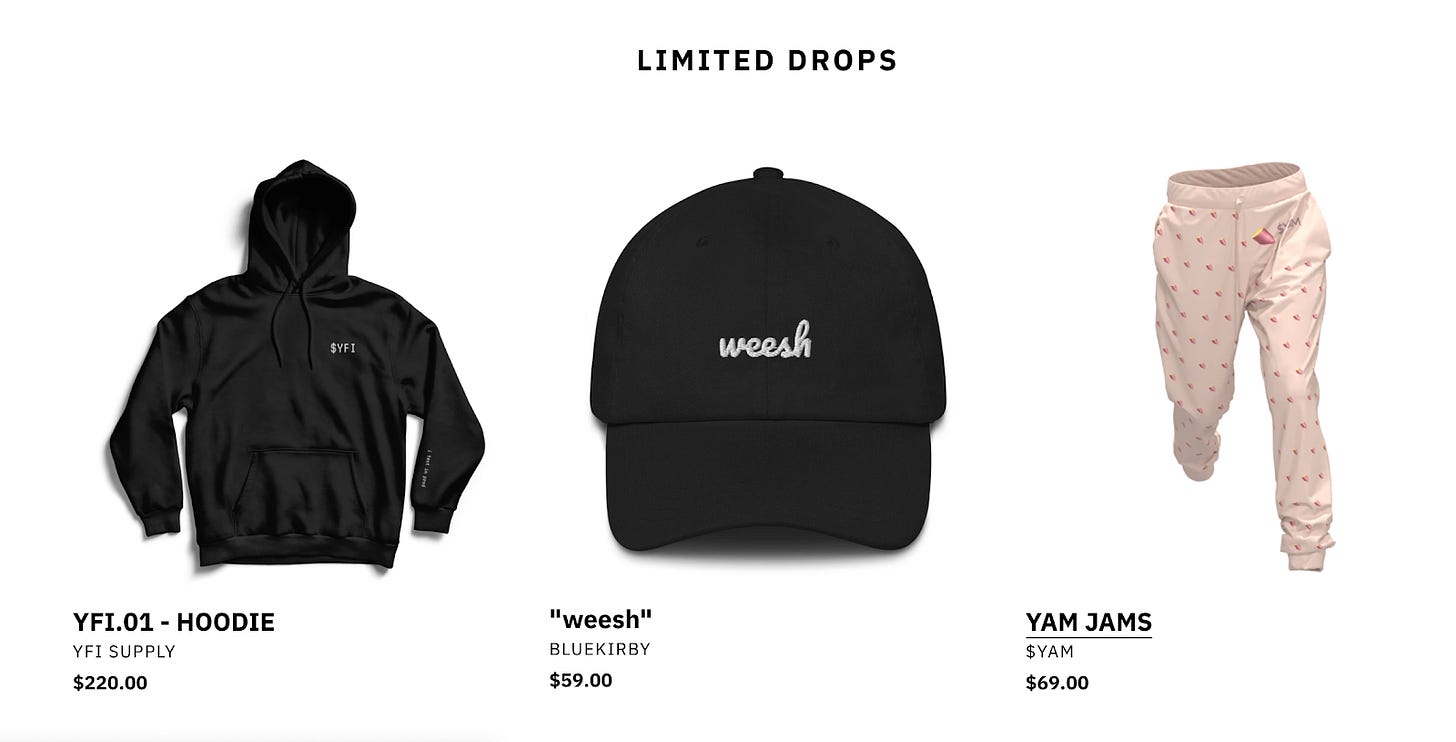 The project will continue distributing ROBOT retroactively for purchases before Sept. 30. After that, transferability will be enabled and circulating supply will be about 100k ROBOT. Future tokens will be  distributed through a community-owned multisig called the BotFarm.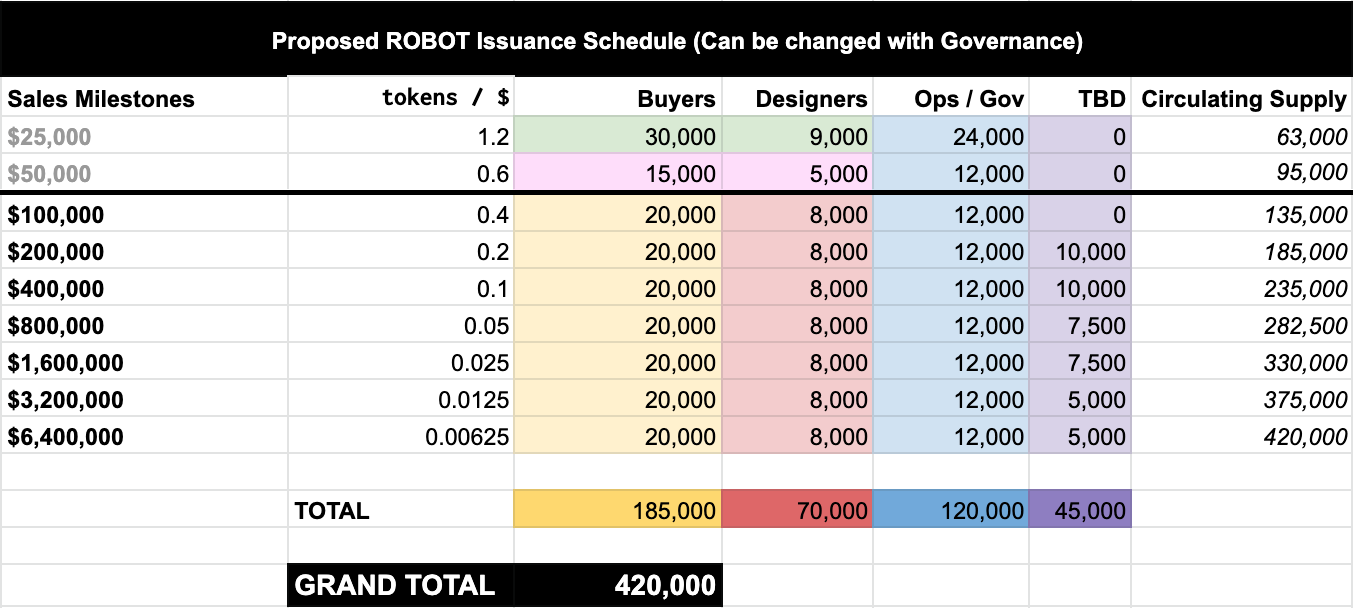 "As the crypto art and NFT space evolves, it's clear that there are two distinct user types: creators and collectors. And although different in their contribution, both require a way to be rewarded for the value they create." Metafactory cofounder Drew Harding told The Defiant. "$ROBOT will allow us to democratize access and participation in the brands, market and culture of the future - as we define it together."
By routing funding proposals through a DAO and offering transparency into the LLC's operations for anyone holding more than 500 ROBOT, MetaFactory continues to push the envelope on a community-owned wearable brand.
---
The Defiant is a daily newsletter focusing on decentralized finance, a new financial system that's being built on top of open blockchains. The space is evolving at breakneck speed and revolutionizing tech and money. Sign up to learn more and keep up on the latest, most interesting developments. Subscribers get full access at $10/month or $100/year, while free signups get only part of the content.
About the founder: I'm Camila Russo, author of The Infinite Machine, the first book on the history of Ethereum. I was previously at Bloomberg News in New York, Madrid and Buenos Aires covering markets. I've extensively covered crypto and finance, and now I'm diving into DeFi, the intersection of the two.