Discover more from WE'VE MOVED TO thedefiant.io
WE NO LONGER POST CONTENT ON SUBSTACK. GET THE LATEST DEFI AND WEB3 NEWS AT HTTPS://THEDEFIANT.IO
Over 84,000 subscribers
Good $KARMA: People are Paying Over $1,000 to Join a Tokenized Telegram Group
Hello Defiers! In today's guest post, Bradley Miles of Roll explains the latest in the emerging world of personal tokens. Entrepreneurs like Alex Masmej and Kerman Kohli have sold ALEX and KERMAN tokens in something like self-IPOs, crowdsourcing funds from supporters. Token holders can have a say on the issuers' lives and benefit from their future income. Today, Alex took his token even further, introducing "liquidity mining," or incentivizing holders to add liquidity to the ALEX/ETH pair on Uniswap in exchange for more ALEX tokens. Others, like artists Matthew Vernon and his BOI token and Connie Digital's HUE, have issued tokens that can be exchanged for goods and services (it was in these lines that I issued my own CAMI tokens).
The latest iteration in personal tokens is to use them as a way to incentivize community building, rewarding members as activity increases. Just yesterday, entrepreneur Brian Flynn launched JAMM, a token that's tied to his newly launched crypto and gaming newsletter Jamm Session. The token will give holders access to an exclusive Telegram group, and other content, he wrote in a blog post. Last month, investor Andrew Lee issued KARMA tokens as a way to create an exclusive Telegram group, which only KARMA holders can access. In the post below, Bradley dives into how KARMA's price has surged many times over, while membership for the Telegram group is now over $1,000.
Both paid and free subscribers receive full guest posts, but paid subscribers get them early. Paid subscribers also get complete access to The Defiant content and archive, and access to The Defiant Discord chat. Join the club! Subscribe now at $10/month, $100/year, or 70 Dai / year on this link.

---
🙌 Together with DeversiFi, a professional-grade, self-custodial exchange.

---

The Curious Case of KARMA: Memberships on a Bonding Curve
By Bradley Miles, Co-founder @ Roll
A few of you have probably seen the cashtag $KARMA fly across your twitter if you've been following Andrew Lee, an investor, advisor and community builder in the blockchain space.
When Andrew had the idea to create his own social money at Roll, we knew it was going to be different. He's had years of experience building Web3 communities and saw an opportunity to create a new type of group that could not only own itself, but whose value was completely distinct from any other community or token on the market. This is KARMA DAO.
To take things a step further, Andrew had the vision to create a membership for his new group in KARMA while placing some of the circulating supply on Uniswap. 
By placing KARMA on a bonding curve, as each person that paid the necessary 200 KARMA to get into the telegram group, the dollar value of membership would increase. 
What happened next was unprecedented for a social community.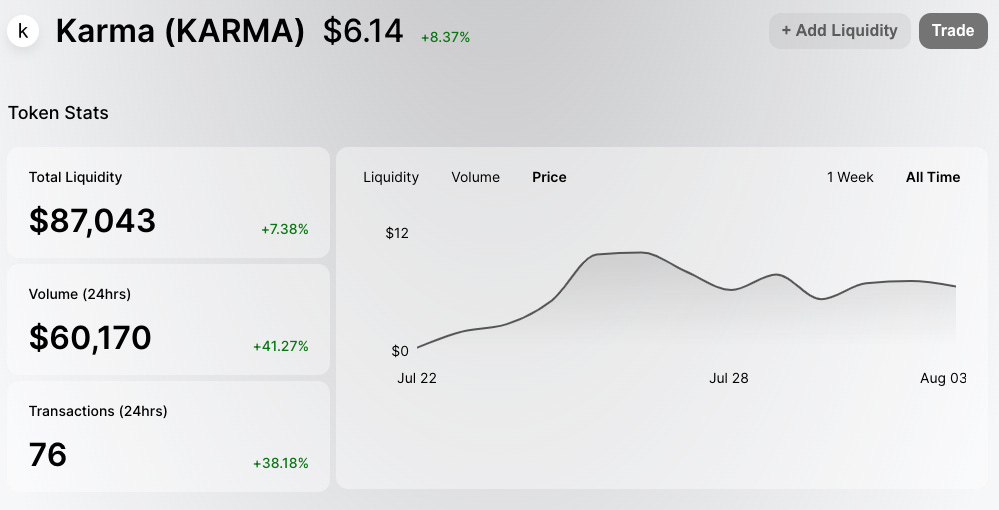 Image source: Uniswap.info
Andrew made the market for KARMA at around 0.03 USD, so the 200 KARMA membership was about $6 USD at launch. 
In the same way user-generated content can go viral and exponentially increase views, membership to the KARMA group went viral and exponentially increased price, liquidity and led to a market size in the tens of millions.     
Trading volume for KARMA has surpassed over 1MM USD since its launch on July 20, a first for any social money. People weren't just buying 200 KARMA, they were buying KARMA in the thousands and speculating on the value of membership into the group (the 200 KARMA entry fee is now in the thousands).
While this may seem like a deterrent at first, KARMA markets have actually curated an extremely unique group of people aligned with helping others succeed in the space. 
With over 200 members, it's not unusual to see Web3 founders, investors and community builders chatting about the markets, new protocols and deals they're seeing. The group has most recently taken shape as a pitching forum for emerging Web3 builders.
By specifically enabling users to own the value of their community, KARMA DAO creates a strong economic incentive to build community from the ground up. The value of $KARMA is, in some ways, a reflection of the work Andrew has put into the space for founders and investors alike. In his own words:
The goal of Karma DAO was to create a positive-sum community where bringing together the right people with values of being value-add to others could yield greater impact and personal growth than any other community. Creating a token helped create a real tangible asset of financial value that represents that act of belief and commitment. – Andrew Lee, KARMA DAO
What can we learn from KARMA DAO?
Memberships on a bonding curve are an exciting new primitive for Web3 communities or what we call Open Communities at Roll. Expect to see a lot more traditional and Web3 creators utilizing bonding curves for membership in the near future. 
It allows the creator to reward early participants and encourages community building through community ownership. From what we've witnessed with KARMA DAO, fostering and growing a healthy membership community on a bonding curve can yield incredible market growth. 
The best part is that anybody with a community can do this. The Abridged team, led by James Duncan and James Young, is building some incredible tools that makes this easy for just about any community. In the near future you'll see traditional web creators using tools like Roll and Abridged to seamlessly mint, move and use social money like KARMA as a point of access for communities.
We're having fun with real-time chat in Telegram but this playful primitive can be applied to any medium. You can begin to imagine a design space where the success of OnlyFans, Patreon and Substack membership communities can be represented or even enhanced by bonding curves.  
Teams like Roll and Abridged are not only seeing a world where this is true, we're actively building for it. 
Learn more about Roll and Abridged and read about KARMA DAO here.
Instructions for joining KARMA DAO here.
---
The Defiant is a daily newsletter focusing on decentralized finance, a new financial system that's being built on top of open blockchains. The space is evolving at breakneck speed and revolutionizing tech and money. Sign up to learn more and keep up on the latest, most interesting developments. Subscribers get full access at $10/month or $100/year, while free signups get only part of the content.
About the founder: I'm Camila Russo, author of The Infinite Machine, the first book on the history of Ethereum. I was previously at Bloomberg News in New York, Madrid and Buenos Aires covering markets. I've extensively covered crypto and finance, and now I'm diving into DeFi, the intersection of the two.