Discover more from WE'VE MOVED TO thedefiant.io
WE NO LONGER POST CONTENT ON SUBSTACK. GET THE LATEST DEFI AND WEB3 NEWS AT HTTPS://THEDEFIANT.IO
Over 84,000 subscribers
Gods Unchained Surging Shows Why Decentralization is No Game
A new way to go 5x long ETH and a Twitter-based crypto portfolio.
Good morning defiers! Here's what's going on in decentralized finance,
Ethereum-based game Gods Unchained surges

DDEX launches revamped margin trading platform

eToro partners with The TIE for Twitter-based crypto portfolio
---
Gods Unchained Surges After Blizzard Gamers Get Banned
Ethereum-based game Gods Unchained is surging after gaming company Blizzard banned four players from its Hearthstone game in the past 10 days. The gamers had signaled their support for Hong Kong protests.
Daily users on Gods Unchained jumped 47 percent from a week ago to a record 656 yesterday, according to DappRadar. In the past seven days the game has attracted 1,700 users, making it the fourth most active Ethereum application, and over $200,000 in volume.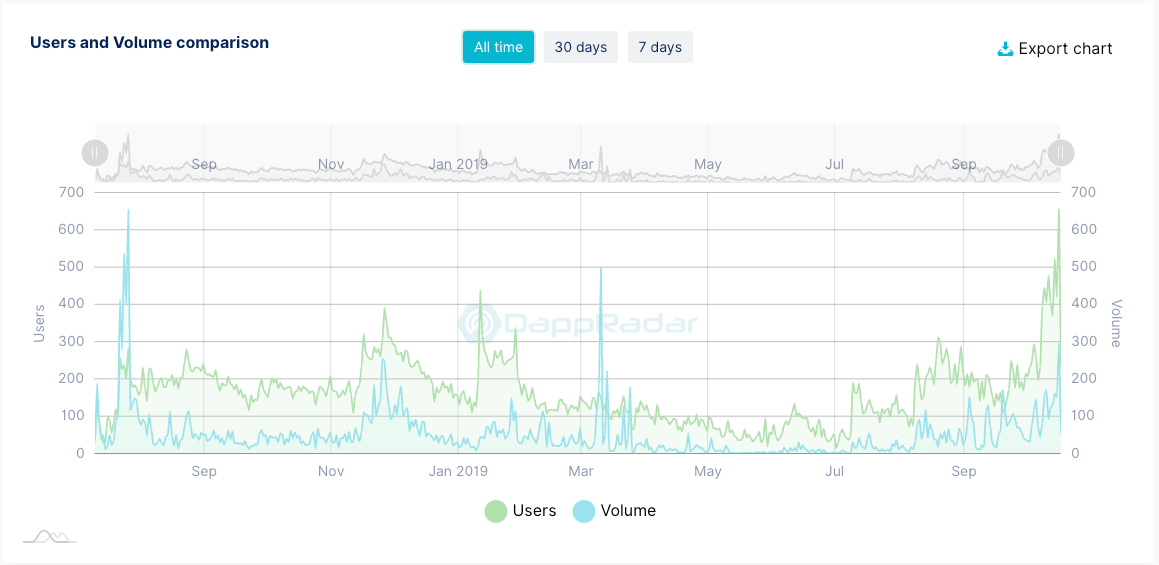 Gods Unchained users and volume. Source: DappRadar
It's hard to say whether the California-based company's actions are the direct cause behind the surge of activity in Gods Unchained. But the move was a clear example of why decentralization matters –even in games. Activision Blizzard owns the games it produces and also the assets inside the games, such as cards, weapons, skins, etc. It can change the rules, manipulate in-game economics, ban players, or just go offline.
In blockchain-based, decentralized games, like Gods Unchained, users are more in control. They're the owners of in-game assets, which can be traded in open markets just like any digital token. Because users are just Ethereum addresses, it's hard for companies to censor or ban them. Game producers can still change the rules, but blockchain technology opens up more opportunities for governance and for developers to fork the code if they disagree with the direction the game is taking.
In another sign of rising activity on Gods Unchained, yesterday one player bought 500,000 of the game's "raffle tokens," according to a Reddit post, which showed the picture of the transaction. The ERC20 tokens give users a chance to win a one-of-a-kind digital card. A Reddit user crunched the numbers and found that the gamer is pricing the card at $118,000. One of these so-called Mythic cards was recently sold for $62,000.
Gods Unchained is a card game like Magic The Gathering, where players collect cards to trade them and compete against other players. The difference is that in Gods Unchained cards are non-fungible tokens (ERC721 tokens), which means they're unique and tradeable in secondary markets. Some users are betting that rare cards, issued when the game is still in beta, will appreciate with time. It's why I'm writing about a blockchain game in this newsletter –digital assets blur the line between gaming and trading/finance.
Increased user control is the killer use case for blockchain technology. That's true in finance and games, which should be taken seriously –it's a $100 billion industry, and it's bound to get disrupted.
There's A New Way to Go 5x Long or Short ETH
There's a new margin trading platform in the DeFi space. DDEX yesterday launched a revamped version, which allows users to borrow lend and trade.
This is how it compares with similar platforms, dYdX and Fulcrum: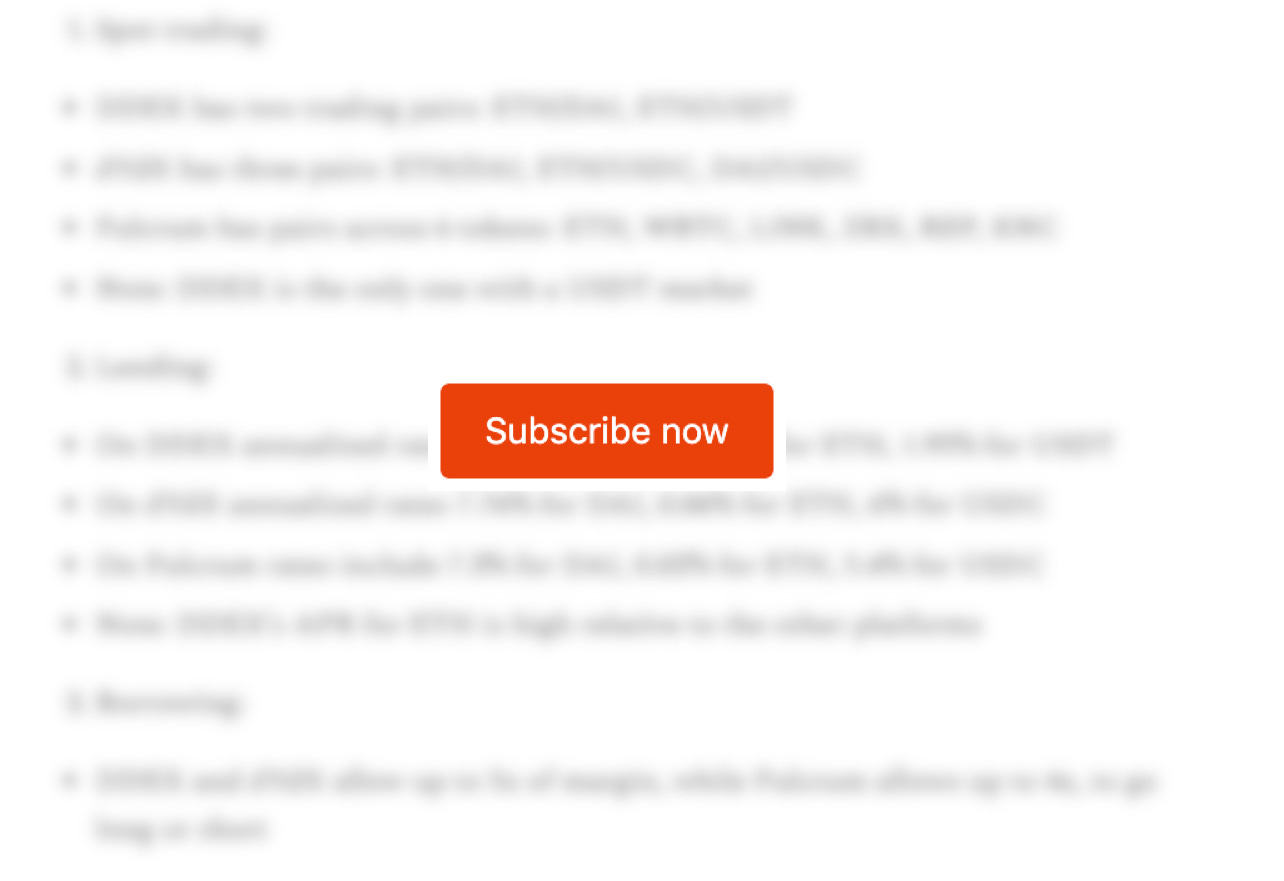 Two Notable Coins Missing in eToro's Twitter Portfolio
eToro and The TIE partnered to launch a cryptocurrency portfolio that's based on Twitter mentions. Among the five tokens included in the initial basket there are two notable names missing: Bitcoin and Ethereum.
Dash is 46 percent of The TIE's Long-Only CopyPortfolio, EOS is 24 percent and XRP, with its infamous Twitter army, is 23 percent. Other two tokens included are ETC and MIOTA. The fund requires a minimum investment of $2,000. Long-Short and Market-Neutral portfolios will be added soon, according to The TIE's website.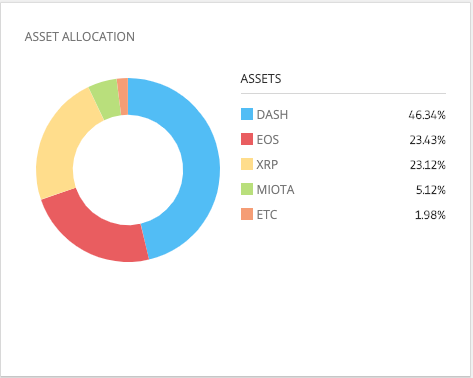 Image source: The TIE
The reasoning behind using Twitter is that with no revenue or other traditional ways to measure valuation in crypto, investor sentiment is what drives price movement.
Still, investor sentiment is probably driven in part by fundamentals. While there's no revenue in blockchains, there's still transactions, volume, wallet addresses, dapp users, etc. It's also questionable whether Twitter mentions are the best way to gauge sentiment, as they're very easy to manipulate.
So far 8 investors with about $50,000 have come on board and the portfolio has underperformed bitcoin in the past five months.
---
Sign up to get the best and only daily newsletter focusing on decentralized finance news, complete with analysis, exclusive interviews, scoops, and a weekly recap. Those who become paying subscribers in the current 60-day beta period which started Oct. 1 get early supporter discount :)
About the author: I'm Camila Russo, a financial journalist writing a book on Ethereum with Harper Collins. I was previously at Bloomberg News in New York, Madrid and Buenos Aires covering markets. I've extensively covered crypto and finance, and now I'm diving into DeFi, the intersection of the two.