Discover more from WE'VE MOVED TO thedefiant.io
WE NO LONGER POST CONTENT ON SUBSTACK. GET THE LATEST DEFI AND WEB3 NEWS AT HTTPS://THEDEFIANT.IO
Over 84,000 subscribers
Ether May Have a Weak Hands Problem, New Interest-Gaining Token, Ethfinex is Now DiversiFi
Good morning defiers! Here's what I'm seeing in the intersection of blockchain and finance:
Ether may have a weak hands problem

There's a new interest-gaining token called rDai

Ethfinex splits from Bitfinex
---
Weak Hands May be Dragging Ether Down
Ethereum enthusiasts have been wrestling with the following question all year: With all the development and activity around Ethereum, why does the ether price keep sliding, especially when compared with bitcoin?
Part of the answer may lie in the make up of ether holders. Almost 70 percent of Ethereum addresses, holding 50 percent of volume, have lost money since they bought ether, according to data platform Into The Block. That compares with just over 8 percent of Bitcoin addresses, holding about the same share of volume, which are losing money since they bought bitcoin.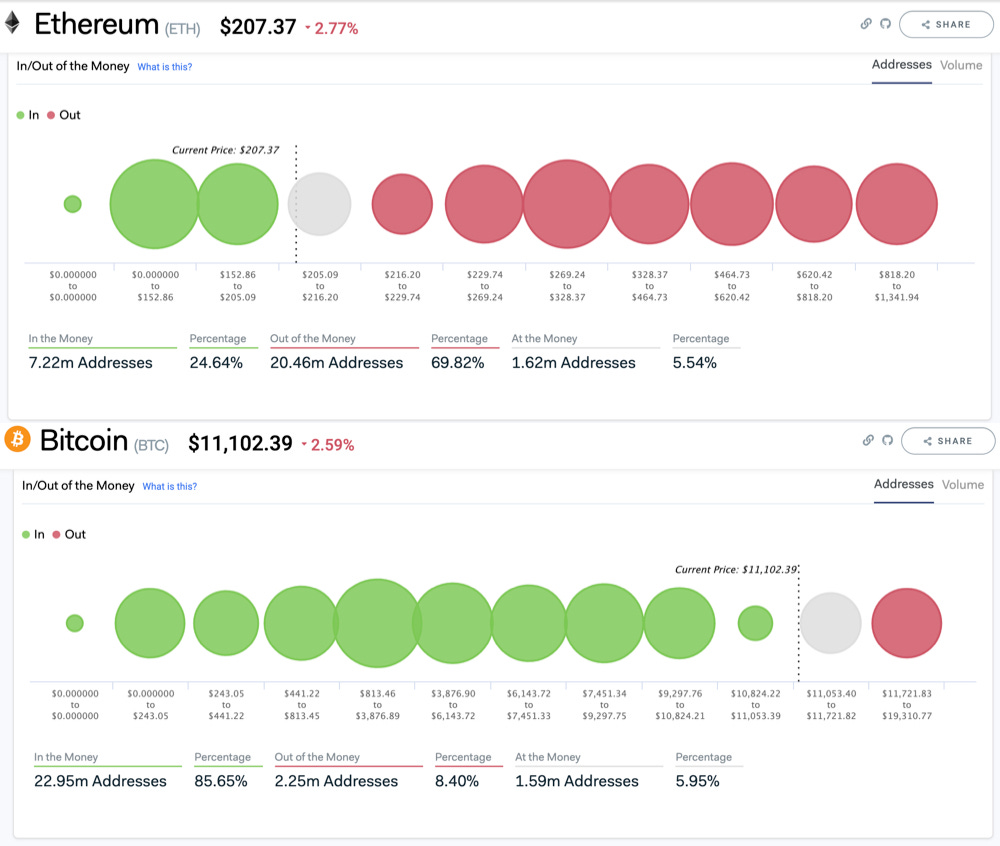 Image source: Into The Block
This matters because it means there's a huge number of unhappy ether holders who are looking to cash out as soon as they can recover their losses. So whenever ether rises, there's selling pressure from investors in the red looking to at least get part of their money back.
One reason for the huge disparity between bitcoin and ether holders may be that those buying Ethereum had dug a bit deeper into crypto (drank more of the Kool-Aid), and might have been more committed as price fell. If you're buying crypto for the first time driven by the hype, your gateway will likely be bitcoin. Maybe those who investigated a bit further bought Ethereum next, and they've stuck around while the sell-off has shaken more superficial crypto tourists.
Whatever the reason, Ethereum will probably have to shake off those weak hands before it can have a sustained rally.
Another Token That Makes it Easy to Earn Interest
rDai (redeemable Dai) is the new DeFi token in town. It allows traders to gain interest on their Dai, the MakerDAO stablecoin pegged to the dollar. Right now, rDai is generating 11.14 percent of interest, according to the project's website.
Compound Finance's cDai already does something similar: It's a token that represents interest-gaining Dai. The difference with rDai is that the holder can keep the interest or automatically transfer it to another account, like a charity, a community fund, and I'm speculating here, maybe even another DeFi protocol, so potentially, they'd be gaining interest on their interest?
The way it works is this: When a user deposits Dai into the system, a smart contract transfers that Dai into Compound so that it can start gaining interest. An ERC-20 token called rDAI is generated, representing the amount of Dai deposited and the interest it is gaining. The token is redeemable for the original quantity of DAI.
It's fascinating to see how financial tools, which were not possible before, keep popping up.
Ethfinex Splits from Bitfinex and Rebrands to DeversiFi
There's also a new decentralized exchange in town. Ethfinex is splitting from beleaguered exchange Bitfinex (that's the one being investigated for shady dealings involving Tether) and rebranding as DiversiFi.
DeversiFi's new team is made up of eight former Bitfinex and Ethfinex employees, who have coordinated a so-called "management buy-out," The Block reported.
The exchange has been working towards a fully decentralized experience since launching in 2017, DiversiFi said in a press release. Much like other Dexes, DiversiFi won't require signup and lets users trade from their own wallets. Unlike Uniswap and Kyber though, it bans users from certain jurisdictions, including the U.S.
It promises more than 30 liquid markets and "lightning fast" order matching as it's built "on the backend of one of the most advanced centralized exchanges." Coming up, it will be using the bZx Fulcrum protocol to provide margin trading and lending.
---
The Defiant will become a paid newsletter in the next couple of months. As a way to say thank you to the first ones joining me in building this platform, anyone who signs up before the paid period will pay just $8/month and $80/year for the best (and only) daily, in-depth DeFi content out there, compared with the full price of $10/month and $100/year.
Subscribe now! You'll be supporting independent journalism and allowing me to continue illuminating this fascinating corner of the world for you.