Discover more from WE'VE MOVED TO thedefiant.io
WE NO LONGER POST CONTENT ON SUBSTACK. GET THE LATEST DEFI AND WEB3 NEWS AT HTTPS://THEDEFIANT.IO
Over 84,000 subscribers
DeFi Loans Keep Climbing to New Records, DeFi Becoming One Big Mesh
Hello defiers! Lots going on in decentralized finance:
Collateral is sliding but the metric that matters most, loans outstanding, keeps making new records

More stats show the Ethereum developer community is by far the strongest

Balaji Srinivasan joins decentralized finance project Findora

OpenLaw integrates Dai stablecoin

Huobi Wallet users will be able to gain interest via Compound Finance

Two coins to be voted into Compound Finance
---
DeFi Loans Continue Making New Records
Those looking at how total value locked in decentralized finance has been sliding since April (like myself last week), should keep in mind that's not the whole picture.
Collateral is a means to an end. That end in DeFi so far has been mostly lending, which means total loans outstanding and originated provide a better sense of the health of the system.
This is how that looks: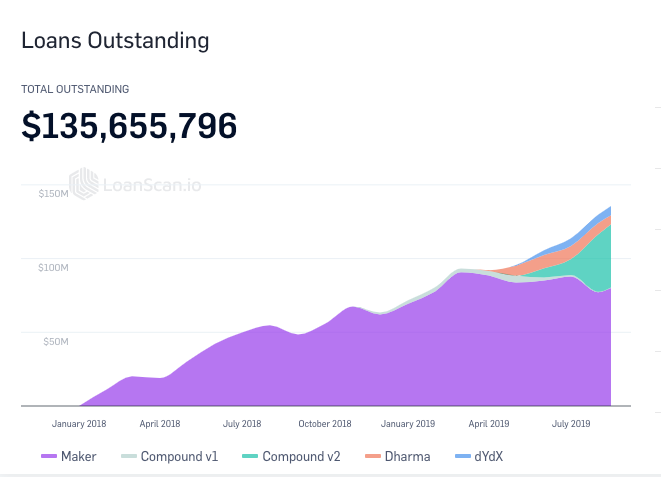 Image source: LoanScan
Loans outstanding have been climbing, with growth picking up in July, which was a record month for origination. The chart shows an increasingly diverse ecosystem, as growth on Maker stabilizes while it takes off in Compound and other platforms emerge.
Something else to note, ~$136 million of loans outstanding is pretty tiny compared with traditional lending markets. But maybe that's not so bad for these new platforms with untested technologies to start out by handling small amounts. At least until smart contract insurance is more widespread and the system has been more tested.
Ethereum Dev Community is the Strongest Period
It shouldn't surprise anyone (least of all readers of this newsletter :)) that Ethereum has the strongest developer community out there. Still, Electric Capital's Aug. 12 report backs it up with interesting data. Here's the link to the report. This is what stood out to me:
More than 1,200 developers are working in the Ethereum ecosystem, compared with about 300 in Bitcoin's. Most other ecosystems have less than 250 devs

18 percent of all open source crypto developers work on Ethereum

DeFi is the only category that gained developers this year, while smart contracts, applications, infrastructure and money lost devs

In the first half of the year, Maker gained the most devs both in percentage terms and raw numbers, while most ecosystem lost developers.

Full-time devs rose while part-time devs declines pretty much across the board

EOS and Tron beat Ethereum in on-chain, daily transactions, while Bitcoin and Bitcoin Cash beat it on daily transaction volume
Former Coinbase CTO Joins DeFi Project
Balaji Srinivasan, the former CTO of Coinbase, joined decentralized finance project Findora as an advisor. Professor Dan Boneh, head of Stanford University's Cryptography Group is another advisor to the company. Findora describes itself as a "transparent public blockchain for building financial applications" including open banking, asset securitizationtrading systemspeer to peer (P2P) lending solutions.
OpenLaw Integrates Dai
OpenLaw  integrated Dai into the blockchain-based legal contracts platform, to facilitate the use of Dai as a medium of exchange for legally compliant tokenized securities, fixed income products, tokenized real estate, and smart derivatives.
"For blockchain-based digital assets to achieve their vision of serving as a global, universal available 'currency,' a digital asset must not only be stable, but also be primarily used to settle commercial transactions in both the financial and non-financial realms," OpenLaw wrote.
Huobi Wallet Integrates Compound
Huobi Wallet added Compound Finance and supported cTokens so users can earn interest on idle cryptos. Others wallets have integrated DeFi platforms before, like Argent and MyEtherWallet made it easy for their users to open MakerDAO CDPs, and we'll likely continue seeing these integrations. Wallets are likely to become the main gateway for users to into DeFi.
Two Coins Will be Added to Compound
Compound Finance users will vote among tokens including Tether, TrueUSD, Maker, Paxos, to include two new digital assets to the platform. Once the new tokens are added, users will be able to gain interest on them and use them as collateral to borrow other supported tokens like ether and Dai.
As DeFi platforms continue integrating with each other and an increasing number of tokens are added, these separate projects are quickly becoming one single interconnected, interoperable financial network.
---
The Defiant will become a paid newsletter in the next couple of months. As a way to say thank you to the first ones joining me in building this platform, anyone who signs up before the paid period will pay just $8/month and $80/year for the best (and only) daily, in-depth DeFi content out there, compared with the full price of $10/month and $100/year.
Subscribe now! You'll be supporting independent journalism and allowing me to continue illuminating this fascinating corner of the world for you.