Discover more from WE'VE MOVED TO thedefiant.io
WE NO LONGER POST CONTENT ON SUBSTACK. GET THE LATEST DEFI AND WEB3 NEWS AT HTTPS://THEDEFIANT.IO
Over 84,000 subscribers
$COMP Frenzy Continues With Leveraged Yield Farming and Coinbase Listing
Also, dYdX adds USDT support for Bitcoin perpetuals, Bancor discovers vulnerability, Wyre launches Wallet Passes
Hello Defiers! Lots going on in DeFi
How to maximize your COMP mining with Instadapp

Coinbase lists COMP

Bancor finds potential exploit

Wyre allows dapp to connect with Apple and Google wallets
and more :)

You're a free subscriber, which means you're getting a partial version of today's newsletter.
The open economy is taking over the old one. Subscribe to keep up with this revolution. Click here to pay with DAI (for 70 Dai/yr vs $100/yr).
---
🙌 Together with Quantstamp, a leading blockchain security firm keeping your money legos safe, Kyber Network, the on-chain liquidity protocol for the tokenized world, and Keycard, the secure, contactless hardwallet & open source API.

---

How to Maximize Your $COMP By More Than 4x
This week, we all witnessed a market frenzy to participate in liquidity mining as the Compound Finance team began distributing the $COMP governance token. Each day, smart contracts distribute 2,880 COMP to users of the protocol, 50% to suppliers and 50% to borrowers.
In the following video, I share a powerful way to earn more $COMP tokens by maximizing exposure to lending and borrowing on Compound, using flash loans to build a leveraged position with stablecoins, all thanks to a tool built by Instadapp.
Imagine you start off lending 100 DAI, but by the end, you're lending 300 DAI and borrowing 200 USDT, qualifying you to earn more $COMP tokens daily. This DeFi super power on Instadapp is appropriately named "Maximize $COMP Mining" and it allows anyone to increase their participation and rewards in Compound liquidity mining (aka COMP mining aka yield farming).
The best part about this is anyone can do it! That's the power of p2p DeFi applications. All you need is an Ethereum wallet, an internet connection, funds you're willing to risk, and a little courage.
To maximize $COMP mining on Compound, watch my video tutorial below and check out the DeFi superpower yourself on Instadapp: https://dsa.instadapp.io/compound
Helpful Resources:
You can find the Market Distribution Table for Compound which shows how many $COMP tokens are being distributed daily to the lenders and borrowers of 9 different markets: https://compound.finance/governance/comp

Here's where I found the Gross Supply and Gross Borrowed amounts in the 9 markets across Compound, to calculate that borrowing against USDC or DAI collateral with USDT debt, would be the best way to maximize $COMP earnings: https://compound.finance/markets

The tweet from Samyak Jain, CoFounder of Instadapp, which first inspired me how I can maximize $COMP mining is here: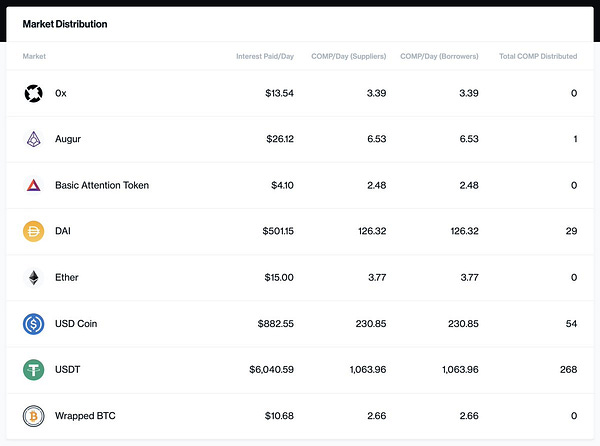 Disclaimer & Risks
Instadapp and Compound did not pay me to produce this video. This is not financial advice and you should approach all DeFi applications, wallets, and protocols with caution. Please be aware there is always risk in using DeFi, including technical risks (ie smart contracts hacks), financial risks (ie liquidity crises), and potentially admin risk (admin key compromise, governance vulnerabilities). Also, there is risk in using leverage, especially if the dollar-peg for USDC, DAI, or USDT were to ever fail, which could cause an Instadapp leveraged position using this Maximize COMP Mining to be liquidated and lose invested funds.

Coinbase Lists COMP Four Days After Token's Launch
COMP - the hot new governance token by Compound Finance - was listed on Coinbase Pro less than a week after its initial distribution on Monday. The announcement comes as COMP surges to $121 from $16 when it was first listed. That's a fully diluted market cap of $1.2B, the highest in DeFi.

Bancor Discovers Vulnerability Hours After Code Update
By Sebastian Aldasoro
Bancor discovered a vulnerability in its code hours after releasing an update on its smart contracts. The team was able to save most of the $455k at risk, except for $135k in the hands of arbitrage bots. 

dYdX Adds USDT for Bitcoin Perpetual Futures Firepower
dYdX added support for USDT on its permissionless Bitcoin perpetual futures, instantly supercharging the platform's flagship product with $5.7B in potential liquidity. The market is averaging oughly $1M in trading volume per day.

Wyre Releases Native Apple and Google Wallet Integration
Wyre, a fiat-to-crypto on/off-ramp, launched Wallet Passes for crypto applications to more easily connect with users on their mobile phones.
Wyre's product allows dapps to create cards stored in Apple and Googles wallets, with QR codes that link back to the dapp, much like an airline boarding pass. Wallet passes also allow dapps to send push notification to users, to hopefully drive higher participation and make sure they're not missing important developments, such as a governance vote.

Image source: Wyre Medium post
Pradigm's Fred Ehrsam talks with Blake Robbins (Ludlow Ventures) and Jesse Walden, (ex a16z) about how creators and internet communities can use crypto and potential demand for tokenized products.
"Imagine Yeezy drops being done this way. As we've seen with the Chinese versions of sneaker marketplace StockX like Poizon and DoNew, most of the activity comes from people trading the shoes synthetically, " Fred said. "The initial pitch for StockX was that you were never even going to get your physical shoes," Blake said. "An investor friend of mine who saw that pitch was basically like, "I know the new Yeezys are coming out, I know they're going to go up in price, just let me buy shares in it"
Crypto investor Jesse Walden discusses three potential narratives that may drive decentralized finance to go from niche to mainstream: 1. banking the unbanked, 2. becoming a casino for institutional investors, 3. non-financial consumer apps lead the way. Walden is most excited by the latter.
"My view is that DeFi gets a lot more interesting once there are mainstream users conducting real economic activity on-chain, beyond crypto speculation."

Everyone wants to get their $COMP.
Ethereum addresses climbing to 2018 levels.
---
The Defiant is a daily newsletter focusing on decentralized finance, a new financial system that's being built on top of open blockchains. The space is evolving at breakneck speed and revolutionizing tech and money. Sign up to learn more and keep up on the latest, most interesting developments. Subscribers get full access at $10/month or $100/year, while free signups get only part of the content.
Click here to pay with DAI.There's a limited amount of OG Memberships at 70 Dai per annual subscription ($100/yr normal price).
About the founder: I'm Camila Russo, a financial journalist writing a book on Ethereum with Harper Collins. (Pre-order The Infinite Machine here). I was previously at Bloomberg News in New York, Madrid and Buenos Aires covering markets. I've extensively covered crypto and finance, and now I'm diving into DeFi, the intersection of the two.