Discover more from WE'VE MOVED TO thedefiant.io
WE NO LONGER POST CONTENT ON SUBSTACK. GET THE LATEST DEFI AND WEB3 NEWS AT HTTPS://THEDEFIANT.IO
Over 84,000 subscribers
A Deep Dive Into DeFi Venture Funding: VCs are Stronger Than Ever
DeFi projects have raised half a billion dollars from VCs.
Hello Defiers and happy Friday! Today we're doing a deep dive on venture capital investment in DeFi. At a time when "VC-backed" is becoming a tainted term, with the most cutting-edge projects in decentralized finance aspiring for fair launches and community-owned tokens, we might think VCs are going out of style. The truth is, they're stronger than ever, DeFi trader and researcher Simone Conti found.
The open economy is taking over the old one. Subscribe to keep up with this revolution. Click here to pay with DAI (for 70 Dai/yr vs $100/yr).

Check out the just-released video on The Defiant's YouTUbe channel, covering the latest on this week's governance wars involving Yearn Finance, Curve and 1inch. The video was produced in partnership with Robin Schmidt of Harmony Protocol.
---
🙌 Together with Zapper, the ultimate hub for managing DeFi assets & liabilities.

---

DeFi Numbers: $9B TVL and $500M+ Raised
Decentralized finance keeps hitting new highs in its most popular metric, total value locked. But there's another, lesser-known milestone it also reached: DeFi projects just crossed half a billion dollars raised in venture capital funding. 
The 34 DeFi Companies listed on DeFi Pulse have together raised just over $500M from more than 100 VC funds.
2017 was the crazy year of ICOs and indeed, money raised in token sales contributes to more than 50% of the total amount collected so far thanks to the massive participation by retail investors. Among the biggest ones were Bancor, Kyber and Loopring's ICOs.
From 2018 on, however, VCs have had an increasingly important participation, which means a rising number of deals have been reserved for institutional investors. Only four companies among those analyzed have carried out a token sale after 2017: Ren, Metronome, PieDAO and bZx and in most of the cases the adopted model is different from the traditional ICO, with low cap sales reserved to a limited number of investors.
Apart from these isolated cases, all the other funding rounds from 2018 to date have been carried out with private sales of equity and / or tokens to VC funds. So as the total amount raised per year has decreased from the boom days of 2017, VC-led funding has increased.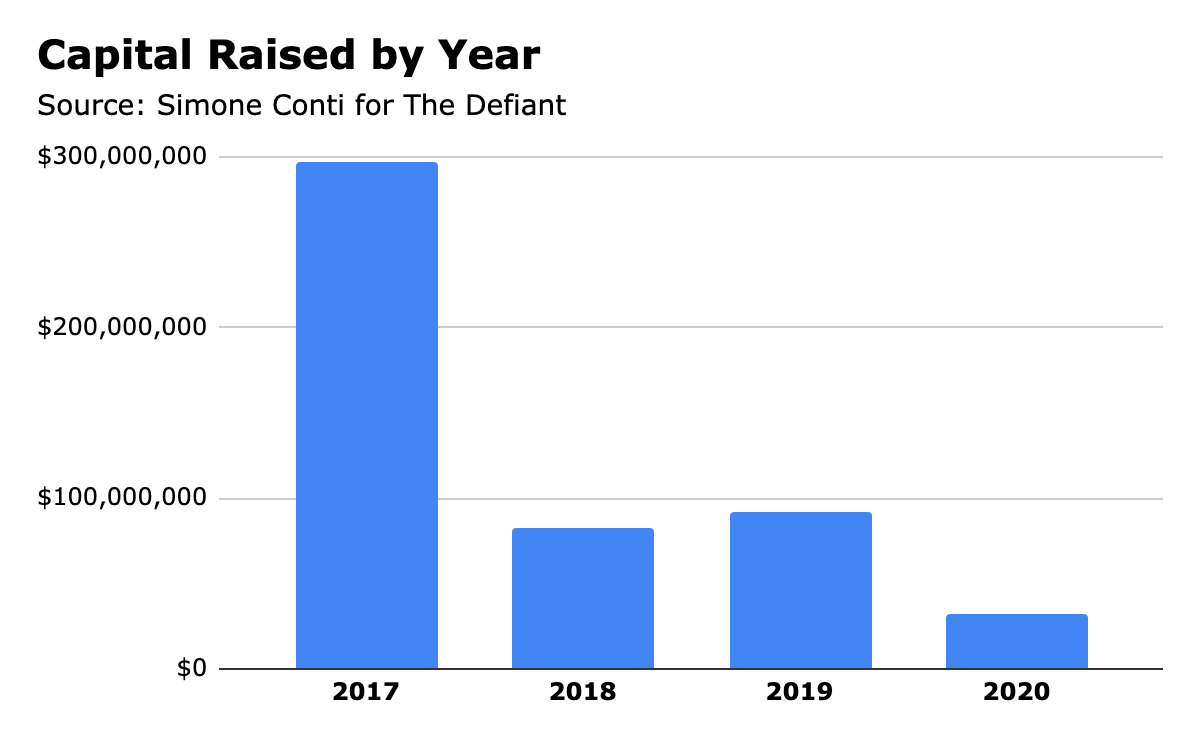 From an overall view of the funding of DeFi companies, those that have raised the most capital are:
Bancor - $153M (Token Sale, June 2017)

Maker - $61.5M (VC rounds)

Kyber - $52M (Token Sale, September 2017)

Loopring $45M (Token Sale, August 2017)

Compound - $33.2M (VC Rounds)
Maker and Compound are the two companies to have collected the most funds only from VCs and today are among the lending DeFi platforms with the highest TVL.
Lending protocols are the backbone of the entire sector and the VCs themselves have confirmed considering it by far the most important sector to invest in the last two years.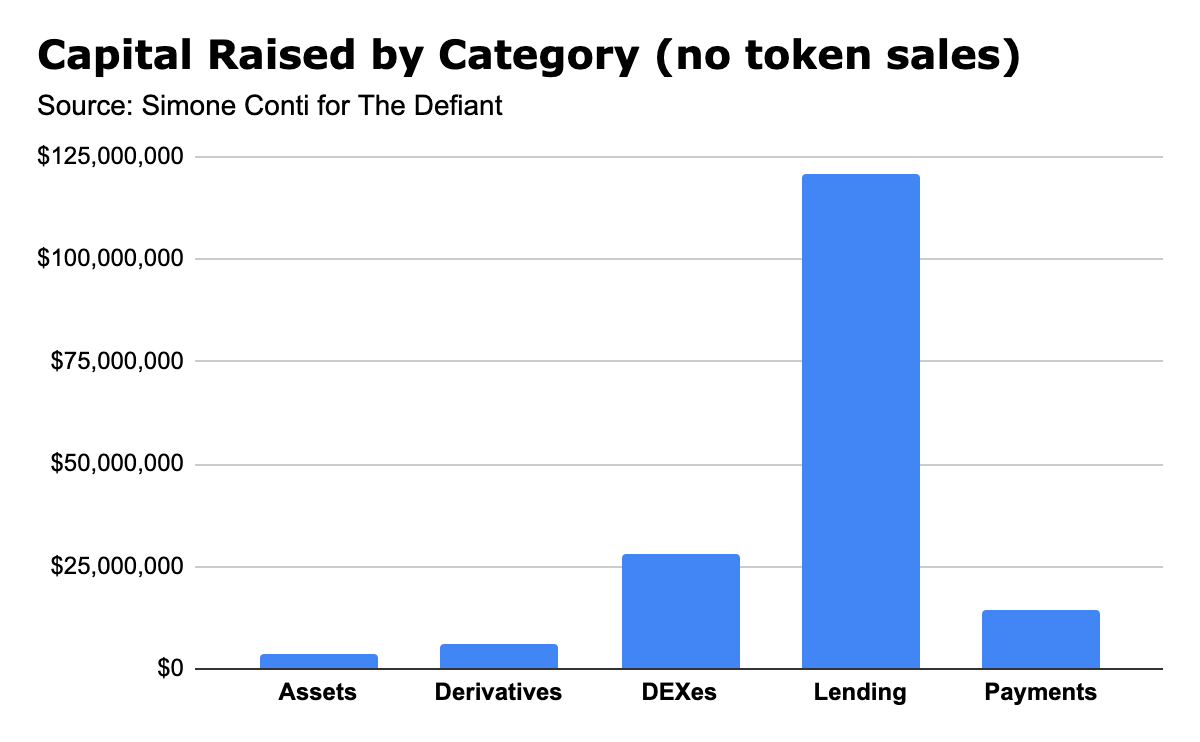 Based on the investments analyzed, the most active VC funds by number of deals in the DeFi space are Polychain Capital, A16z, Paradigm Capital, 1Confirmation, Bain Capital Ventures, Coinbase Ventures and KR1. They often act as lead investors in the seed rounds opening the way to many other funds working in the space.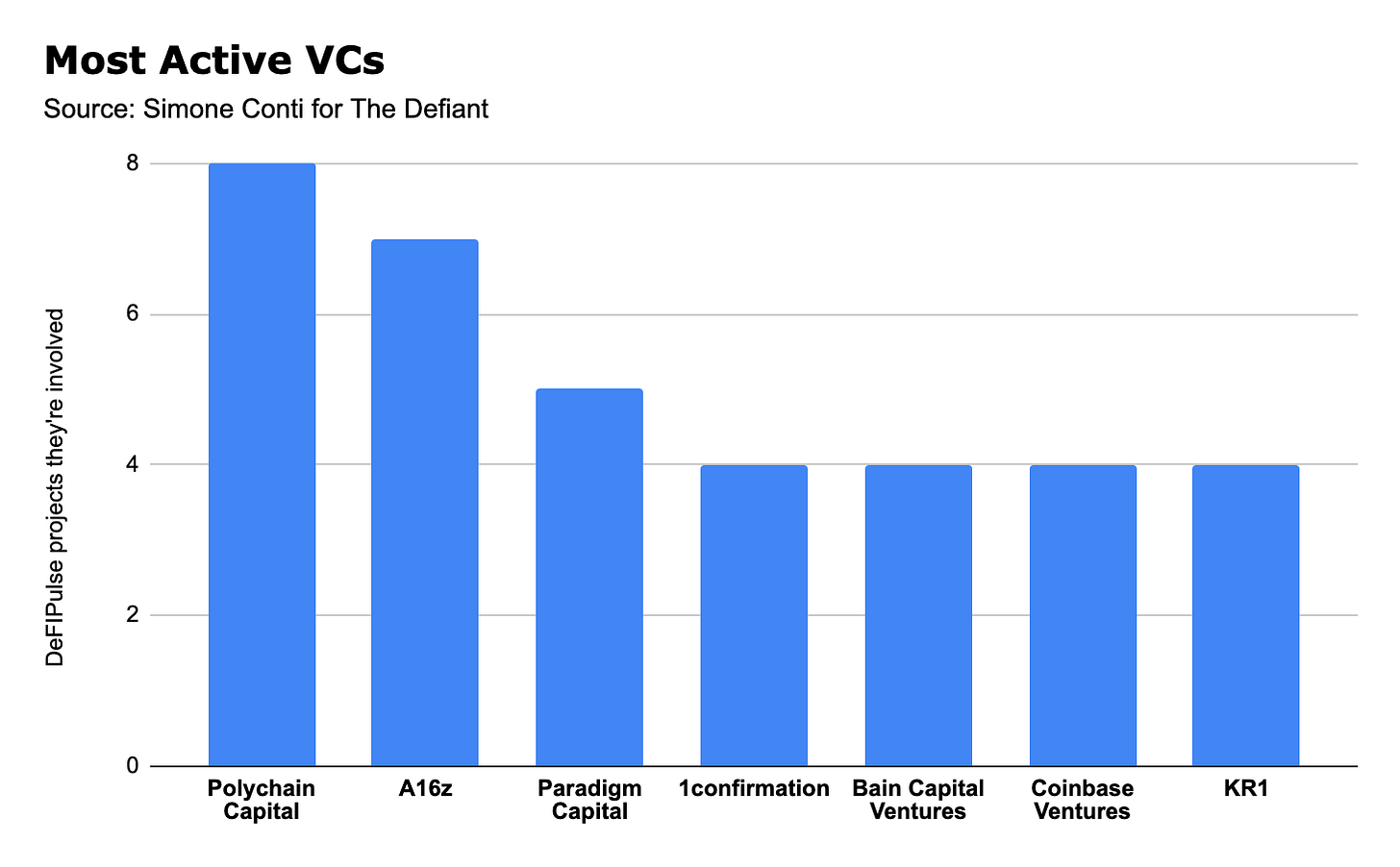 It should be noted that this analysis is based on the companies featured on DeFi Pulse at this time and that VCs have been investing in many DeFi companies not yet listed on DeFi Pulse and therefore not considered. Furthermore in most cases data relating to seed rounds or private token sales are private by definition and therefore some data may be inaccurate or incomplete.
---
The Defiant is a daily newsletter focusing on decentralized finance, a new financial system that's being built on top of open blockchains. The space is evolving at breakneck speed and revolutionizing tech and money. Sign up to learn more and keep up on the latest, most interesting developments. Subscribers get full access at $10/month or $100/year or 70 Dai/year, while free signups get only part of the content.
About the founder: I'm Camila Russo, author of The Infinite Machine, the first book on the history of Ethereum. I was previously at Bloomberg News in New York, Madrid and Buenos Aires covering markets. I've extensively covered crypto and finance, and now I'm diving into DeFi, the intersection of the two.