Discover more from WE'VE MOVED TO thedefiant.io
WE NO LONGER POST CONTENT ON SUBSTACK. GET THE LATEST DEFI AND WEB3 NEWS AT HTTPS://THEDEFIANT.IO
Over 84,000 subscribers
🚙 This Minivan Won't Let You Down: How Jay Pegs' NFT Gave Birth to an Absurd Universe
Hello Defiers! Here's what we are covering today,
News
Deep Dive
Video
Links
---
🧑‍💻 🦄 🌈 NYC DeFi Hub: The Defiant has just launched Colony, a co-working space in Dumbo for teams building DeFi and Web3 to join and find a community. There are 20 desks in an open floor plan at a reformed factory building. Fill out this form if you're interested in working there or sponsoring the space.
---
The open economy is taking over the old one. Subscribe to keep up with this revolution. Click here to pay with DAI (for $100/yr) or sub with fiat by clicking on the button below ($15/mo, $150/yr).
---
🙌 Together with: 
---
DeFi Feature
In which Brady Dale tours the strange world of Jay Pegs and the Dadaist dao of DONA…
MINDS I was told there would be explosions. There haven't been any explosions, though, unless you count blown minds.
MEMESTERS As everyone else in the NFT space heralds a new era in art history, a loose crew of about 10 degens took over Crypto Twitter for a week, recruiting an army of memesters to pitch the world on a simple message: There is simply nothing more desirable than a South Korean minivan that's older than Bitcoin.
BLURRY Jay Pegs Auto Mart is an NFT project that's been churning out images of 2007 Kia Sedonas with little variations, like logs or eyeballs for wheels, garbage bags or traffic lights on the roof or wagons of various intentions attached to the bumper. The auto mart is a subsidiary of NGMI Global. What's real and what's part of the game gets blurry once 2007 Sedona NFTs are on the line. NGMI may or may not have more distractions in store for the blockchain world, but it definitely loves Pinterest.
DROPS Meanwhile, elsewhere in crypto, more "serious" NFTs are coming out and the space is working overtime to sell these new drops as choice picks for a forward thinking art collector. And some of them probably are works that will stand the test of time, but many probably not.
👉READ THE FULL STORY IN THE DEFIANT.IO 👈
---
DAO Tokens
NEWS DeFi DAOs have made some serious cash in 2021 — but generally only in their native tokens. Now they're looking to diversify.
TREASURIES Fueled by a combination of rising token prices and an explosion in fee revenues as DeFi continues to attract new users, the decentralized autonomous organizations (DAOs) that act as a management layer for DeFi currently hold billions of dollars worth of crypto assets in their treasuries.
NATIVE TOKENS The management of these war chests is an increasingly important issue as the bulk of these assets consist of the protocols' native tokens. This leaves projects vulnerable as any sudden drop in their token price means a corresponding loss of treasury value. If they are then forced to sell tokens at depressed prices to cover expenses, that could lead to further price declines and risk the viability of the project itself. 
👉READ THE FULL STORY IN THE DEFIANT.IO 👈
---
New DeFi
TLDR Everyone is looking for stronger yields in DeFi. Gro is a new yield platform that aims to offer boosted returns on leading stablecoins to users willing to accept some risk.
SO WHAT Gro is set to launch liquidity mining shortly for its depositors, which means they will begin receiving its governance token, GRO, based on the funds held in the platform, Hannes Graah, GRO's founder, told The Defiant in an interview. About 65,000 GRO tokens will go out to liquidity providers over the next month, starting Friday. There should be more incentive programs to follow after that.
TWO VERSIONS Gro offers two versions of every pool it runs, one that offers interest  in exchange for stablecoin deposits and another that gets higher yields in exchange for absorbing all the risk of the lower-return pool. There's about $10M in deposits already on the relatively new yield protocol, which announced itself on on July 1.
WORTH It's anyone's guess how much GRO's early distributions might be worth, but decentralized finance (DeFi) denizens have a way of responding enthusiastically to distribution schemes.
👉READ THE FULL STORY IN THE DEFIANT.IO 👈
---
TLDR Fireblocks, the digital asset security firm, has posted a proposal on Aave's forum to scrutinize and approve participants on the DeFi giant's platform. If Aave governance passes the whitelisting proposal, Fireblocks would be able to onboard a slew of institutional clients into the lending protocol. 
HEDGE FUNDS Fireblock's CEO, Michael Shaulov told The Defiant that roughly 50 of the company's 500 institutional clients, which include banks, hedge funds, and brokerage firms, have expressed interest in using a permissioned version of Aave. With $13.4B in total value locked, Aave is the No. 1 platform on DeFi Pulse's leaderboard.
AAVE ARC The integration would be with Aave Arc, a forthcoming version of the protocol geared towards institutional clients. Aave Arc requires participants to be whitelisted, an approval process that entails complying with know-your-customer checks and other regulatory requirements. 
👉READ THE FULL STORY IN THE DEFIANT.IO 👈
---
Video
---
Links
A wallet belonging to crypto exchange Bitfinex just paid $23.7 million in transaction fees to send $100,000 of tether (USDT) in what was a bit of a slip up.
Revolut, a fintech company with a $33 billion valuation that offers cryptocurrency buying as part of its services, is looking to launch its own cryptographic token, according to two people with knowledge of the plans.
Avantgarde Finance today announced completion of a $5.5 million Series A investment led by Blockchange Ventures, a leading digital asset investment firm, along with a network of strategic investors including Placeholder VC, Jump Capital, Collaborative Fund, Acrew Capital, Coinshares and others.
A cryptocurrency expert pleaded guilty to helping North Korea evade U.S. sanctions just before he was to go to trial.
We started the Compound Grants Program 5 with a simple idea in mind: let's fund contributors that are working to make Compound better. Since we weren't sure how many contributors there would be and how much money we would need to pay them to work on the protocol, we thought it best to start small.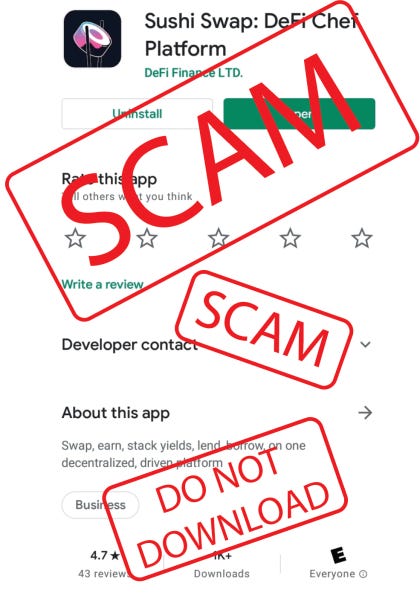 ---
🧑‍💻 ✍️ Stories in this newsletter were written by Brady Dale, yyctrader, and Owen Fernau, and edited by Edward Robinson, Bailey Reutzel, and Camila Russo. Videos were produced by Robin Schmidt and Alp Gasimov. Podcast was led by Camila, edited by Alp.
---
The Defiant is a daily newsletter focusing on decentralized finance, a new financial system that's being built on top of open blockchains. The space is evolving at breakneck speed and revolutionizing tech and money. Sign up to learn more and keep up on the latest, most interesting developments. Subscribers get full access, while free signups get only part of the content. Click here to pay with DAI (for $100/yr) or sub with fiat by clicking on the button above ($15/mo, $150/yr.