Discover more from WE'VE MOVED TO thedefiant.io
WE NO LONGER POST CONTENT ON SUBSTACK. GET THE LATEST DEFI AND WEB3 NEWS AT HTTPS://THEDEFIANT.IO
Over 84,000 subscribers
🦄 Recap: DeFi Week of Oct. 10
Hello Defiers! Happy weekend!
It's always fun to geek out on the mechanics of DeFi and this week we did just that with a series of stories on what makes protocols tick, and what exciting advances are in the works. Brady Dale plumbed MakerDAO's governance structure as its members debated whether to incorporate somewhere and, gulp, consider the need to pay taxes. Brady also dove into Shell Protocol's embrace of "concentrated liquidity", an innovative way to tap pools for multiple users at once. The move, pioneered by Uniswap and Curve, could change the way automated market makers stoke action on their platforms.
Speaking of breakthroughs, you've probably heard the term DeFi 2.0 kicking around. It's definition is still fuzzy but Owen Fernau explored how a new crop of projects such as OlympusDAO and Alchemix are experimenting with liquidity mining to attract users in the next stage of decentralized finance. It's an outstanding preview of what's coming next! Liquidity was also the focus of this week's First Look from Robin Schmidt and our peerless video crew. The latest Jam Session #8 also dove into the weeds on AMMs.

On the more glamorous side of DeFi, NFTs were popping this week. In our podcast, Camila Russo spoke with illustrator and artist Yam Karkai about her super-popular avatar project and how to inspire more women to embrace crypto. Yctrader reported a mind-blowing story on how Cyberkongz is rocking the own-to-earn NFT space with a 13,000x explosion (not a typo!). Sotheby's, the venerable auction house, unveiled a dedicated NFT marketplace complete with its own Discord. And Infinity released a windfall of 600M free tokens in a bid to take on OpenSea.
Even so, Philipp Pieper, co-founder of Swarm Markets, struck a sobering note in an op-ed reporting on how fractionalizing NFTs may turn them into securities, at least in the eyes of regulators.
Yet with crypto rallying across the board amid headlines the SEC is poised to approve the first Bitcoin ETF it feels like the market is primed for a run. The incentives just keep coming with $2M available to investors as Curve launches on Harmony. And as yyctrader reported, Binance launched a $1B growth fund to speed blockchain adoption. DeFi 2.0 may be here quicker than we think!
---
The open economy is taking over the old one. Subscribe to keep up with this revolution. Click here to pay with DAI (for $100/yr) or sub with fiat by clicking on the button below ($15/mo, $150/yr).
---
🙌 Together with: 
---
We're excited. We're getting ready to launch The Defiant Terminal, a platform for investors and analysts to track all DeFi data in one place. Join the waitlist today to be notified as soon as it's live. You'll want to be the first to get your eyes on that alpha. 
---
Podcast
In this week's episode we speak with Yam Karkai, the digital illustrator and artist behind NFT project World of Women. She's had all sorts of odd jobs, before becoming a full-time illustrator, and none of them had anything to do with crypto. She was freelancing from gig to gig when she discovered NFTs this year and that's when everything changed for her. For the first time ever, she had some economic stability, oddly thanks to volatile crypto. 
---
📬 Inbox Dump #28
Hello Defiers! Welcome to Inbox Dump where we include the updates and announcements that flood our DMs each week and didn't make it to The Defiant's content platforms. Sometimes announcements here didn't meet the bar to become a news story, sometimes they may have slipped through the cracks, or they came late and we haven't had a chance to cover.
At The Defiant we cover the most important DeFi-related news and developments but we know many of you are hunting for projects before they are fully developed and before they are newsworthy. Our goal with this installment of the newsletter is to help you find them. Look at this as the starting point to DYOR.
We also include a compilation of DeFi and crypto funding rounds in the past week so you have these in one handy place.
Keep in mind these have been unedited. With that —here we go!
[This post is exclusive to subscribers]
---
Video
---
Weekend Read
In which Brady Dale explores the simmering discussion in one of the influential DeFi groups on the thorniest of topics…
Should DAOs pay taxes? And, if so: Where? There's a conversation underway in MakerDAO about how it should relate to the governments of the world, which has implications for the whole DeFi industry. In short, people are talking about whether or not MakerDAO should find a way to pay its taxes.
"I don't think anyone here has the money to pay the IRS if they decide that Maker is a U.S. entity and decide to treat as income the $400+ million batch of tokens provided by the Foundation," pseudonymous MakerDAO forum user PaperImperium wrote.  
"My understanding is the only way around this is simply that Maker itself meet any claimed obligations," the user continued. "The first level of compliance is paying taxes — preferably in a single jurisdiction we choose now and not half a dozen that decide they can pick on a stateless DAO." 
Dating back to around 2014, MakerDAO is thought to be the oldest project in decentralized finance (DeFi), with roots in the BitShares blockchain. Most people know it now as the engine that creates the decentralized stablecoin DAI. It functioned as a decentralized autonomous organization (DAO) — an organization that mediates all its decisions over the internet and a blockchain — before that was even really a concept. 
---
Opinion
In this essay, Philipp Pieper, the co-founder of regulated crypto exchange Swarm Markets, argues that divvying up NFTs may be a great way to make the assets accessible but the practice invites regulatory scrutiny.
Fractionalisation of NFTs is a key development in a maturing market. These assets amount to more than just a craze for artists to sell digital art at sky-high valuations. Non-fungible tokens are also being used in sophisticated ways such as collateral for lending products.
Divvying up ownership of NFTs enables more people to hold a piece of the asset. Like with a lot in DeFi, it is unclear how top-tier regulators intend to regulate NFTs. However, ventures offering fractional NFTs to any investor may not have realised the regulatory vulnerability of these assets — in short, they are morphing from collectibles into securities.  
You would be hard-pressed to argue how giving fractional ownership of an asset could not be classed as equity. This will no doubt trigger securities laws and enforcement in multiple jurisdictions, especially considering that Gary Gensler, the hard-charging chair of the Securities and Exchange Commission, has taken a broad view on what types of cryptocurrency offerings are defined as securities. U.S. companies offering fractionalized NFTs should school themselves on the law before regulators knock on their door.
---
IntoTheBlock: Research
Since our last in-depth analysis of Axie Infinity almost two months ago the price of their AXS token has increased over 100% within a few weeks. The rally has multiplied the value of AXS by 223 times since January. The catalyst behind this latest bull-run may have been the Series B funding round of $152M led by a16z.
Behind the scenes the Axie Infinity team have made a series of recent updates that have also caught the attention of investors. The moves are reinforcing a positive investment thesis on the future of the game and its AXS coin.
At the time of writing Axie's staking contract is offering more than 150% annual returns, quite a high incentive considering that it is 10 times bigger than the usual staking yields that major cryptocurrencies offer. These rewards come from the initial coin allocations, where 29% of the total supply was reserved for this purpose. The rewards account daily for 64516 AXS, or the equivalent of almost $8.5 million.
Interestingly their coin unlock schedule has in their plan to triple the net amount of these staking rewards after three months, and to slightly reduce them until the 5.5 years plan is accomplished. The current yield is based on the total amount of AXS that is staked, so it could change over time. But if in three months more supply will be added as staking rewards, it would mean that the stakers would receive even a bigger yield than the actual one.
---
News
Links
---
News
Links
---
News
Links
---
News
Links
---
💜Community Love💜
Thanking all the amazing Defiers for the support and love this week (and always)!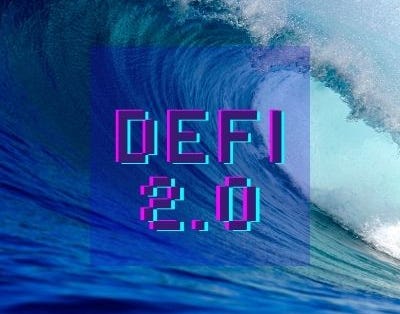 thedefiant.io
DeFi 2.0 Wave of New Projects Test Liquidity Mining Alternatives - The Defiant
Things aren't getting easier for those struggling to stay current with the lightning quick DeFi space. Just when you think you're up to speed with the latest token or protocol along comes something new. Brace yourselves because here comes DeFi 2.0. What that term actually means is still in flux. Whi…
---
🧑‍💻 ✍️ Stories in The Defiant are written by Brady Dale, Owen Fernau, Bailey Reutzel, and yyctrader, and edited by Edward Robinson, Bailey Reutzel, and Camila Russo. Videos were produced by Robin Schmidt and Alp Gasimov. Podcast was led by Camila, edited by Alp.
---
The Defiant is a daily newsletter focusing on decentralized finance, a new financial system that's being built on top of open blockchains. The space is evolving at breakneck speed and revolutionizing tech and money. Sign up to learn more and keep up on the latest, most interesting developments. Subscribers get full access, while free signups get only part of the content.Click here to pay with DAI (for $100/yr) or sub with fiat by clicking on the button above ($15/mo, $150/yr.