Discover more from WE'VE MOVED TO thedefiant.io
WE NO LONGER POST CONTENT ON SUBSTACK. GET THE LATEST DEFI AND WEB3 NEWS AT HTTPS://THEDEFIANT.IO
Over 84,000 subscribers
🦄 Recap: DeFi Week of July 4
Hello Defiers! In Greek mythology, the cornucopia was a horn that showered the land with an abundance of crops and other goodies. This week, we had plenty of developments great and small to savor in DeFi.
We had conflict — see Owen Fernau's report in the dust-up between Chainlink and MakerDAO. We had innovation — Owen also brought us up to speed with London, the much-anticipated Ethereum upgrade, which will hit next month. There was fear — Masha Prusso's provocative essay on the scams flooding DeFi is a must-read. And there was absurdity… Dan Kahan explained how the once and future Doge-killer meme coin, $SHIB, came back with a howl and has sent gas prices running. Just to round things off Bailey Reutzel unearthed a limited run of nasty NFTs that do things with CryptoPunks that truly don't belong in a family DeFi news platform…
The Defiant was also delighted to host its debut jam session, Wagging the Tail, on our YouTube channel, hosted by the indomitable Robin Schmidt. The discussion explored the long-term viability of NFTs as artist/creator communities, and what we can learn from Hollywood and major platforms like Beats and the bright future of play-to-earn. Really kick-ass content.
Speaking of NFTs, At the top of the week we explored the maddening duality of DeFi in a research piece by guest writer Arash Ghaemi. It explored the question of why, with such such a steady flow of technology and biz model breakthroughs, crypto prices continue to sag. Not to get too mercenary about it, but is this a bear market or a bull market with bearish mini-cycles or are bear and bull labels kind of inapplicable to crypto, and certainly DeFi? Arash does the heavy lifting in what's a nice weekend read.
And we're just scratching at the abundance of stories and analysis that hit this week, so scroll through this recap to click on the links that grab you. Have a super weekend, Defiers!
ALSO, PSA: We are changing up our publishing schedule so that the weekly podcast will go out Mondays, and our jam-packed newsletter will go out Tuesday to Fridays, first thing in the AM.
---
The open economy is taking over the old one. Subscribe to keep up with this revolution. Click here to pay with DAI (for $100/yr) or sub with fiat by clicking on the button below ($15/mo, $150/yr).
---
🙌 Together with: 
---
Video
---
Opinion
In this essay, Masha Prusso delves into the underworld of rug pulls, exit scams, and other digital swindles. Her takeaway: they're endangering the DeFi experiment and need to be stopped. But the good news is there are clear paths to accomplishing this task, and she lays them out, one by one.
---
Inbox Dump #15
For paid subscribers only — The Inbox Dump is where we include the updates and announcements that flood our DMs each week and didn't make it to The Defiant's content platforms. We also include a compilation of DeFi and crypto funding rounds in the past week so you have these in one handy place.
---
Markets
Dives
Bytes
Links
---
Markets
Dives
Opinion
Links
---
Wednesday
Research
---
Research
---
💜Community Love💜
Thanking all the amazing Defiers for the support and love this week (and always)!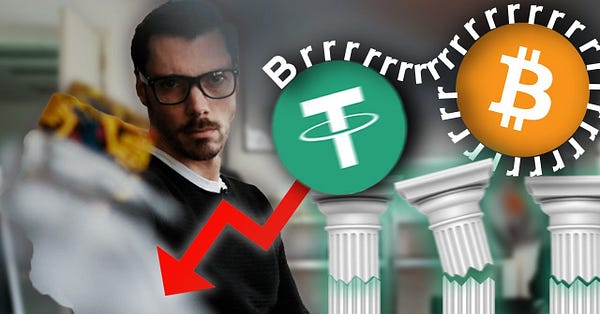 youtube.com
We Need to Talk About #Tether
Tether has faced accusations from many in the digital asset industry that it is a form of privately-issued fiat currency, backed not by "real" dollars in any...
---
The Defiant is a daily newsletter focusing on decentralized finance, a new financial system that's being built on top of open blockchains. The space is evolving at breakneck speed and revolutionizing tech and money. Sign up to learn more and keep up on the latest, most interesting developments. Subscribers get full access, while free signups get only part of the content.Click here to pay with DAI (for $100/yr) or sub with fiat by clicking on the button above ($15/mo, $150/yr).