Discover more from WE'VE MOVED TO thedefiant.io
WE NO LONGER POST CONTENT ON SUBSTACK. GET THE LATEST DEFI AND WEB3 NEWS AT HTTPS://THEDEFIANT.IO
Over 84,000 subscribers
🦄 Recap: DeFi Week of Jan. 25
Hello Defiers! Hope you're having a great weekend.
Summing up: Of course the main news this week was that a community of online traders was able to band together and bring down hedge funds —and just as they were winning, centralized entities were able to stop the game. We covered how, while Wall Street Bets wants to beat Wall Street at its own game, DeFi wants to build an entirely new financial system, where nobody has an off switch. What happened this week shows that it's only a matter of time the internet of money will rule finance: it's simply better.
Scaling was also a major theme this week, and that's a good thing because for Ethereum to actually be the network underlying the future of finance (or at least one of them), it will need to process more than 14 transactions per second. Aave's aTokens are now on Matic, Synthetix introduced staking on Optimism and Loopring's mobile app hit the Google Play store. We covered this in the newsletter and also in our Defiant Weekly and Tuesday Tutorial videos.
Erik Voorhees talked about how ShapeShift is leaning into DeFi in the podcast, while Blake West of Goldfinch wrote an op-ed on why decentralized governance is currently broken.
And there was more! There's a lot going on, but we've got you covered :)
---
Subscribe to get the latest DeFi news and analysis straight to your inbox and you don't miss a thing. Free-signups get partial content, paid subscribers get everything. Click here to pay with DAI (for $100/yr) or click on the button below to subscribe with fiat ($100/yr, $10/mo).
🙌 Together with Zerion, a simple interface to access and use decentralized finance.
---
Video
Defiant Weekly
---
Tuesday Tutorial
---
DeFi 101
---
✊ Crypto Devs Are "Building a Life Raft For The World After Fiat Falls Apart:" Erik Voorhees
In this week's episode, I speak with Erik Voorhees, long-time crypto advocate and founder and CEO of ShapeShift. In this interview, he talks about how he was able to stop gathering information about his customers and take the exchange back to its roots, by leaning into DeFi. His plan is to create a platform that connects with all of the different DeFi applications, starting with decentralized exchanges.
Voorhees holds probably the most extreme view of anyone who has come on this podcast. He thinks we will see the collapse of the US dollar within our lifetime. He argues the level of US debt and continuous erosion of the currency is untenable. When this happens an entire financial ecosystem built on open, immutable blockchains will be the solution. He believes today's developers aren't just building a product for their customers. They're building a life raft for the world after fiat falls apart.
---
Opinion
The goal is that in a Web3 future, individuals will have ownership and participation in the platforms they use, in the same way that they are in control of their assets and information. Projects have tried to solve this by creating token-based voting mechanisms, where holders can cast token-weighted votes. The mechanism has been hailed as something akin to token democracy. Blake West, co-founder of Goldfinch, argues why that's not true. He says the current system isn't a democracy; it's a plutocracy. And while that's become an increasingly common criticism in DeFi, West's response is more practical: He has come up with actual formulas to measure a protocol's level of decentralization, and also its level of governance liability.
---
This piece by Defiant writer Daniel Kahan offers a peek into the minds of the many millennials and Gen-Z traders who bought AMC and GME stock last week inspired by the chance to join a movement against the powerful investors who have controlled finance for too long — and then were stopped in their tracks when Robinhood decided to limit trading.
---
Dives
Bytes
---
Wednesday
Markets
Dives
Bytes
Links
---
Markets
Dives
Bytes
Links
---
🧑‍💻 ✍️ Stories this week were written by Owen Fernau, Daniel Kahan, Cooper Turley, Syndey Lai and Christopher Attard, and edited by Camila Russo. Videos were produced by Robin Schmidt and Alp Gasimov. Podcast was led by Camila and edited by Alp.
---
💜Community Love💜
Thanking all the amazing Defiers for the support and love this week (and always)!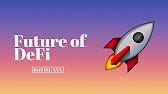 bit.ly
DeFi 101
Share your videos with friends, family, and the world
---
The Defiant is a daily newsletter focusing on decentralized finance, a new financial system that's being built on top of open blockchains. The space is evolving at breakneck speed and revolutionizing tech and money. Sign up to learn more and keep up on the latest, most interesting developments. Subscribers get full access, while free signups get only part of the content. Click here to pay with DAI (for $100/yr) or sub with fiat by clicking on the button above ($10/mo, $100/yr).