🦄 Recap: DeFi Week of Jan. 23
Hello Defiers! Happy weekend!
Selloffs, scandals, scams… Those were the watchwords this week as a flurry of unsavory news whipped the crypto markets. There was the fiasco at Frog Nation when news broke that the influential group's CFO, Sifu, was none other than Michael Patryn, co-founder of failed Canadian crypto exchange QuadrigaCX. Yyctrader followed with a nice piece of analysis on how the fallout was affecting Wonderland and other names in the Frog Nation pond, and triggering death threats against impresario Daniele Sesta. All this comes right on the heels of Frog Nation's move to take the reins at SushiSwap, as Brady Dale reported.
In a juicy scoop, Robin Schmidt landed a one-on-one interview with Andre Cronje, the brains behind Yearn Finance, to discuss his recently unveiled joint venture with Sesta in Solid Swap.
We were delighted to welcome our old friend and colleague Dan Kahan back to the The Defiant with an amazing saga about the unraveling of a would-be NFT play involving Naruto, one of the biggest-selling mangas of all time. Dan uncovered a licensing scam that had duped the entrepreneurs behind a project called Bejutsu. In his telling, this type of grift is very easy to perpetrate in the untamed borderlands of NFT creation.
Meantime, the markets were tanking. Owen Fernau delved into how MakerDAO and Aave were coping with liquidations. Owen also reported how MakerDAO broke new ground on the governance front by expelling its content production team in a narrow vote of members. The story is a preview of how DAOs may deal with thorny issues as they mature.
If all that wasn't enough drama, The Defiant Chiefess Camila Russo sat down with Kain Warwick, a DeFi OG and founder of Synthetix to talk about synthetic assets.
Enjoy!
---
The open economy is taking over the old one. Subscribe to keep up with this revolution. Click here to pay with DAI (for $100/yr) or sub with fiat by clicking on the button below ($15/mo, $150/yr).
---
🙌 Together with: 
---
---
DeFi Alpha Newsletter
---
📬 Inbox Dump #40
Our Inbox Dump newsletter, which is exclusive to paid subscribers, is where we include the updates and announcements that flood our DMs each week and didn't make it to The Defiant's content platforms. Sometimes announcements here didn't meet the bar to become a news story, sometimes they may have slipped through the cracks, or they came late and we haven't had a chance to cover. We also include a compilation of DeFi and crypto funding rounds in the past week so you have these in one handy place.
---
This week, we sit with Kain Warwick, DeFi OG and founder of Synthetix. In some ways, last year wasn't a great one for the synthetic assets protocol. As many DeFi projects boomed, SNX's price and TVL dropped. Kain says he was too optimistic about how soon Synthetix would be able to scale with optimistic roll-ups. If he were to do things again, he would probably use Polygon first and move to Optimism once the solution was ready. 
But last year was also a time to build on a strong foundation. He's looking forward to the months to come, when all of that effort hopefully comes to light, with the protocol fully live on Optimism, with perpetual swaps expected to be launched too. He's a firm believer that Ethereum and its Layer 2 solutions will capture the most value being built in DeFi and web3.
---
Defiant Interview
---
The Tube
---
Defiant Saga
In this exclusive feature for The Defiant, Dan Kahan reveals how he uncovered a copyright scam targeting one of the most beloved mangas of the last quarter century.
"It's almost like they joined a cult. The more I question, the more they think I'm hating. I just want to protect them." 
By the time I received this message on Dec. 30, I'd already spent a month investigating Bejutsu — a massively hyped NFT project claiming to hold the official license for intellectual property from Naruto, one of the most popular manga series ever published. Fueled by a lifelong passion for anime and manga and a gut feeling, I was convinced Bejutsu was a scam. But I couldn't prove it beyond a shadow of a doubt. 
Until now. The message came from a friend of one of the artists working for Bejutsu. Suspicious about the project's legitimacy, he sent me a copy of Bejutsu's purported licensing agreement. As soon as I saw the contract—an elusive piece of evidence that, by this point, I'd been hunting down for days—I knew I'd found Bejutsu's smoking gun.
Nearly everyone I spoke to who was involved with the project asked me to wait before going public. That included artists, staff, and Clay Taylor, Bejutsu's self-assured co-founder. They gave me the same cryptic response: Bejutsu's proof will come on Jan. 7. Just wait until Jan. 7. 
But in the hype-fueled NFT space, even unknown projects can sell out within minutes of an unannounced stealth launch. Naruto sits at the intersection of pop culture nostalgia and rabid anime fandom. Officially licensed Naruto NFTs possessed the potential to skyrocket. And Bejutsu was designed to turn its characters and imagery into NFTs that would sell for millions. At least, that was the plan. And Clay's instincts were spot on — Bejutsu attracted 40,000 followers to its Twitter account before it even launched. And 10,000 users flooded its Discord server within a minute of opening. I wanted to stop the scam before it reached wider audiences.
---
Research
It's one of the most intriguing questions in the market during this turbulent period. Our friends at DappRadar unpack the forces that are charting a separate course for NFTs.
In recent weeks, a combination of macroeconomic events has shaken the markets, reminding everyone about the industry's latent risks and ubiquitous volatility. The problems in Kazakhstan around Bitcoin mining made waves. With a new COVID outbreak, the unease about a likely rise in the interest rates by the Federal Reserve and the latest political issues in Ukraine created a hostile environment dragging capital markets down. 
The correlation between crypto and traditional markets made the effect widely felt in blockchain assets, with Bitcoin and Ethereum's ETH losing half their value since all-time highs in November. The same goes for BNB, ADA, SOL, AVAX, SAND, MANA, GALA, and several other cryptocurrencies performing well historically. The total crypto market cap shrunk to $1.6T from $2.9T in that period. 
Without question, the crypto market is currently experiencing a challenging period. The sentiment in the market signals fear. However, the metrics related to the performance of specific blockchain verticals like NFTs might suggest otherwise. 
Understanding NFT Macroeconomics
While a group of events has hampered the crypto market, a series of factors have positively impacted the outlook of NFTs at a macroeconomic level. 
Firstly, the inclusion of celebrities and big brands in the NFT world appears to be growing by the day. Stars with a massive social reach like Neymar Jr. (+200M followers on Twitter and Instagram) and Kevin Hart (+192M followers on Twitter and Instagram) have publicly announced their recent entries into the Bored Ape Yacht Club (BAYC), one of the premiere NFT projects. 
---
News
Links
---
News
Links
---
News
Links
---
News
Links
---
💜Community Love💜
Thanking all the amazing Defiers for the support and love this week (and always)!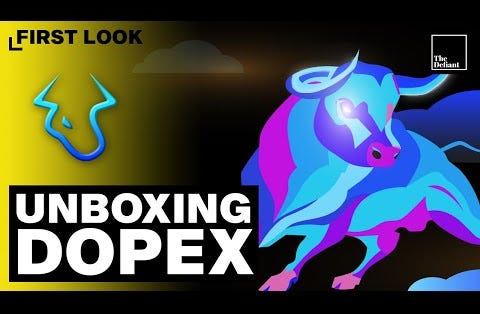 youtu.be
Get Paid to be a Loser with Dopex Rebates - ❓
Dopex is a maximum liquidity and minimal exposure options protocolhttps://www.dopex.io/Our sponsorshttps://gmx.io/https://www.edennetwork.io/Follow The Defia...
---
🧑‍💻 ✍️ Stories in The Defiant are written by Brady Dale, Owen Fernau, Sanuel Haig and yyctrader, and edited by Edward Robinson, yyctrader and Camila Russo. Videos were produced by Robin Schmidt and Alp Gasimov. Podcast was led by Camila, edited by Alp.
---
The Defiant is a daily newsletter focusing on decentralized finance, a new financial system that's being built on top of open blockchains. The space is evolving at breakneck speed and revolutionizing tech and money. Sign up to learn more and keep up on the latest, most interesting developments. Subscribers get full access, while free signups get only part of the content.Click here to pay with DAI (for $100/yr) or sub with fiat by clicking on the button above ($15/mo, $150/yr.