🦄 Recap: DeFi Week of Jan. 16
Happy Weekend Defiers!
When it comes to crypto content, there's a multitude of firehoses out there. As big consumers of news ourselves we know how all this info can blur into an impenetrable fog. That's why The Defiant was so pleased to produce a raft of deep, heavy, colorful, and urgent features this week. We love cutting through the miasma and revealing the people and forces that are shaping DeFi at such a volatile moment in its evolution. That's why we're here!
For starters, check out Owen Fernau's deep dive into the OlympusDAO crucible. Owen has been covering the ins and outs of the Olympus phenomenon for some time now. He's made sense out of its forking madness, and Robin Schmidt and his video crew have ascended the mountain as well. Now Owen delves into how and why Olympus has plunged in value and suffered allegations that it's little more than a ponzi scheme. Sam Haig also reported on the brutal fall of Olympus's ecosystem in his weekly Market Action report.
Meanwhile, Brady Dale turned his sights on budding NFT communities like Sappy Seals and the emerging Pixelverse. Brady has been plumbing the significance of interoperability in DeFi and he brings his expertise and storytelling chops to bear on a fascinating account of how these projects are joining forces to take on the likes of OpenSea.
We are also pleased to bring back our popular podcasts this week. Camila Russo chatted with Robin for our 2022 opener about all the action taking place inside The Defiant. Big things are afoot! You may have noticed our new website design, for instance. Well, there's plenty more going on, so tune in.
And speaking of Robin, he and his team covered a lot of ground this week. Their tutorial on how to bridge Fantom was timely, and the SuperMassive NFT Show took on the latest zeitgeist with a look at Irene Zhao, Victor Meldrew, and other NFT stars.
Enjoy!
---
The open economy is taking over the old one. Subscribe to keep up with this revolution. Click here to pay with DAI (for $100/yr) or sub with fiat by clicking on the button below ($15/mo, $150/yr).
---
🙌 Together with: 
---
---
DeFi Alpha Newsletter
---
📬 Inbox Dump #39
Our Inbox Dump newsletter, which is exclusive to paid subscribers, is where we include the updates and announcements that flood our DMs each week and didn't make it to The Defiant's content platforms. Sometimes announcements here didn't meet the bar to become a news story, sometimes they may have slipped through the cracks, or they came late and we haven't had a chance to cover. We also include a compilation of DeFi and crypto funding rounds in the past week so you have these in one handy place.
---
Welcome back to The Defiant podcast! After a brief break at the end of last year, we're back stronger and better than ever to continue chatting with the greatest and brightest minds in DeFi and web3. At The Defiant we believe 2022 is going to be another explosive year for crypto and we have a stellar lineup of guests coming up. I personally think that bull or bear market, there is simply nothing stopping builders in decentralized finance from taking this space forward and we'll be covering each twist and turn with objective, quality journalism as always.  
Our first guest is our very own Robin Schmidt, aka SuperMassive. Robin leads multimedia at the Defiant and produces our video content, which has become known for raising the bar way beyond what's expected not just from crypto videos, but from all of YouTube. If you haven't already, check out and subscribe to our channel. I wanted to do the first video of the year with Robin to get the chance to talk about The Defiant itself – what moves us, what sets us apart and what we're expecting for this year. After over a year working together, I also wanted to finally shine the spotlight on the man behind the video host, and hear the story of how he got here.
---
The Tube
---
Weekend Read
Owen Fernau breaks down how one of DeFi's most promising projects unraveled.
PROMISE OlympusDAO held so much promise when it exploded on the DeFi scene in 2021.  The project set out to do nothing less than provide a new decentralized infrastructure for finance, and even better, it would be community-driven. At its heart, OlympusDAO offered a solution to one of the thorniest problems in DeFi — providing sustainable liquidity for projects' native tokens. 
BREAK-THROUGH DeFi degens loved what they saw. Within four weeks of its introduction in March, OlympusDAO's token, OHM, skyrocketed to $1,415 and its market capitalization hit an all-time high of $4.4B in November. This wasn't just another hot crypto play that drew speculators. Olympus was heralded for its breakthrough protocol-owned liquidity (POL) model, and it became the standard-bearer of the "DeFi 2.0" movement and a brave new era in open finance. 
+90% PLUNGE Now Olympus is being rocked by doubts. OHM has cratered 93% since its high on Oct. 24r and is trading at about $97 in mid-day trading New York time, CoinGecko data shows. In comparison, ETH has skidded about 30% in that period. 
---
Defiant Feature
In which Brady Dale traverses the budding Pixelverse.
We very seldom see collaborations across websites on the normal internet, where different companies are extremely possessive of their visitors. Attention is the currency of the web, and no one gives it away.
Perhaps it's just the idealistic early days of web3, but on Wednesday night multiple leaders of different NFT products with dreams of metaverse collaboration came together on a Twitter Spaces discussion. These teams have joined together under the banner of the project that the Sappy Seals NFT founders are leading. It's called the Pixelverse, and it is a metaverse for many projects.
Unveiled in November, the Pixelverse is a 2D metaverse where  different NFT communities interact, create their own worlds, and also enable visits to each other's worlds seamlessly. Communities joined the call because they have committed to be part of the Pixelverse, and these included the Sappy Seals, BearX, Winter Bears, Axolittles, Chubbicorns, WeAre24Px and Caked Apes. Other communities have also already committed to join (as many as 15), but there has not been a single complete list of the founding communities published so far. 
---
Deep Dive
In which yyctrader unpacks a dynamic NFT platform and its airdrop.
LooksRare, the upstart NFT marketplace that airdropped its $LOOKS token to NFT traders on Jan. 9, is having a stellar run.
Over $5B worth of NFTs have been traded on the marketplace since the platform launched just ten days ago, and trading volume has consistently surpassed that of OpenSea, the NFT marketplace leader. (Source: @hildobby Dune Analytics)
$LOOKS briefly traded north of $7 on Jan. 20, giving the project a fully diluted valuation of $7.1B. The token has since fallen to $5, in line with the broader market sell-off.
---
Opinion
The intersection of socially responsible investing and DeFi has the potential to alleviate poverty and support the developing world, Gabriela Chang writes.
While global crises are never welcomed, they do tend to kick people to find solutions to crucial  challenges. 
After the 2008 financial crisis, for instance, interest in impact investing grew. The COVID-19 crisis has further demonstrated the need for cooperation through investing strategies that are driven by values and ethics as much as profit. 
Since the pandemic began in early 2020, we've seen an increase in the number of companies building out dedicated ESG teams, according to the head of J.P. Morgan's Development Finance Institution. And institutional investors are launching more impact-focused investment funds to fulfill the UN Sustainable Development Goals.
More than $715B of assets under management are now committed to impact investing. This is a paradigm shift that is reshaping the future of investing. That's why there is a natural fit between impact investing and DeFi, which, of course, has not only upended the traditional order in finance. It's also providing impact investors with a powerful tool to track performance. 
---
News
Links
---
News
Links
---
News
Links
---
News
Links
---
💜Community Love💜
Thanking all the amazing Defiers for the support and love this week (and always)!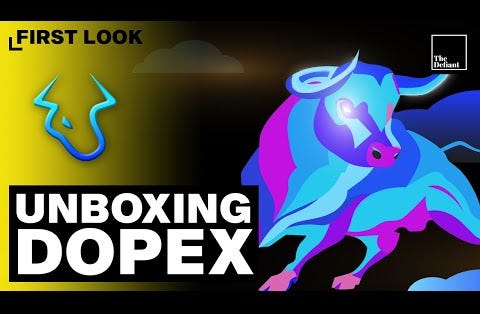 youtu.be
Get Paid to be a Loser with Dopex Rebates - ❓
Dopex is a maximum liquidity and minimal exposure options protocolhttps://www.dopex.io/Our sponsorshttps://gmx.io/https://www.edennetwork.io/Follow The Defia...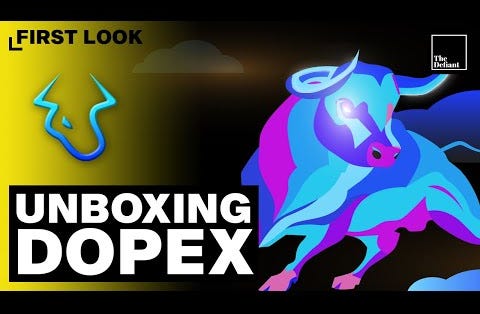 youtu.be
Get Paid to be a Loser with Dopex Rebates - ❓
Dopex is a maximum liquidity and minimal exposure options protocolhttps://www.dopex.io/Our sponsorshttps://gmx.io/https://www.edennetwork.io/Follow The Defia...
🧑‍💻 ✍️ Stories in The Defiant are written by Brady Dale, Owen Fernau, Sanuel Haig and yyctrader, and edited by Edward Robinson, yyctrader and Camila Russo. Videos were produced by Robin Schmidt and Alp Gasimov. Podcast was led by Camila, edited by Alp.
---
The Defiant is a daily newsletter focusing on decentralized finance, a new financial system that's being built on top of open blockchains. The space is evolving at breakneck speed and revolutionizing tech and money. Sign up to learn more and keep up on the latest, most interesting developments. Subscribers get full access, while free signups get only part of the content.Click here to pay with DAI (for $100/yr) or sub with fiat by clicking on the button above ($15/mo, $150/yr.